Ethics Commission files formal complaint against LAPD sergeant who detained 'Django' actress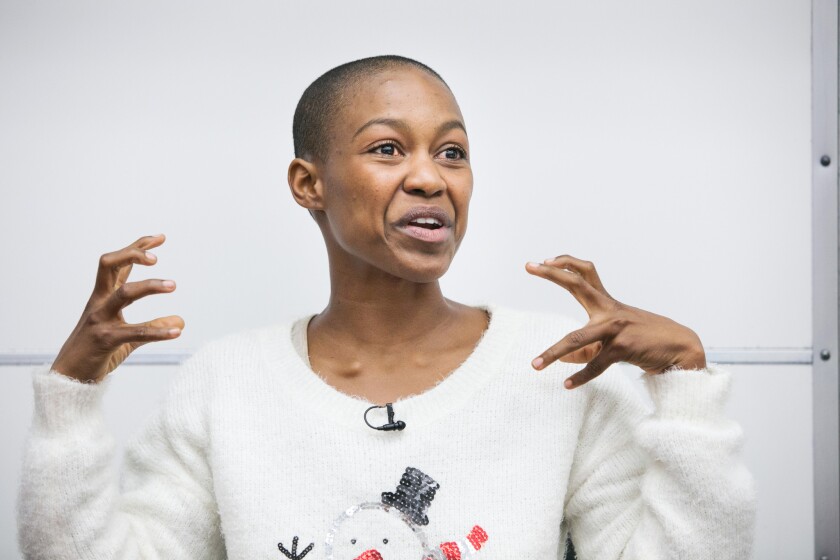 The Los Angeles Ethics Commission has formally accused a retired LAPD sergeant of violating city ethics rules for leaking an audio recording of his controversial stop of "Django Unchained" actress Daniele Watts to the media, the agency announced Friday.
Retired Sgt. Jim Parker is accused of misusing his position of authority to create a private advantage and disclosing confidential information, the Ethics Commission said. Parker could face a fine of $5,000 for each violation.
The Times first obtained a summary of the accusations against Parker last week, but the ethics commission would neither confirm nor deny the existence of the allegations.
The commission's executive director found probable cause to accuse Parker on Oct. 13th, according to documents released Friday. A public evidentiary hearing will take place next, followed by an administrative hearing to determine what, if any, punishment Parker should face.
It was not immediately clear when those hearings would take place. Calls to a spokeswoman for the Ethics Commission were not immediately returned.
On Sept. 11, 2014, Parker responded to reports of a couple having sex in a parked car in Studio City when he found Watts and her boyfriend, Brian James Lucas. Police have said they matched the description of the couple in the report.
Interested in the stories shaping California? Sign up for the free Essential California newsletter >>
When Parker asked them for identification, Watts refused and walked away, police have said. She was handcuffed by other officers but later released when Lucas provided her identification.
The story gained national attention when Watts and Lucas spoke out about their brief detention, with Lucas claiming on Facebook that police acted as though they had been engaged in prostitution because he is white and Watts is black.
In a recording first leaked to TMZ, which Parker later publicly admitted he supplied, the sergeant can be heard asking for Watts' identification. She responds by questioning whether she was being stopped because she was black.
"I said nothing about you being black," Parker said during the exchange.
Parker has said he had no plans to arrest either Lucas or Watts. The couple ultimately pleaded no contest to a charge of disturbing the peace, and were ordered to write a letter apologizing to Parker. The city attorney's office dismissed lewd conduct charges against them as part of the plea deal.
The LAPD opened an internal affairs inquiry and accused Parker of insubordination for speaking to the media without permission. He retired in June rather than answer the charges.
Calls to Parker's attorney, Larry Hanna, were not immediately returned. When The Times' first reported on the possible charges against Parker last month, Hanna said the accusations against Parker are unprecedented.
"I've never, ever seen this," said Hanna, who has spent two decades representing police officers. "For some reason, they're being very vindictive against this officer."
The decision to file a complaint against Parker is highly unusual. The City Ethics Commission enforces city rules related to campaign finance, lobbying, conflicts of interests and governmental ethics.
The commission publishes on its website settlements, decisions and orders for violations dating back to 1993. Most of the violations involve campaign finance rules.
A previous review of the commission's online database by The Times found no previous cases involving the disclosure of confidential information, one of two counts Parker faces. The other count — misuse of position or authority to create a private advantage — appears in only two cases.
Times staff writer Kate Mather contributed to this report.
Follow @JamesQueallyLAT for breaking news
ALSO
After bizarre freeway sign death, a spotlight on misunderstood church tradition of 'sacrifice'
KKK lynching message on Berkeley High School computer traced to student
Column: As El Niño looms, La Conchita residents say 'blue-collar affordability' makes landslides worth risking
---
The stories shaping California
Get up to speed with our Essential California newsletter, sent six days a week.
You may occasionally receive promotional content from the Los Angeles Times.