Garcetti says L.A. can resume disputed ban on overnight sidewalk sleeping
Eleven years ago, Los Angeles officials agreed to stop arresting people who bed down for the night on streets and sidewalks until the city built more homeless housing.
The deal ended a legal battle with skid row residents and their advocates, who argued that the law trampled on the rights of homeless people who had nowhere else to go.
Now Mayor Eric Garcetti says enough housing has been built to meet the settlement requirements, clearing the way to enforce the law again. But if L.A. starts ticketing people under the contested code, it is likely to kick off a new battle with homeless advocates.
"There is a snowball's chance in hell that a court will let them enforce that," said Carol Sobel, one of the attorneys who represented skid row residents in Jones vs. City of Los Angeles. "The city will lose in court again."
Garcetti, who is weighing a presidential run, has faced growing pressure to address the tent cities that sprawl across L.A. sidewalks. This spring, he launched plans to spend at least $20 million on new shelters and vowed to boost police patrols and cleanups to prevent encampments near those sites.
Those plans have thrust the Jones settlement back into the spotlight. Neighbors worried about the proposed shelters argue the pact makes it impossible to stop people from camping out near the new facilities. Some homeless advocates and activists, in turn, fear the city is gearing up for a crackdown.
At a meeting Monday with the Los Angeles Times' editorial board, Garcetti said the city would not rush to arrest those sleeping overnight on sidewalks, but called the law "a tool that we have before us, that we can and will use."
The mayor added that the city would enforce the law only if there was "a place to go," such as a bed in one of the emergency shelters now being proposed across the city, and would give people time and help with relocating.
His deputy chief of staff, Matt Szabo, said their goal was to not to resume arrests, but to keep neighborhoods clean around the new shelters, which they might be able to accomplish without enforcing the disputed law.
"We're going to do what we need to do to keep those neighborhoods clean," Szabo said, adding that although he thinks the city can legally enforce it, "we may do it; we may not do it."
Before the Jones settlement, a federal appeals court had sided with the skid row residents who sued the city, concluding that the ban on sidewalk sleeping amounted to "cruel and unusual punishment" because there were not enough shelter beds.
Among those who sued was Stanley Barger, a homeless man who had suffered a brain injury in a car crash. Barger, who was getting $221 a month through a county program, was arrested on Christmas Eve for sleeping on the street, according to the lawsuit. Other homeless plaintiffs had gotten citations and worried they would face fines they were unable to pay.
William J. Bratton, then chief of the Los Angeles Police Department, urged the city to appeal. Jan Perry, who was serving as a councilwoman at the time, complained in a Times op-ed that "the streets of skid row at night become a free-for-all, a market for illegal and bizarre behavior that most people cannot begin to imagine."
L.A. lawmakers decided to challenge the decision, but ultimately backed a settlement allowing people to sleep on the sidewalk from 9 p.m. to 6 a.m. if they stayed far enough away from doorways and driveways. Under the deal, the city agreed to hold off on enforcing the ban at night until 1,250 more units for chronically homeless people were built, at least half of them downtown.
At the time, the Jones settlement was bemoaned by business leaders who complained of chaos on downtown sidewalks. As homelessness surged in Los Angeles, residents alarmed by squalid encampments popping up from Chatsworth to San Pedro have argued it is time for the city to start enforcing the law.
Venice resident Maryjane Johnson complained that in her neighborhood, "you can't go anywhere without being confronted by huge tent cities."
"We have every right to end it and we should end it because it makes the problem worse," Johnson said of the Jones settlement.
Homeless advocates argue that the legal pact is not to blame for the crisis, though it has affected what it looks like on the street. "What Jones has done," said Greg Spiegel, director of strategic initiatives for Inner City Law Center, "is made homelessness visible in parts of the city where it was never visible before."
Three years ago, the housing department said L.A. would soon meet the housing requirements under the Jones settlement. Garcetti said this week that the required units had been built and thousands more were on the way after voters approved a $1.2-billion bond measure for homeless housing.
City officials provided a breakdown indicating more than 1,500 units for chronically homeless people had been built, including 655 downtown. Those calculations are sharply contested by Sobel, who argues that L.A. officials are improperly counting apartments that existed long before the settlement was struck or were otherwise ineligible.
So far, the city has not resumed arresting those sleeping on the sidewalk at night, although LAPD Cmdr. Dominic Choi said that it does enforce the same code, 41.18(d), during the day or if entrances or driveways are blocked. Other city codes limit how much personal property can be stored on sidewalks.
City Councilman Mike Bonin, who represents coastal areas, including Venice, said that even if the city has met the target number to start enforcing the law under the Jones settlement, "I think the court would laugh at us."
Three years ago, the Department of Justice weighed in on an ongoing court battle over a Boise, Idaho, law barring camping in public places, arguing that if there was not enough shelter, enforcing such laws "amounts to the criminalization of homelessness."
In Orange County, a federal judge warned this spring that if cities failed to set up shelters for homeless people being cleared out along the Santa Ana River, he could bar them from enforcing laws against camping.
More than 23,000 people are living without shelter in Los Angeles, according to the last count by the Los Angeles Homeless Services Authority. Last year, there were roughly 10,000 beds at shelters and transitional housing facilities in the city, with hundreds more on the way, a recent report from the agency found.
Garcetti aides have estimated that the new set of temporary shelters could house 1,500 people at a time, a number that could be boosted with a new infusion of state money to address homelessness. But "what happens to the others?" Sobel asked.
"Do they go to jail? We don't have a jail big enough!" she exclaimed.
Despite the need, roughly one out of seven shelter beds went unused on a typical night last year, according to data collected by the homeless services authority. UCLA School of Law professor emeritus Gary Blasi said the city might point to empty beds to make their legal case, but countered that forgoing a bed is reasonable if shelters are unsafe or force people to leave behind almost all of their belongings.
"What matters is whether people without housing have a real choice between the shelters and the streets," Blasi said.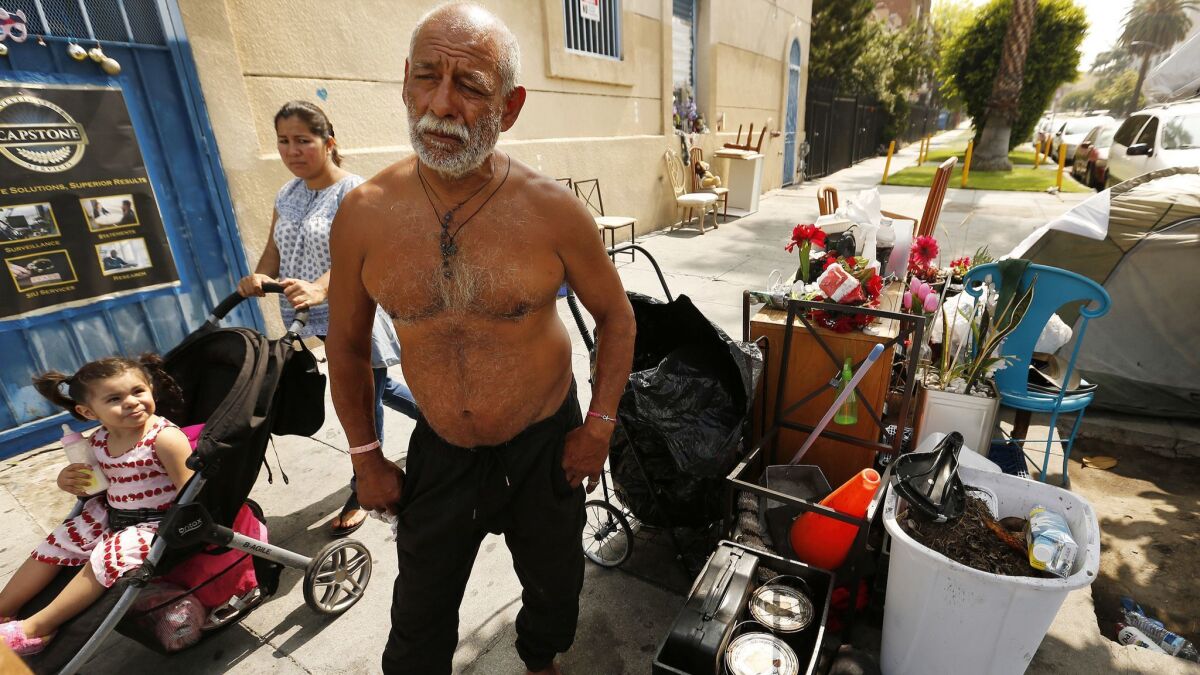 In Koreatown, Edgar Ruiz awoke and got out of the slumping tent where he has lived for months near Vermont Avenue. The 63-year-old said he had served in the Vietnam War and worked for decades helping to dispatch school police before ending up on the streets after a breakup.
"I sweep the street here to keep everyone off my back," he said, gesturing to the sidewalks outside the Vermont Dental Group.
A block and a half north, near the busy intersection of Vermont and Wilshire, sits a parking lot where city officials announced plans to put a homeless shelter, triggering protests from local residents and businesses. A banner overlooking the site proclaims "Protect Our School Children and Local Businesses. Unite and SAY NO to Homeless Shelter Here!"
Ruiz hoped he might get a spot in the new shelter, somewhere with running water, electricity and a restroom. Someone from Veterans Affairs had offered him housing, he said, "but it's way over in Westwood." Police had suggested a shelter miles to the south, but it seemed too far from the neighborhood he had lived in most of his life.
If the police told him he couldn't sleep in Koreatown, Ruiz said, "I'd just go down a couple of blocks."
Down the street, a wild-eyed man sunk into a rolling chair on the sidewalk, shrieking and mumbling. Another stormed down the sidewalk, barefoot and yelling, and rammed a shopping cart against a building. A woman guarding crates of mangoes outside a nearby shop jumped.
Across town, the Venice Stakeholders Assn. has pushed for the city to enforce 41.18(d) at all hours, arguing that it could avoid legal trouble as long as people were first offered a shelter bed or housing. Its president and founder, Mark Ryavec, argued that officers should use it "in a very surgical way in residential areas that are really impacted."
"We believe that legally, the city can say, 'You have a choice,'" Ryavec said. "Those who do not want housing, who are in problematic locations, would indeed move."
Last month, at a meeting with department heads, Garcetti mentioned that Venice residents had brought up the Jones settlement with him and quizzed a city attorney about how it worked. After a brief exchange, the mayor remarked that nothing prevented police from enforcing the disputed law during the day.
Estela Lopez, executive director of the Downtown Industrial District Business Improvement District, argued that if the city regularly enforced the ban on sidewalk sleeping on skid row during the day — which the Jones settlement already allows — it would nudge more people to seek shelter and other help.
"The city is allowing things to occur that were never envisioned by the court," Lopez lamented as she drove through downtown, gazing at rows of tents blocking walkways, muscular dogs dozing under makeshift shelters, and building walls blackened by tent fires.
Getting everyone off L.A. streets could cost as much as $657 million to get shelters started and operate them for a year, LAHSA recently estimated — and that doesn't include roughly 15% of people unwilling to go into shelters. Councilman Jose Huizar said in light of those figures, meeting the numbers under Jones is "irrelevant."
"The reality is we have so many people still unsheltered," Huizar said.
Twitter: @AlpertReyes
The stories shaping California
Get up to speed with our Essential California newsletter, sent six days a week.
You may occasionally receive promotional content from the Los Angeles Times.