Judge threatens to bar O.C. from enforcing anti-camping laws if it can't shelter homeless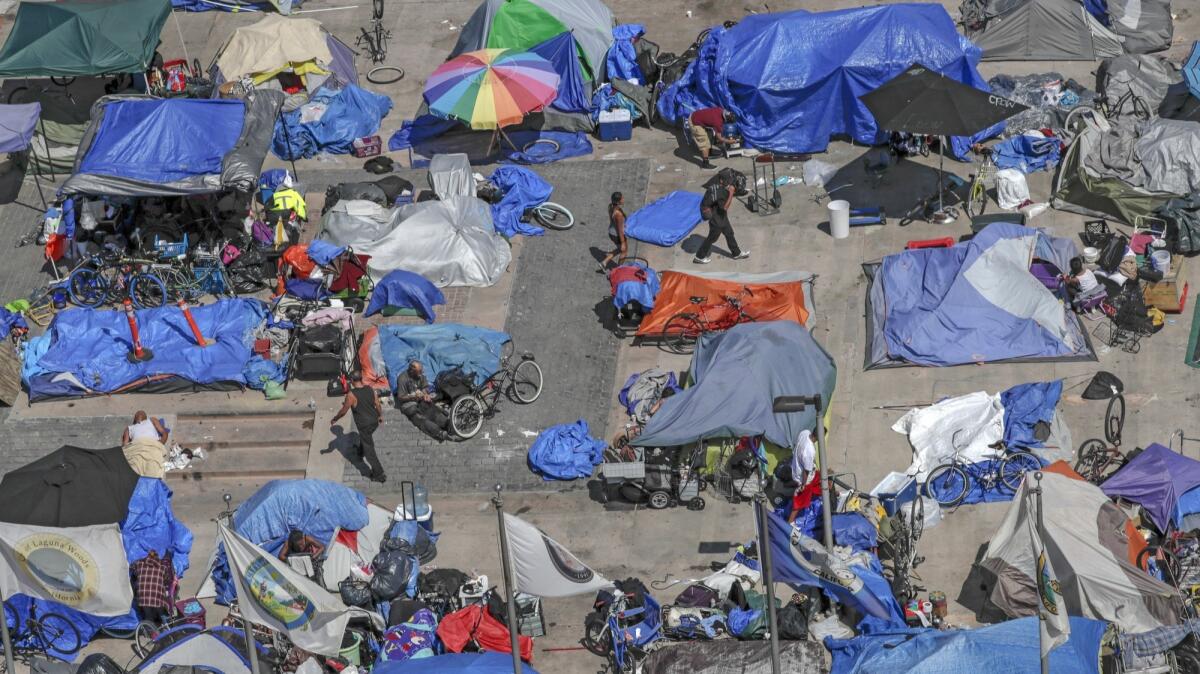 The political crisis over homelessness in Orange County approached a crucial moment Tuesday as a federal judge raised the prospect of barring local governments from enforcing anti-camping ordinances if officials cannot create temporary shelters for hundreds being swept out of tent cities.
The county for weeks has been struggling to find locations to place the homeless after removing them from an encampment along the Santa Ana River. A plan to place temporary shelters in Irvine, Laguna Niguel and Huntington Beach died amid loud protests from residents last week, and the problem is expected to get worse as officials move to clear out another tent city at the Santa Ana Civic Center.
U.S. District Judge David O. Carter expressed frustration at the political stalemate during a hearing Tuesday. He said he could not decide where the shelters should go, but said he could prohibit cities from enforcing laws that ban people from camping in public spaces such as parks and river ways. Carter said that without those laws, Orange County communities could become magnets for homeless people.
In essence, the judge said Orange County can't have it both ways.
"We can't criminalize homeless by citing them in one location, and citing them in another location simply for being homeless," Carter said.
Carter is overseeing a case brought by homeless advocates trying to stop the removal of the homeless encampments. He stressed that the shelters don't have to be fancy, only that they be able to serve those who have nowhere else to live.
"This doesn't have to be a nice thing," Carter said. "It just has to be humane and dignified. That will probably get us through this crisis."
The county's two armories, which provide temporary shelter for up to 400 homeless individuals during the winter, are scheduled to close this month — adding a new layer of urgency as space is limited in other shelters throughout the county. Fullerton officials requested to keep the armory in their city open, but it's not clear if that will happen.
Orange County Board of Supervisors Chairman Andrew Do said he is pessimistic about the county and city officials finding a solution unless Carter steps in.
"At this point, I see us — the county — and the cities being at a standstill," Do said. "With each passing day we betray our responsibility to care for all of our residents as required by law."
Residents in Irvine and other cities have said they don't want homeless shelters in their communities, which is the same argument made by neighborhoods along the Santa Ana River that prompted officials to clear out the camps in the first place.
But Carter said the situation has forced certain cities to take on a disproportionate burden. He singled out Santa Ana, home to the county's only major emergency shelter
"Santa Ana is being forced to absorb all of the homeless because they're brought to this area for assessments and services," Carter said. "It's disproportionate."
Data presented by Santa Ana during the hearing back up that claim.
Santa Ana's homeless population has more than doubled in the last year — from 466 unsheltered in 2017 to 1,030 people, according to the results of a Saturday point-in-time count.
The data show that 52% of the population came to Santa Ana from other cities, according to city staff.
The next hurdle facing leaders in Santa Ana is finding a place to house the more than 200 people camping in the Civic Center's Plaza of the Flags near the county superior courthouse. County officials have been working to connect people with services in the area.
Although law enforcement began clearing the encampment Monday, there's no set deadline for everyone to be gone.
Santa Ana Mayor Pro Tem Michele Martinez said it's time for every city to do its fair share to get individuals off the street.
"The nation is watching," she said. "We need fairness for all."
Carter proposed that leaders take a regional approach in which the county is broken up into three zones — north, central and south — each with an equal distribution of shelters and homeless services.
The idea is that each zone would be able to care for its own homeless population, lessening the burden on other regions. He pressed officials from cities in the south and west parts of the county to work with neighboring cities to come up with suitable locations for temporary shelters in their zones.
Do said the county would pledge $90 million for permanent supportive housing.
The Board of Supervisors last week moved away from its plan to have county staff study moving hundreds of homeless people to the temporary shelters in Huntington Beach, Laguna Niguel and Irvine after receiving significant pushback and threats of lawsuits from those communities.
Board of Supervisors Vice Chairman Shawn Nelson has suggested that the 114-acre, state-owned Fairview Developmental Center in Costa Mesa be used as an emergency homeless shelter.
However, the Costa Mesa City Council last week voiced unanimous disapproval of the idea, supporting residents who said they were concerned that developing a shelter there would jeopardize public safety, reduce property values and unduly burden the city.
Mayors from south Orange County cities, including Irvine and Laguna Niguel, said they plan to discuss possible sites for a temporary shelter at a meeting on April 19. Some, including Irvine Mayor Donald Wagner, said they already have locations in mind, though they didn't provide specifics.
"We have stepped up and we remain committed to stepping up," Wagner said.
Twitter: @HannahFryTCN
Fry writes for Times Community News.
Sign up for Essential California for news, features and recommendations from the L.A. Times and beyond in your inbox six days a week.
You may occasionally receive promotional content from the Los Angeles Times.