Council OKs $3.7 million for skid row cleanup, 'valet cart storage'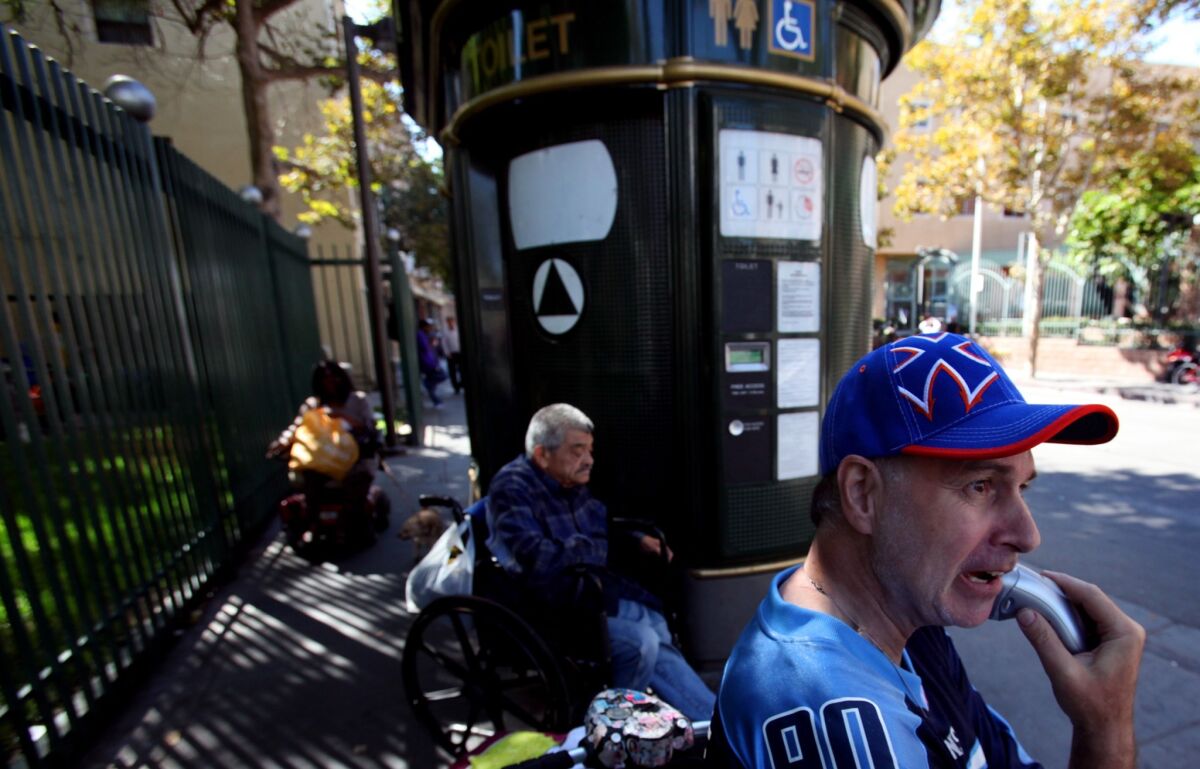 The Los Angeles City Council authorized a $3.7-million skid row cleanup plan Tuesday that will expand 24-hour bathroom access and expand storage to comply with a court injunction against destroying personal property homeless people keep in the streets.
Along with a stepped-up street cleaning schedule, the city will open a "valet cart storage" lot where homeless people can check their shopping baskets in for the day. A 90-day storage facility for homeless people east of Alameda Street will move into the heart of skid row, bathroom hours at three skid row shelters will be expanded and trash bins and pickups will be augmented.
An additional $5 million in Mayor Eric Garcetti's proposed budget is set aside to duplicate the efforts in other parts of the city with homeless camps, potentially including Venice and South Los Angeles, City Administrative Officer Miguel Santana said.
The cleanup plan came in response to public health violations that emerged during the city's long and unsuccessful legal battle against a court order preventing seizure of homeless people's possessions. County health inspectors found the city had allowed human feces, rat infestations, syringes and other garbage to collect in the streets for two years running.
The city argued that eliminating squalor on skid row was impossible around the tents, blankets and other effects homeless people set up as part of sidewalk encampments. City Atty. Mike Feuer last month dropped the city's latest appeal of the order, but the underlying lawsuit has not been settled.
At the council meeting, skid row activists complained that too much of the cleanup money would go to city salaries and social service organizations. The Midnight Mission, the Los Angeles Mission and Lamp Community will be paid to increase public bathroom hours, while the Central City East Assn., the local business group, will run the valet cart storage lot, Santana said.
Steve Diaz, a member of Los Angeles Community Action Network, said each new trash can would cost $16,800.
"What other parts of the city have trash cans that cost this much?" Diaz asked the council.
Santana was unable to immediately confirm the figure, but told the council most of the expense was labor costs. Skid row trash must be picked up manually because automated garbage cans in the past have been vandalized, he said.
General Dogon, an L.A. Community Action Network organizer, said the city's negligence had forced skid row residents to spend their general relief checks on supplies to clean the streets themselves.
"There is a dirty divide between the haves and have-nots in downtown," Dogon said. "West of Main Street ... there are pocket parks and dog water fountains. East of Main Street we ain't got nothing."
Central City East Assn. Executive Director Raquel K. Beard endorsed the plan, saying, "We desperately need to get people off the sidewalks."
City Councilman Jose Huizar, who represents the roughly 50-block skid row area, said the $3.7 million, which is for fiscal year 2014-15, doubles city spending on skid row cleanups this year but remains "just another drop in the bucket."
"It is a disgrace on skid row and we have not done a good job," said Huizar, who called for more federal funding and better coordination with the county to produce more permanent housing for the homeless.
Santana, in his report on the cleanup proposal, said 3,500 homeless people live on skid row, including an estimated 1,000 who sleep on the sidewalks. An estimated 58,000 people are homeless on any given night in Los Angeles County, a total second only to that of New York City.
---
The stories shaping California
Get up to speed with our Essential California newsletter, sent six days a week.
You may occasionally receive promotional content from the Los Angeles Times.