Activists protest 33-story apartment tower on the edge of L.A.'s skid row
Skid row residents have long feared that upscale development spilling over from other parts of downtown Los Angeles would spark rampant gentrification and pose a threat to their 50-block neighborhood, one of the city's poorest.
Downtown residents and businesses see skid row as a prime spot to build modest and workforce housing to complement the largely expensive lofts and apartments in the rest of the central core.
They also want to see the booming Arts District and Historic Core, now separated by skid row, united in one resurgent downtown, with restaurants and other commercial businesses.
Even as lofts and restaurants crept into the edges of skid row, 2,000 homeless people have continued to cling to skid row streets in tents and makeshift lean-tos. While the city and county have pledged $1.2 billion to homeless housing, and $355 million annually for services, the construction has met resistance and will take years to complete.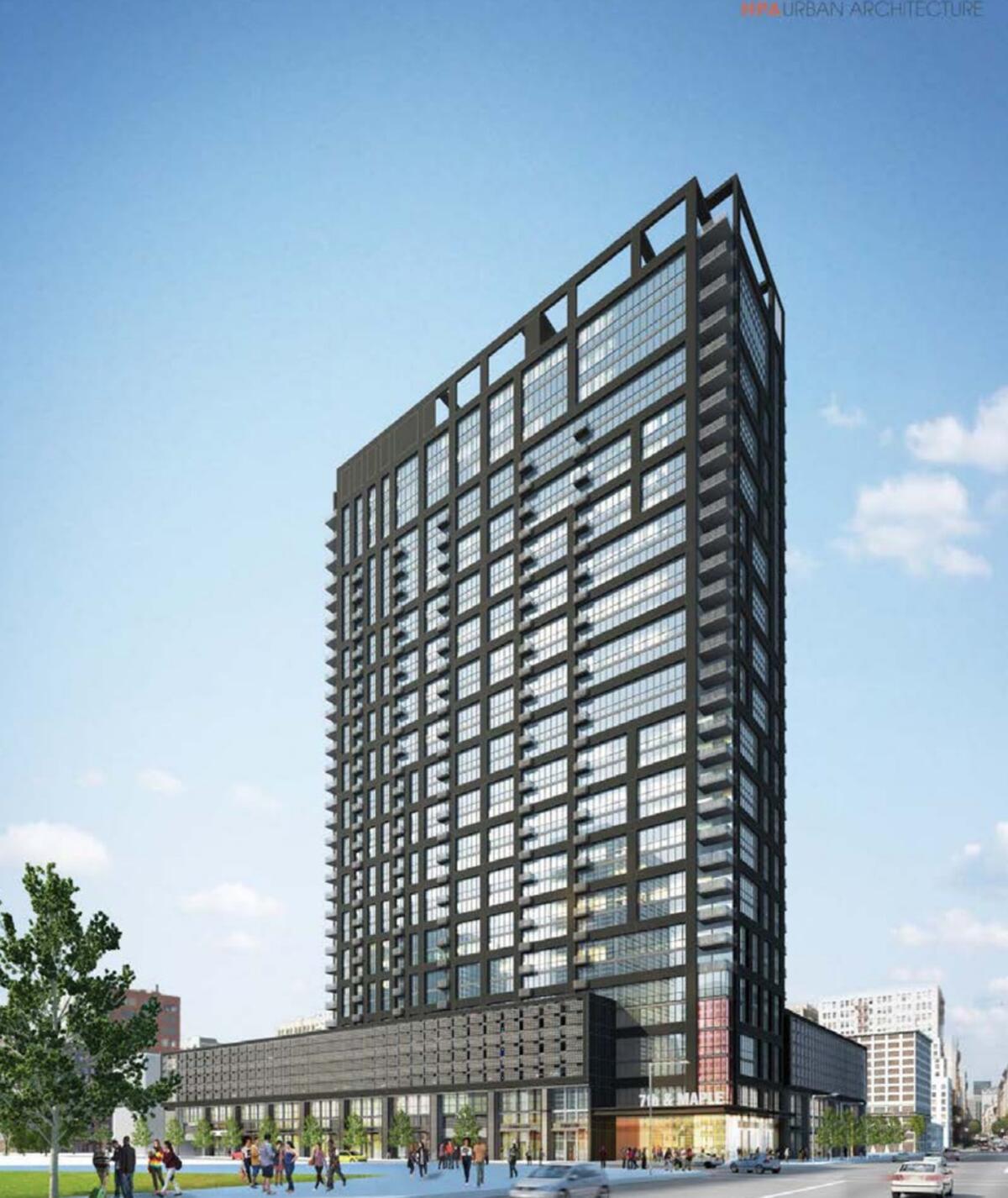 Now investors and developers have begun pouring hundreds of millions of dollars into skid row's southern neighbor, the scruffy-edged Fashion District , placing it next in line for the kind of growth that has transformed South Park and other downtown neighborhoods.
Tensions over competing ambitions for the area came to a head Friday, as several dozen skid row activists protested a 33-story apartment tower proposed at 7th and Maple streets, where skid row and the Fashion District meet.
The protesters say the city should house the neighborhood's homeless people before it approves another big residential development in downtown Los Angeles.
"How can we continue to allow skyscrapers to come into our community to remain vacant when we're in the middle of a homeless crisis? That's a shame," said Los Angeles Community Action Network member Steve Diaz, standing before the empty parking lot where the project is proposed.
The project was approved by the Los Angeles City Planning Commission earlier this month. Darrin Olson of Newport Beach-based Realm real estate, which is co-developing the site with Urban Offerings of Los Angeles, said the projects' 400 market-rate units will help ease Los Angeles' housing crisis without displacing a single person.
Called Fashion District Residences, the development will also include 50 units for very-low-income people, including 19 work-live spaces for artists. Olson said the project drew 80 letters of support from neighborhood groups, including the Central City East Assn., which represents skid row's seafood and cold storage businesses.
Planning staff found that although there were "at times itinerant homeless encampments on the sidewalks surrounding the project site," the development would not affect skid row's homeless population.
"To the extent that any people camp on the surrounding sidewalks in the public right-of-way, they are not served by public services or sanitation," a city staff report said. The report also found the development would fit into the surrounding area, which it characterized as shifting from industrial uses to commercial and residential interests.
The activists said the low-income offering rang hollow for most skid row residents. A family of two with annual income up to $37,000 would qualify as very low income, making it unlikely that homeless people — who average $14,000 a year — will be awarded any of the new units, they said.
Ariana Alcaraz, a member of the Downtown Women's Action Coalition, said during the protest that of the 400 women who responded to a recent downtown survey, "not one could afford the housing here."
They also argued that hundreds of new market rate apartments will drive the neighborhood's rents beyond the means of residents living "precariously" in nearby converted flophouses, hotels, tents and buildings.
Protesters also pointed to recent reports of downtown rental vacancy rates of 11% to 14%, saying downtown needs more housing for the very poor, not those of average or higher means.
Carrying signs saying "No more empty units" and "Say no to skyscrapers on skid row," protesters marched through the plaza of the Santee Court lofts next to the site. Leaders got into a brief argument with a security guard, who ordered them off the property, before taking to the street to continue their action.
Fashion District Residences must still win approval from the Los Angeles City Council. Councilman Jose Huizar, who represents the area, is reviewing the project's merits but has not taken a position, spokesman Rick Coca said.
Twitter: @geholland
---
UPDATES:
6:40 p.m.: This article was updated with a comment from a spokesman for Councilman Jose Huizar.
5 p.m.: This article was updated with additional background.
This article was originally published at 12:20 p.m.
Sign up for Essential California for news, features and recommendations from the L.A. Times and beyond in your inbox six days a week.
You may occasionally receive promotional content from the Los Angeles Times.