L.A. to allow spires on skyscrapers, easing 40-year-old flat-roof rule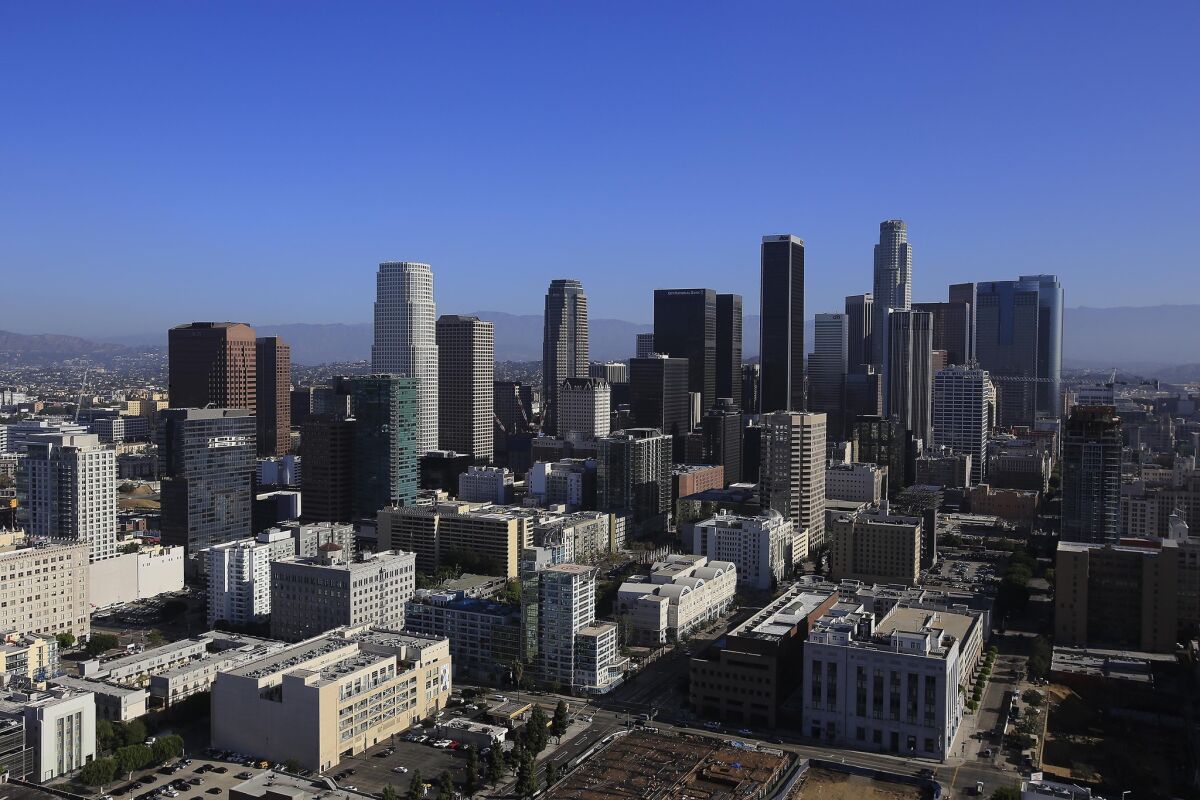 Los Angeles Mayor Eric Garcetti heralded a rule change Monday that will allow the construction of skyscrapers with spires or slanted roofs -- revising a longstanding regulation that forced builders to make flat-topped structures.
The decades-old rule was meant to ensure fire safety by requiring helicopter landing pads atop tall buildings. No other large city in the country has such a rule, according to city officials.
Now, with new technology and design techniques being used to keep Angelenos safe during fires, the prohibition had become outdated, "one more stupid rule in Los Angeles," Garcetti said in announcing the change.
Architects had bemoaned the old rule, saying it stifled creativity and prevented L.A. builders from crafting a distinctive skyline. City Councilman Jose Huizar said that under the revised regulation, L.A. buildings would no longer be "stuck in the past."
"After decades of drab, flat-roofed designs the skyscrapers of tomorrow will be bold, unique and imaginative," said Huizar, whose council district includes much of downtown.
Under the new rule announced Monday, builders will be able to craft skyscrapers that don't have a helicopter pad on the roof if they include other safety features, such as a fire service elevator for firefighters to swiftly reach a blaze or another set of exit stairs, automatic sprinklers and a video surveillance system.
Fire Department Chief Ralph Terrazas said the changes would not sacrifice fire safety, but instead make tall buildings in Los Angeles the safest in the country. Other department officials pointed to an analysis done in the aftermath of the 9/11 attacks that had not deemed a rooftop helicopter pad to be necessary for emergency evacuation and rescue.
Builders and politicians who championed the change said it would not only free designers to create inventive buildings but also elevate Los Angeles in the eyes of the world. The skyline of a city is critical to its global image, said former City Councilman Mike Woo, who spent years pushing for L.A. to rescind the flat-roof requirement.
"Anyone who's been to New York or cities like Shanghai, Hong Kong and even San Francisco can see how the tops of building can help to define the identity of a city," said Woo, now the dean of the College of Environmental Design at Cal Poly Pomona. "But for Los Angeles, for years, we have limited ourselves."
Seven years ago, Woo sought to change the rooftop rule while serving as a planning commissioner under Mayor Antonio Villaraigosa. The effort went nowhere, he said, with fire department officials saying the move would pose a threat to public safety.
The fire department had continued to oppose such changes in recent years. Terrazas said his department hadn't gotten any new information since then, but a culture shift had taken place.
"Our fire department culture is resistant to change sometimes," Terrazas said Monday. "This just made absolute sense to do this."
The changes were born out of a working group convened by the mayor with Huizar and officials of the fire and building departments, and others.
Huizar earlier pushed for an alternative requirement that allowed a modified landing space for the Wilshire Grand building, still under construction. Now builders will have the option of not including a helicopter landing spot on their rooftop at all, if they meet the other fire safety requirements.
Garcetti announced the change alongside Terrazas, Huizar and other city officials from the rooftop helipad landing of the AT&T Center downtown. The fire department said the original rule dated back to 1974. The new rule applies to buildings measuring more than 75 feet.
Paul Keller, founding principal and chief executive of development company Mack Urban, said the change would allow him to build spires on three tall buildings at a residential development underway to the west. The new requirements will not be more costly than installing a helipad, Keller said.
With the new rule in place, "the sky's the limit now," said Chris Martin, chairman and CEO of the AC Martin architecture firm.
Times staff writer David Zahniser contributed to this report.
Follow @latimesemily for what's happening at Los Angeles City Hall
The stories shaping California
Get up to speed with our Essential California newsletter, sent six days a week.
You may occasionally receive promotional content from the Los Angeles Times.