Rare snow falls on San Francisco's Twin Peaks as California gets rare dusting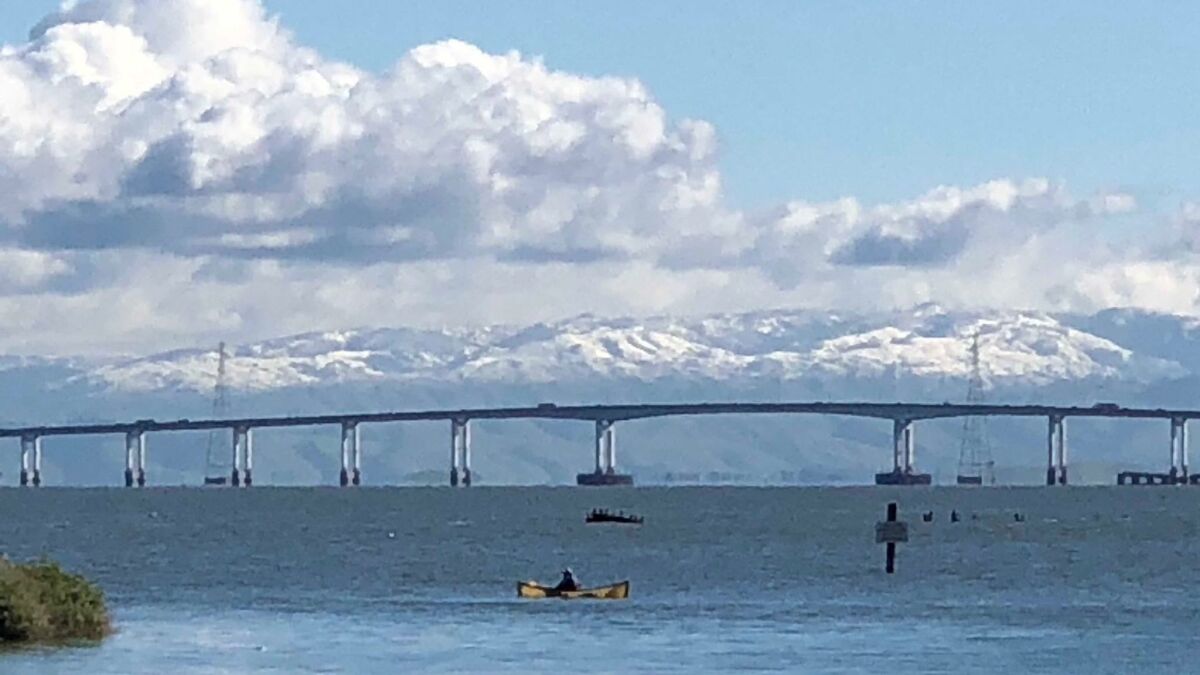 Reporting from San Francisco —
Few things get sunshine-addicted Californians as excited as a little snow, and the white stuff came flittering down in San Francisco on Tuesday, with a dusting hitting Twin Peaks.
There was enough snow in the Santa Cruz Mountains and on Mt. Diablo to pack snowballs. Snow coated Mission Peak in Fremont and Mount Tamalpais in Marin County, as well as a Napa Valley vineyard on Atlas Peak. Even commuters on Livermore's Vasco Road saw snow.
"It doesn't snow often, but when it does, it's absolutely breathtaking," tweeted Pahlmeyer Vineyard Estates on Atlas Peak.
From the bay's shoreline in San Mateo County's Coyote Point Marina, harbormaster Mark Bettis could see an impressive coating of snow in the East Bay hills beyond the San Mateo Bridge.
While Bettis has seen the sight maybe half a dozen times since he came to the Bay Area in 1988, it was the first such sighting for a younger co-worker, park aide Adam Zuffi, 26. "I don't recall ever looking across the bay and seeing snow," Zuffi said.
The snow that hit Twin Peaks vanished by the time it touched the ground Tuesday. But that hasn't always been the case.
The last time San Francisco was hit with far more impressive snow was exactly 43 years ago — Feb. 5, 1976 — when 5 inches of snow fell on San Francisco's Twin Peaks and even an inch fell downtown, according to meteorologist Jan Null. Before that, on Feb. 5, 1887, 7 inches of snow fell on Twin Peaks. "Historically, February 5th is the snowiest day of the year in San Francisco and the Bay Area," Null said in a blog post.
Snow falling on higher-elevation peaks in the Bay Area "doesn't happen every year, but it can happen," said National Weather Service meteorologist Suzanne Sims. Tuesday's snow came from a cold storm fueled by air from Canada, she said.
The National Weather Service received reports of snowfall as low as 400 feet in the East Bay, and snow has been sticking to the ground at elevations as low as 1,500 feet, said weather service meteorologist Drew Peterson.
Trained spotters reported that snow showers left about a quarter-inch of snow around 1,600 feet and an inch at 2,700 feet in the Santa Cruz Mountains on Highway 17 between Monterey Bay and San Jose, he said.
"The fact that it is still sticking at 1,600 feet is impressive," Peterson said. "It is really tough for it to stick to the ground because the ground is usually warmer."
Many urbanites have been mistaking hail for snow.
"We have gotten a lot of false reports of snow that was actually just hail falling," Peterson said.
Low snow levels of around 1,500 feet also were being reported Tuesday on Interstate 80 near Sacramento, and some snow was reported on Highway 99 in Chico.
An 80-mile stretch of westbound Interstate 80, from the Nevada line just west of Reno to Colfax, east of Sacramento, had been closed for a second day because of heavy snow, but reopened late Tuesday morning.
In Mono County, home of Mammoth Mountain and June Mountain resorts, a winter storm warning remained in effect until 4 p.m. Tuesday.
Several ski resorts in the Eastern Sierra and Lake Tahoe area remained closed Tuesday because of a blizzard that dropped as much as 9 feet of snow.
Yosemite National Park tweeted that all roads in and out of the park were closed because of heavy snow and downed trees.
Meanwhile, transportation officials in Southern California are preparing for snowfall on the Grapevine as a low-pressure system passes through the state.
Snow levels dropped to around 4,000 feet in Southern California and will continue to dip to as low as 2,500 feet Tuesday night into Wednesday morning, which could result in snow in the Antelope Valley hills, according to the weather service.
The California Highway Patrol already is pacing traffic over the Tejon Pass in the Grapevine section of the 5 Freeway between Los Angeles and Kern counties. The pass is roughly 4,144 feet in elevation.
Caltrans said CHP may close the 5 over the Grapevine as soon as snow sticks to the ground.
There are a few storm cells left behind from the cold trough that moved through the Southland on Monday that will result in scattered showers Tuesday, said Kathy Hoxsie, a meteorologist with the National Weather Service.
"If it rains, it will be over pretty quickly," she said.
Several major roads in Southern California remained closed after Monday's storm.
Highway 33 is closed in both directions near Ojai, as is Highway 23 between Pacific Coast Highway and Mulholland Highway because of rock and mudslides, Caltrans said. The right lane of the northbound 101 Freeway is closed from the State Beaches exit near Emma Wood State Beach to Seacliff in Ventura County because of mud in the lanes.
Panzar reported from Los Angeles; Lin from San Francisco.
---
The stories shaping California
Get up to speed with our Essential California newsletter, sent six days a week.
You may occasionally receive promotional content from the Los Angeles Times.