L.A. considers raising speed limits on more than 100 miles of streets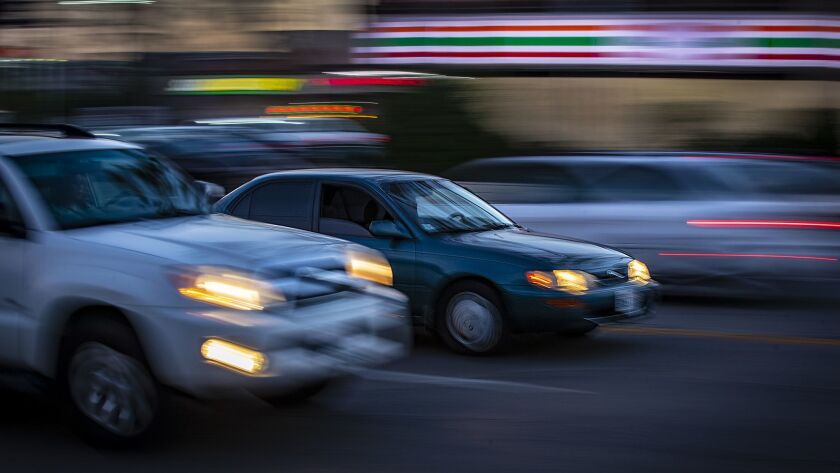 Los Angeles officials will consider raising speed limits on more than 100 miles of city streets, saying the changes are the only way to resolve a years-long problem that has prevented police officers from ticketing speeding drivers.
If the Los Angeles City Council approves the increases, speed limits would rise on some of the Southland's most familiar thoroughfares, including San Vicente Boulevard through Mid-Wilshire and stretches of Reseda, Victory and Chandler boulevards in the San Fernando Valley.
The increases, introduced Wednesday, reflect a Catch-22 that city officials have faced for decades on dozens of miles of major streets: Raise the speed limit, or lose the ability to write most speeding tickets.
The dilemma stems from a decades-old California law designed to protect drivers from speed traps, which requires cities to post speed limits that reflect the natural speed of traffic. If a speed limit is too low, or if it is more than 7 years old, the police can't use radar guns or other electronic devices to write speeding tickets there.
As recently as this summer, more than 200 miles of Los Angeles streets, including corridors that are among the deadliest for pedestrians and bicyclists, had expired limits and very little speed enforcement.
The Transportation Department's proposal would raise the speed limit on 101.6 miles of streets, and would boost the share of streets where officers can write speeding tickets to 97.5%, officials said.
Nearly two-thirds of the street miles that would see higher speed limits are in the Valley, which has seen several waves of increases over the last decade on its broad, flat boulevards. Most Valley streets would see speeds rise to 40 mph and 45 mph.
The proposed increases follow the City Council's decision last December to raise speed limits on 94 miles of streets, mainly in the Valley.
In total, about 19% of the streets that have been re-surveyed in the last few years will see increases, said Tim Conger, a senior engineer at the Transportation Department.
The city will also consider lowering speed limits on 11.5 miles of streets where traffic speeds have slowed, including a 2.1-mile stretch of Alvarado Street between Hoover Street and the 101 Freeway.
The proposed increases come as Los Angeles struggles to meet the goals of Vision Zero, Mayor Eric Garcetti's directive to eliminate traffic deaths on city streets by 2025.
In 2017, 260 people were killed in traffic collisions on city streets — a 6% reduction over the 2016 death toll, but far short of the city's 20% goal.
Speed is one of the determining factors in whether someone survives a traffic collision, experts say. A pedestrian struck by a driver going 20 mph has a 90% chance of survival, but at 40 mph, the chance of survival falls to a 20% chance, according to federal data.
Residents have approached the speed limit increases with trepidation, saying they are reluctant to see higher speed limits, but support more speed enforcement that targets the most dangerous drivers.
"Most people hate that choice," said Westside Councilman Mike Bonin, whose district would see increases on nine streets, including portions of Sepulveda Boulevard and Centinela Avenue. "It's one we can't get out of, so far."
Los Angeles officials have backed several attempts to change the state law that have failed in Sacramento. Until then, officials said in a report recommending the increases, the city "has no choice but to make counter-intuitive changes to speed limits in order for them to be enforceable."
Under the proposal, two streets would see an increase to 50 mph: a 1.1-mile stretch of Sepulveda parallel to the 5 Freeway in Sylmar and Granada Hills, and a 1.8-mile stretch of Palisades Drive through the mountains in Pacific Palisades.
Nearly 29 miles of streets would see increases to 45 mph, including a 4-mile stretch of Wilbur Avenue through Porter Ranch and Northridge and a 4.5-mile stretch of Sepulveda parallel to the 405 Freeway in Bel-Air.
Two street segments would see a 10 mph increase, to 45 mph: Harry Bridges Boulevard in Wilmington, and Bell Canyon Road in West Hills.
During the Great Recession, Los Angeles fell far behind on updating speed studies as the Transportation Department's speed study group lost five of its seven employees to hiring freezes, medical leave and early retirement.
As speed studies lapsed, the number of speeding tickets written by the LAPD plummeted 77% from 2010 to 2017.
"
We're raising these speed limits with the promise of increased enforcement," said Jeff Jacobberger, a deputy for Councilman Bob Blumenfield, who represents the West Valley. But, he said, residents in the area are concerned that more ticketing won't materialize.
In February, the City Council authorized additional funding for LAPD traffic officers to begin enforcing the speed limits, transportation officials said.
Without radar guns or other electronic devices, police can estimate a vehicle's speed by sight or by driving alongside it, methods that are less accurate and more likely to be thrown out in court.
Police can also use radar and laser devices to ticket speeders in school zones, where the limit is 25 mph when children are present, whether the street's regular speed limit is current or not.
Also Wednesday, the LAPD said traffic officers will distribute educational pamphlets, reflective vests and LED lights to pedestrians who jaywalk.
About 107 of the 200 people killed in traffic crashes this year in Los Angeles were on foot, Police Chief Michel Moore said at a news conference.
"It's not just an enforcement issue," Moore said, according to City News Service. "This is a matter of education, a matter of awareness, and a matter of personal responsibility."
For more transportation news, follow @laura_nelson on Twitter.
---
The stories shaping California
Get up to speed with our Essential California newsletter, sent six days a week.
You may occasionally receive promotional content from the Los Angeles Times.