Sriracha shipments delayed until January by health regulators' action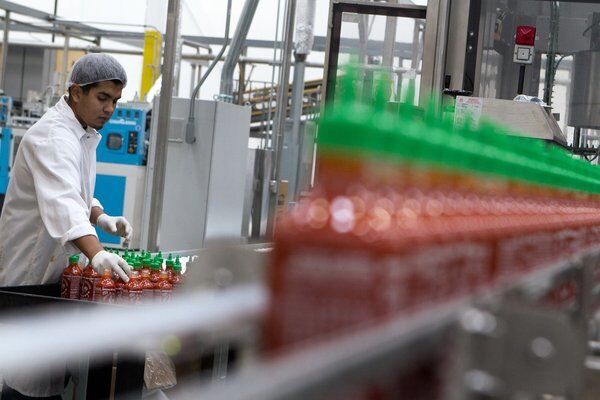 Jostein Reyes works in the packaging area at Huy Fong Foods Inc. in Irwindale. Huy Fong Foods Inc. is known for its Sriracha hot sauce.
(Cheryl A. Guerrero / Los Angeles Times)
Texas state Rep. Jason Villalba, right, tours the Huy Fong Foods plant, maker of Sriracha hot sauce, with founder and Chief Executive David Tran in Irwindale.
(Leo Jarzomb / Associated Press)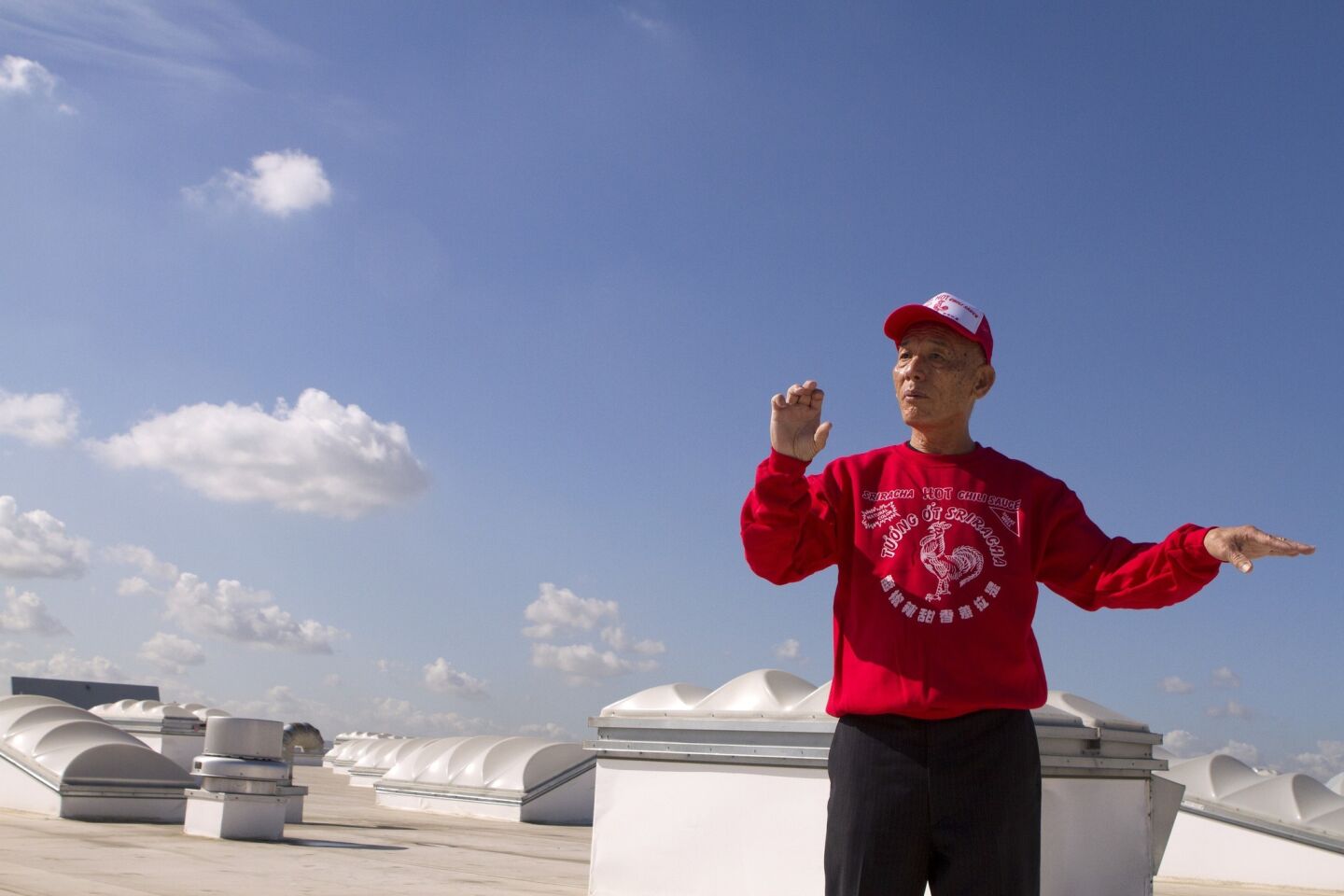 David Tran, chief executive and founder of Huy Fong Foods Inc., gives a tour of his facility in Irwindale. Nearby residents have complained about burning eyes, irritated throats and headaches.
(Cheryl A. Guerrero / Los Angeles Times)
Salvador Segura oversees hybrid jalapenos unloaded from a truck at Huy Fong Foods Inc. in Irwindale.
(Cheryl A. Guerrero / Los Angeles Times)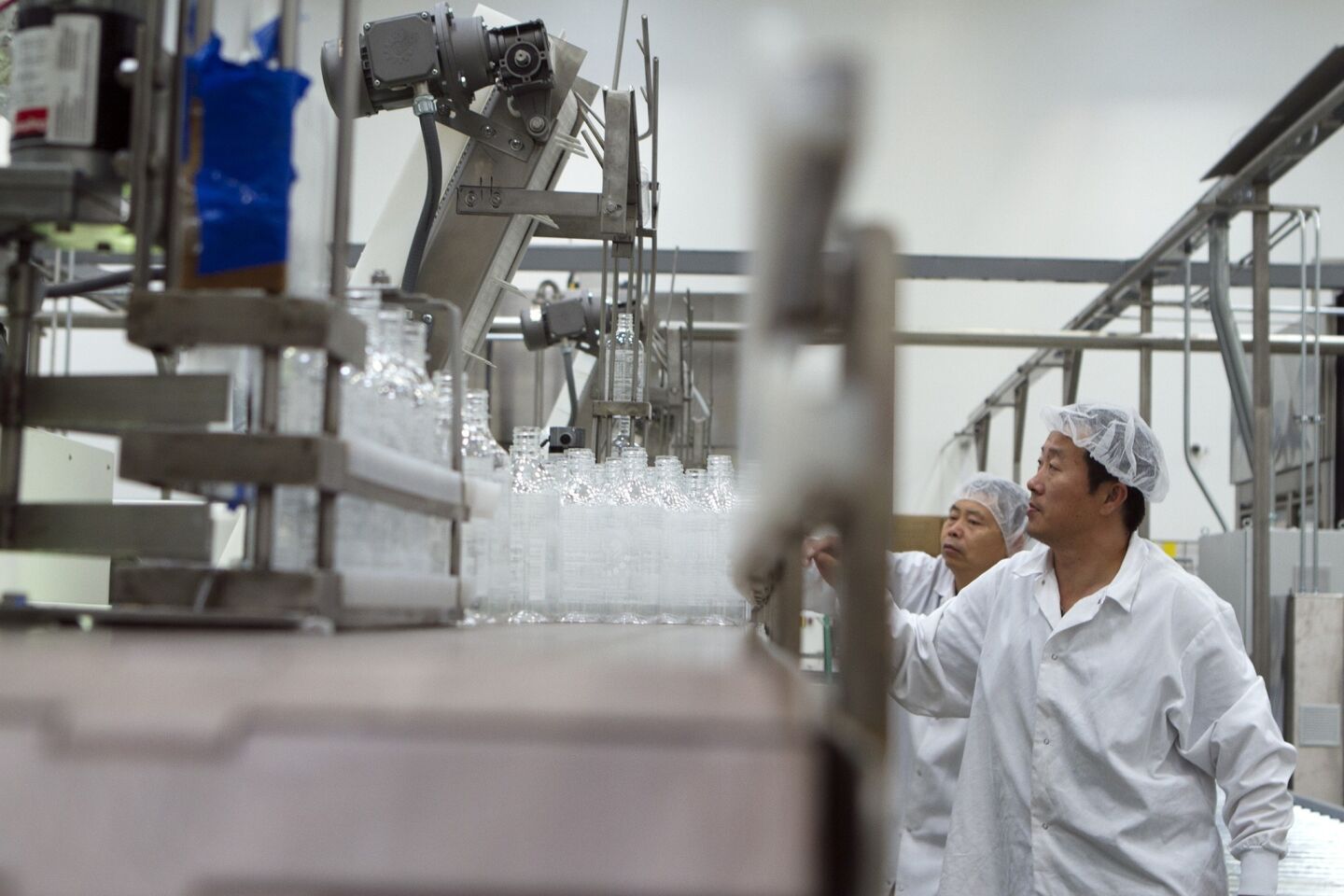 Wei Wang and Wei Zhang work in the packaging area at Huy Fong Foods Inc. in Irwindale.
(Cheryl A. Guerrero / Los Angeles Times)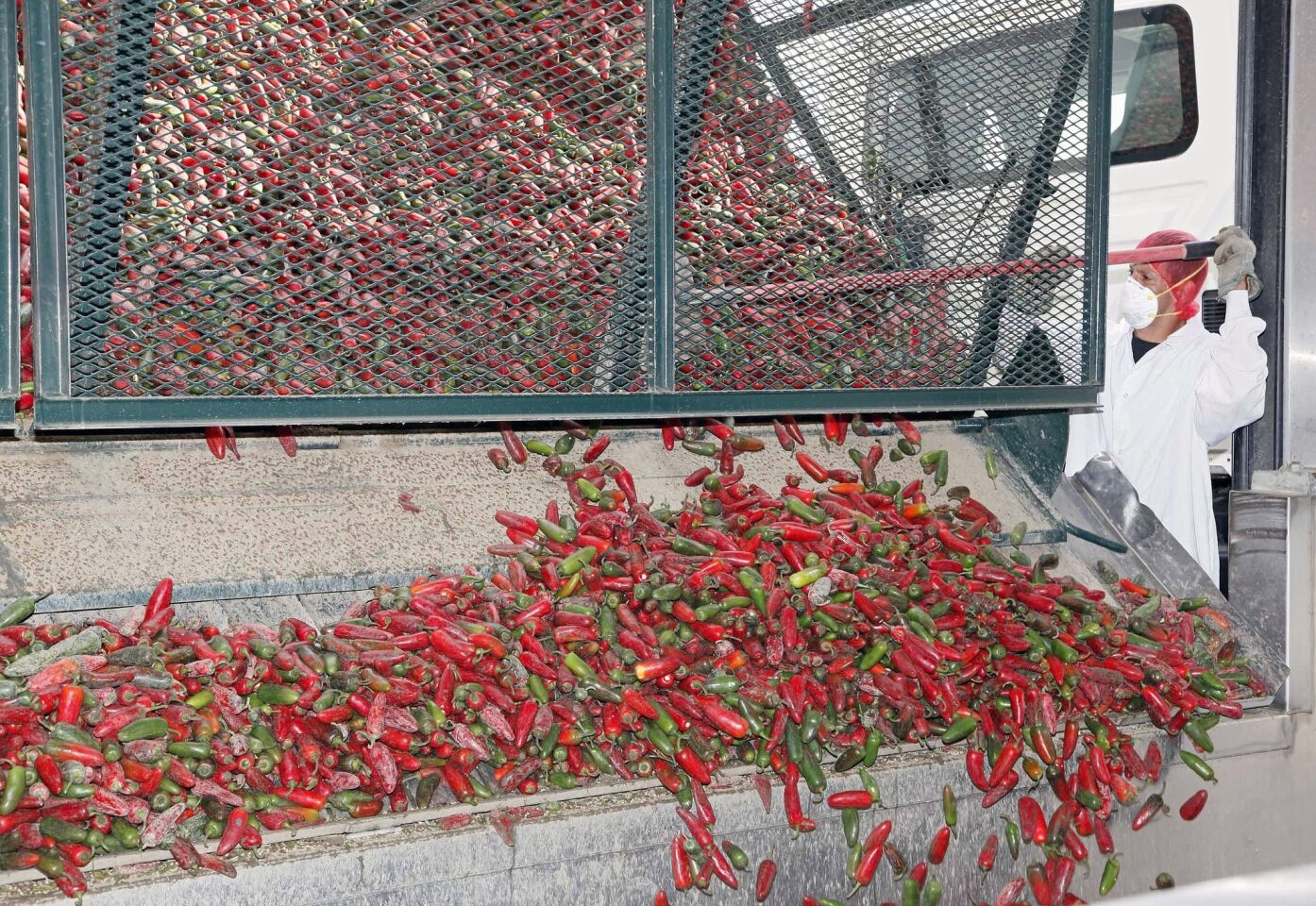 Sriracha chili sauce is produced at the Huy Fong Foods factory in Irwindale.
(Nick Ut / Associated Press)
William Barrios sweeps the floor while hybrid jalapenos are washed at Huy Fong Foods Inc. in Irwindale.
(Cheryl A. Guerrero / Los Angeles Times)
A 30-day delay in the distribution of Sriracha and two other hot sauces manufactured by Huy Fong Foods has some suppliers of Asian food worried about meeting consumer demand.
The manufacturer cannot ship any more of its product until mid-January because the California Department of Public Health has begun enforcing stricter guidelines for the company.
Damon Chu, president of wholesale Asian food supplier Giant Union in Whittier, says his company could lose about $300,000 in sales as a result of the state agency's action. The firm buys up to $150,000 of Huy Fong Foods products each month, he said.
Giant Union has no inventory to draw on because it ships the sauces continuously to restaurant suppliers across the region, according to Chu. He said he fears that if his customers can't get the sauce included in their order, they will switch to a different supplier or different product.
Under the regulators' action, batches of Huy Fong's three sauces, Sriracha, Chili Garlic and Sambal Oelek, now must be held for 30 days before they can be shipped to distributors and wholesalers.
Because the sauces are ground fresh and not cooked, additional safety measures are required, said department spokeswoman Anita Gore. The 30-day hold helps ensure the sauce is free of harmful microorganisms for the duration of its shelf life, Gore said.
The delay comes amid a heated legal battle Huy Fong and the city of Irwindale, which sued the hot sauce manufacturer over spicy odors that residents say caused a raft of health issues.
A Los Angeles County Superior Court judge ruled in November that the plant must immediately stop any odor-causing production until experts can identify and mitigate the smell.
At the time, Huy Fong officials did not anticipate production delays because they had finished grinding chiles for the year and simply needed to mix and bottle the sauce.
The company began to comply with the state's hold period this week, said operations manager Donna Lam. After the hold period ends, distribution is expected to continue relatively normally. But businesses further down the production chain are sounding alarms about a shortage and lost profits.
ALSO:
NTSB hearing on Asiana crash focuses on pilot skill, training
Metro locks more Blue Line station gates to fight fare evaders
Mountain lion kills dog in La Crescenta; more sightings reported
Twitter: @frankshyong
---
The stories shaping California
Get up to speed with our Essential California newsletter, sent six days a week.
You may occasionally receive promotional content from the Los Angeles Times.