Sriracha shipping halted until mid-January by state regulators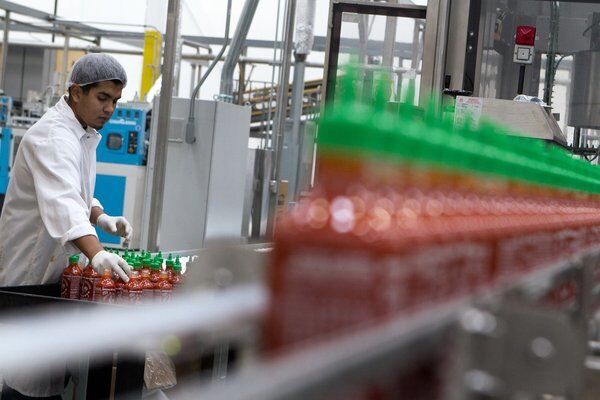 Jostein Reyes works in the packaging area at Huy Fong Foods Inc. in Irwindale. Huy Fong Foods Inc. is known for its Sriracha hot sauce.
(Cheryl A. Guerrero / Los Angeles Times)
Texas state Rep. Jason Villalba, right, tours the Huy Fong Foods plant, maker of Sriracha hot sauce, with founder and Chief Executive David Tran in Irwindale.
(Leo Jarzomb / Associated Press)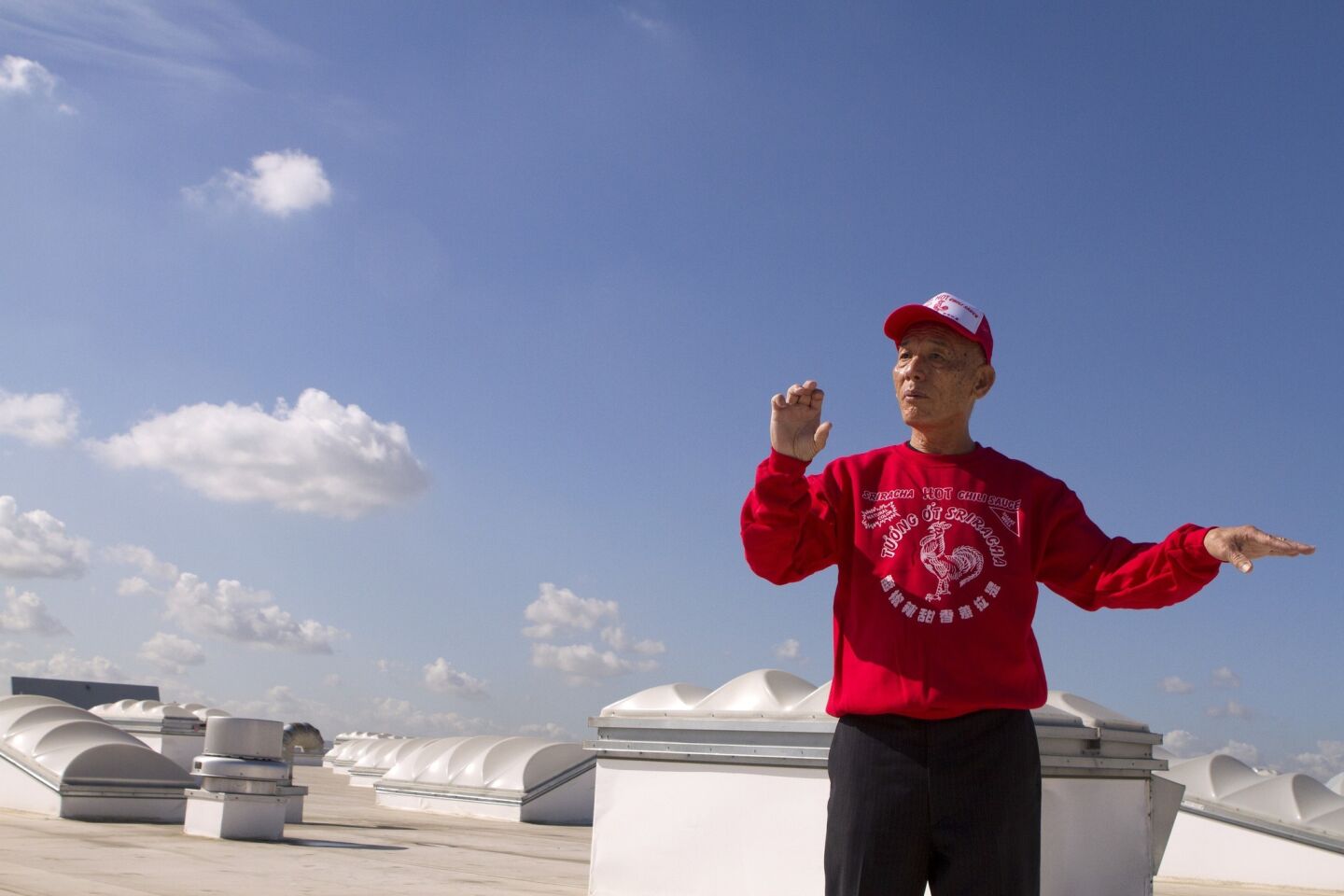 David Tran, chief executive and founder of Huy Fong Foods Inc., gives a tour of his facility in Irwindale. Nearby residents have complained about burning eyes, irritated throats and headaches.
(Cheryl A. Guerrero / Los Angeles Times)
Salvador Segura oversees hybrid jalapenos unloaded from a truck at Huy Fong Foods Inc. in Irwindale.
(Cheryl A. Guerrero / Los Angeles Times)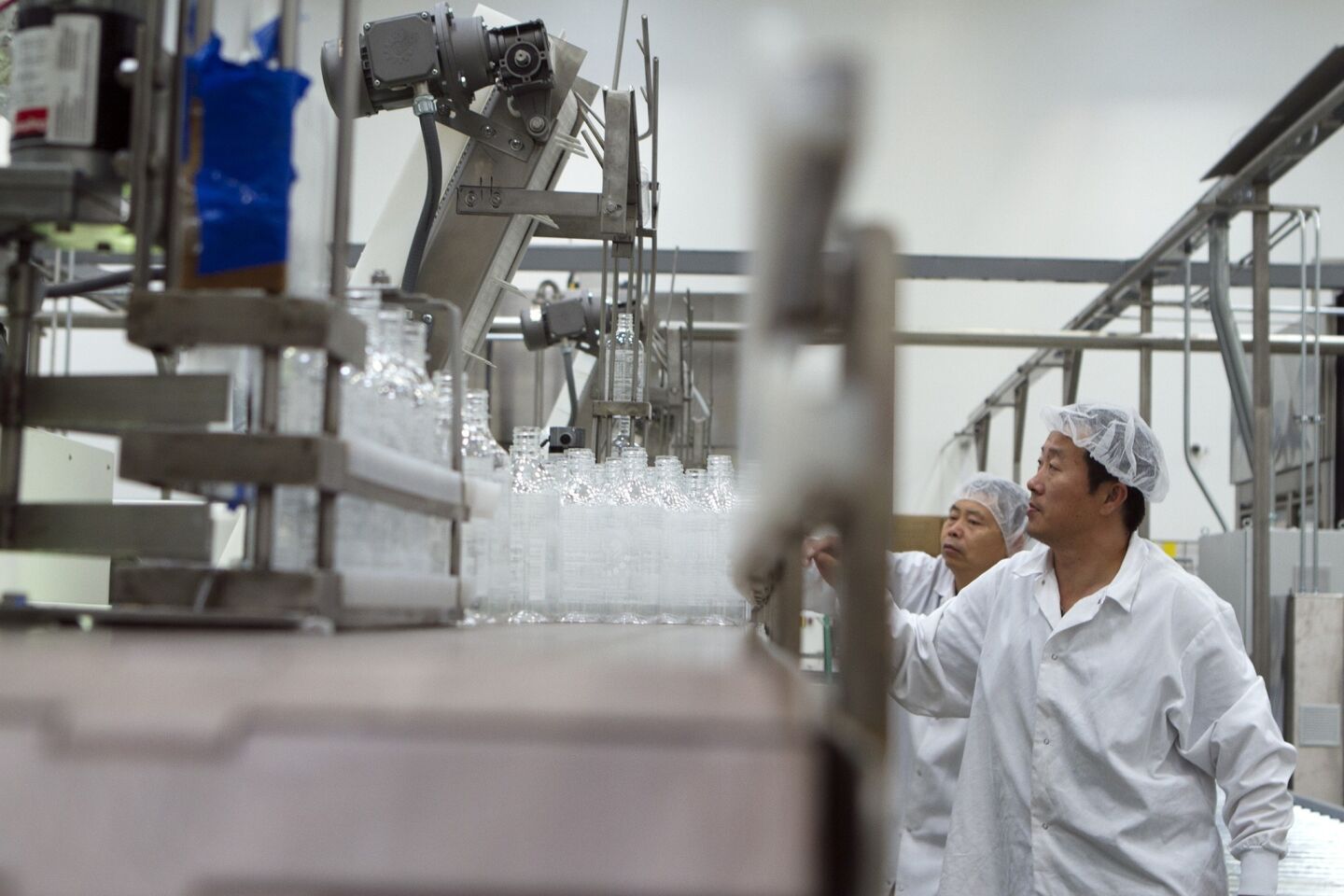 Wei Wang and Wei Zhang work in the packaging area at Huy Fong Foods Inc. in Irwindale.
(Cheryl A. Guerrero / Los Angeles Times)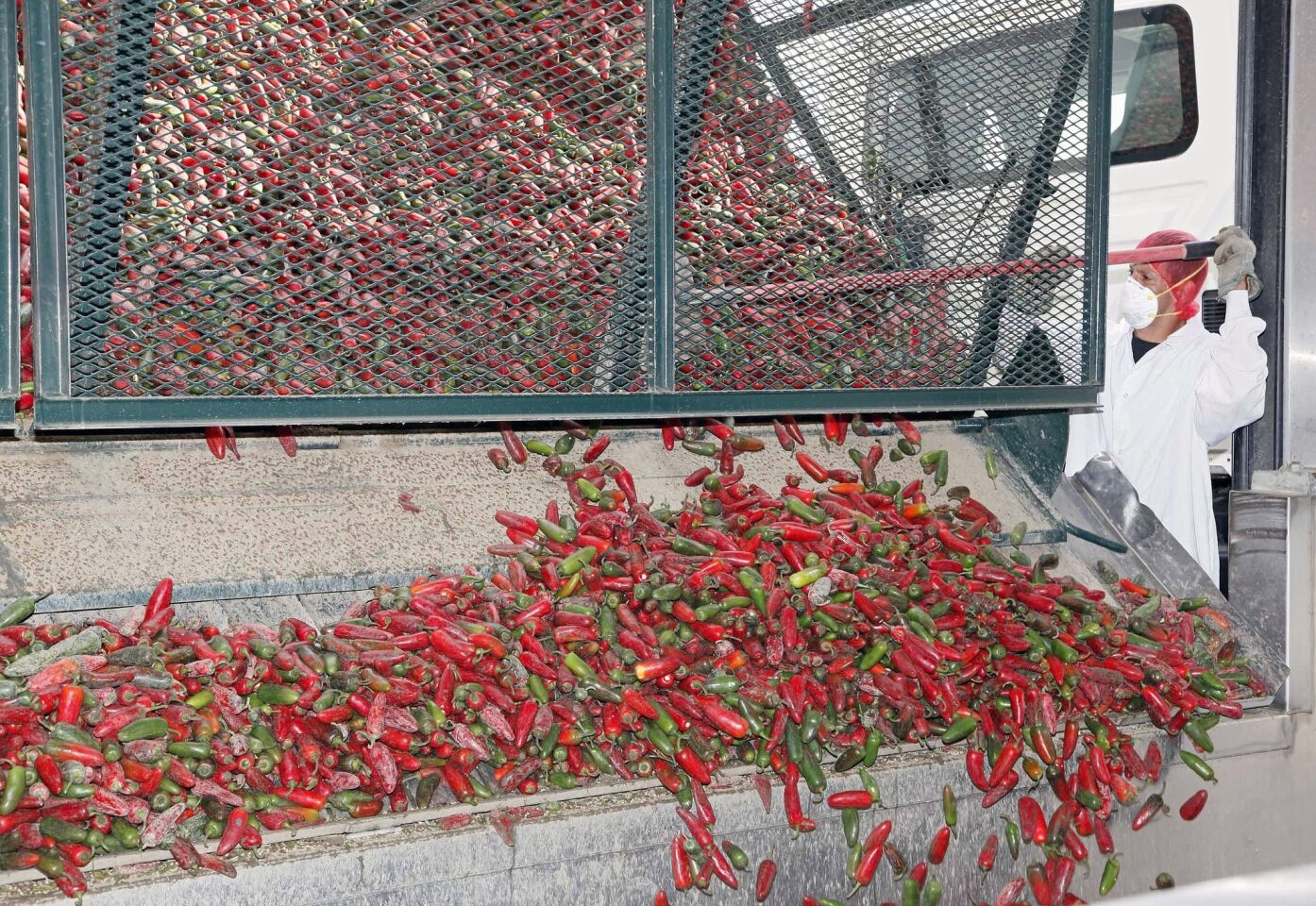 Sriracha chili sauce is produced at the Huy Fong Foods factory in Irwindale.
(Nick Ut / Associated Press)
William Barrios sweeps the floor while hybrid jalapenos are washed at Huy Fong Foods Inc. in Irwindale.
(Cheryl A. Guerrero / Los Angeles Times)
This post has been corrected. See note below for details.
Sriracha hot sauce manufacturer Huy Fong Foods cannot ship out any more sauce until mid-January because the California Department of Public Health has begun enforcing stricter guidelines for the company.
Their three sauces, Sriracha, Chili Garlic and Sambal Oelek, now must be held for at least 30 days before they can be shipped to food distributors and wholesalers, the company confirmed Wednesday. It's not clear whether the hold is a new requirement. The Department of Public Health did not respond to requests for comment on Tuesday or Wednesday.
The production delay comes amid a heated legal battle with the city of Irwindale, which sued the hot sauce manufacturer over spicy odors that residents say caused a raft of health issues.
A Los Angeles Superior Court judge ruled in November the plant must stop any odor-causing productions immediately until experts could identify and mitigate the smell.
But at the time, Huy Fong officials did not anticipate production delays because they had finished grinding chilis for the year and simply needed to mix and bottle the sauce.
The company began to comply with the state's hold period this week, said operations manager Donna Lam. Sauce suppliers will not be able to restock until mid-January.
Damon Chu, president of wholesale Asian food supplier Giant Union in Whittier, claims his company could lose about $300,000 in sales. His company buys up to $150,000 worth of Huy Fong Food products each month.
They have no inventory to draw on because they ship the sauces continuously to restaurant suppliers across the region. He fears that if his customers can't get the sauce included in their order, they will switch to a different supplier or different product.
"We have already received more than 30 angry phone calls today," Chu said. "It drives me crazy because this is the first time we have been in this situation."
Whiting Wu, the manager of East Coast supplier Summit Operations Corp., says Huy Fong's sauces are a "very significant part" of the business. His company supplies wholesalers, grocery stores and restaurants throughout the eastern half of the United States, and demand usually increases during cold winter months, he said.
"We'll lose money," Wu said. "Their sauce is not easily replaced."
[For the record, 6:40 p.m., Dec. 12: A previous version of this post stated the hold is for 35 days; it is for 30 days maximum.]
ALSO:
Mega Millions jackpot is now at $400 million and growing
Baby Jesus stolen from nativity scene at outdoor Valencia mall
Man kills wife, then goes to nursing home, kills sister, police say
Twitter: @frankshyong
frank.shyong@latimes.com
---
The stories shaping California
Get up to speed with our Essential California newsletter, sent six days a week.
You may occasionally receive promotional content from the Los Angeles Times.