Sriracha maker's legal battle with jalapeño farm heats up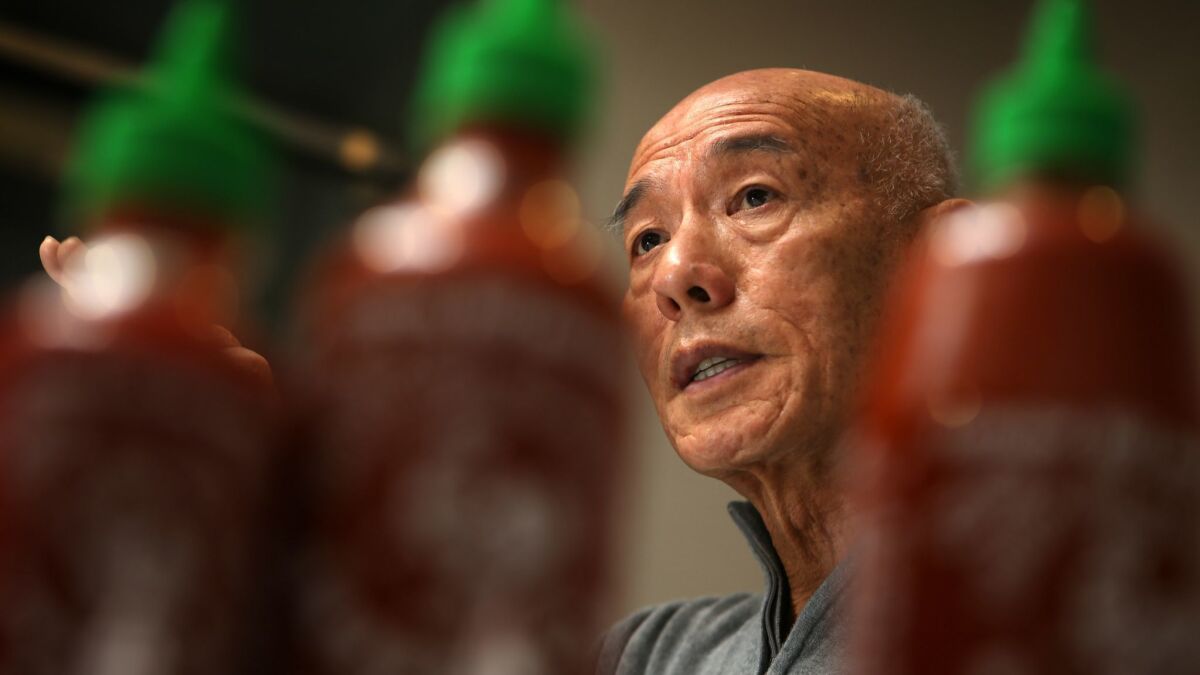 For nearly 30 years, Ventura County's farmlands have been home to jalapeños that helped bring the heat to the world-famous Sriracha hot sauce.
Now, the peppers are at the heart of a business disagreement that has resulted in a multimillion-dollar lawsuit.
On Monday afternoon, Huy Fong Foods Inc., a manufacturer of Sriracha, and Underwood Ranches, the former exclusive supplier of the jalapeño chili peppers that are a core ingredient of the deep-red sauce, are scheduled to appear in Ventura County Superior Court.
The two sides will grapple over millions of dollars in damages they each say they have suffered because of the bitter collapse of their partnership.
Huy Fong Foods is seeking $1.46 million in damages it alleges Underwood owes plus 10% interest. Underwood Ranches, in a cross-complaint, is suing for more than $20 million as well as punitive damages.
Both parties said the trial, which previously was set to begin in late April, may be delayed again because of a court scheduling conflict.
The dispute began in the fall of 2016, when Huy Fong Foods approached Underwood Ranches, a family-owned producer that has been raising crops in Ventura County since the 1960s, about an overpayment of $1.45 million for the previous growing season, according to court documents.
Huy Fong Foods, which is based in Irwindale, is owned by David Tran, who fled Vietnam after it fell under communist rule and settled in Los Angeles, where he founded the Sriracha manufacturer. The company was once sued by the city of Irwindale, which said the hot sauce factory was a public nuisance because its spicy odor allegedly caused headaches, heartburn and watering eyes among residents. The lawsuit was dropped in May 2014.
Underwood Ranches is managed by Craig Underwood in Camarillo. The grower's products are sold in the Ventura area at Underwood Family Farms, which Underwood also owns but manages separately from the ranch.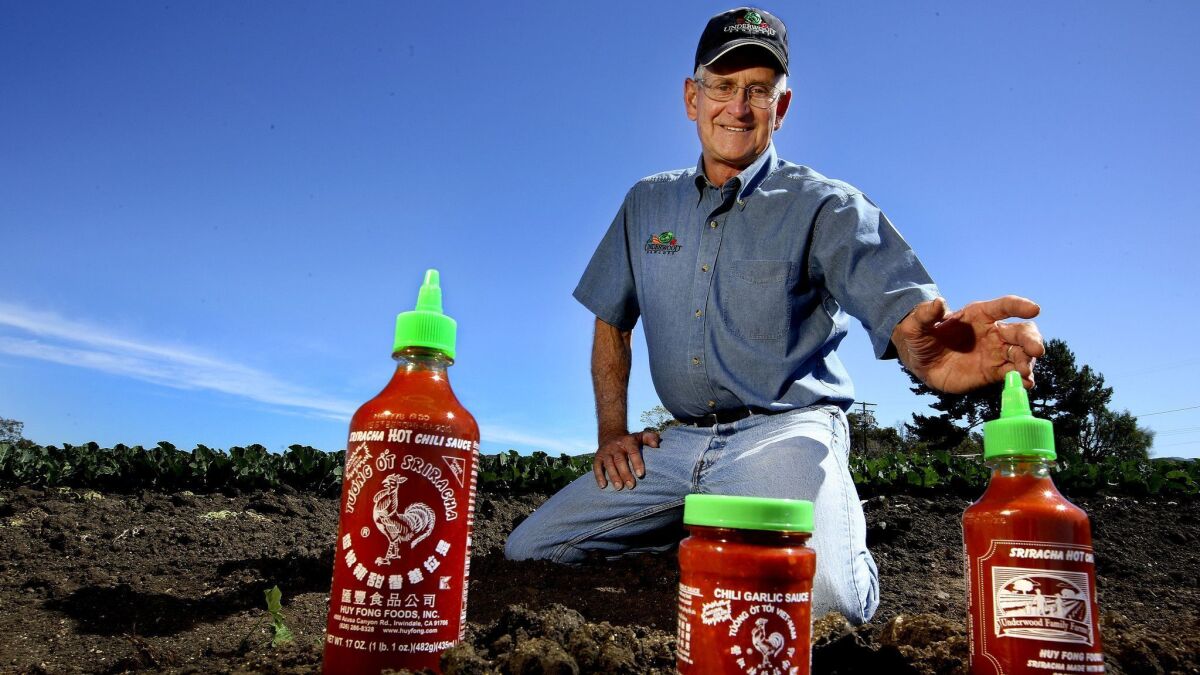 Erik Feingold, a lawyer representing Huy Fong Foods, said the parties had a relationship in which Huy Fong Foods would prepay Underwood Ranches based on estimates for the costs associated with growing and harvesting the chiles during the upcoming growing season. Those payments would then be made to Underwood Ranches in installments that would be used to finance the growing of the crops.
This agreement was "partly oral, partly written and partly established by the parties' practice," according to court documents.
Attorneys representing Underwood Ranches did not respond to requests for comment.
In the lawsuit, Huy Fong Foods said Underwood's calculations after the 2016 growing season revealed the $1.45-million overpayment, which Huy Fong Foods alleges Underwood later refused to repay. Feingold said the discovery of the overpayment led to the parties discussing more financial issues that culminated in Underwood Ranches terminating the relationship with Huy Fong Foods in January 2017.
In February of that year, Huy Fong Foods filed a lawsuit in Los Angeles County Superior Court. The case was later moved to Ventura County Superior Court. Underwood filed a cross-complaint in February 2018 against Tran and Huy Fong Foods alleging Huy Fong caused the breach in its agreement with the ranch and that as a result, the grower sustained more than $20 million in losses.
A March tweet by Huy Fong Foods said, "In 2018, Underwood Ranches came out with their own Sriracha Sauce but is suing [Huy Fong] for damages in excess of $20 million dollars. Underwood expects [Huy Fong] to pay back the 'golden goose' that they themselves killed."
From our archives: With no trademark, Sriracha name is showing up everywhere »
In the cross-complaint, Underwood Ranches disputed each of Huy Fong's allegations and said the manufacturer failed to pay the ranch the agreed-upon price for the chile peppers during the 2016 growing season.
Underwood also said Huy Fong demanded that the ranch contract with a newly formed entity called Chilico instead of Huy Fong in what the ranch said was a move to cut costs and stop advancing funds for the growing season. Chilico is owned by Donna Lam, an executive of Huy Fong, according to court records.
"Huy Fong is disappointed that Underwood terminated the relationship. And they were sorry to see Underwood go," Feingold said in a statement.
Craig Underwood declined to comment on the lawsuit but said in an email that Underwood Ranches will soon release its own line of spicy hot sauces.
The stories shaping California
Get up to speed with our Essential California newsletter, sent six days a week.
You may occasionally receive promotional content from the Los Angeles Times.