State audit calls for more funding and statewide agency to address nation's worst homelessness problem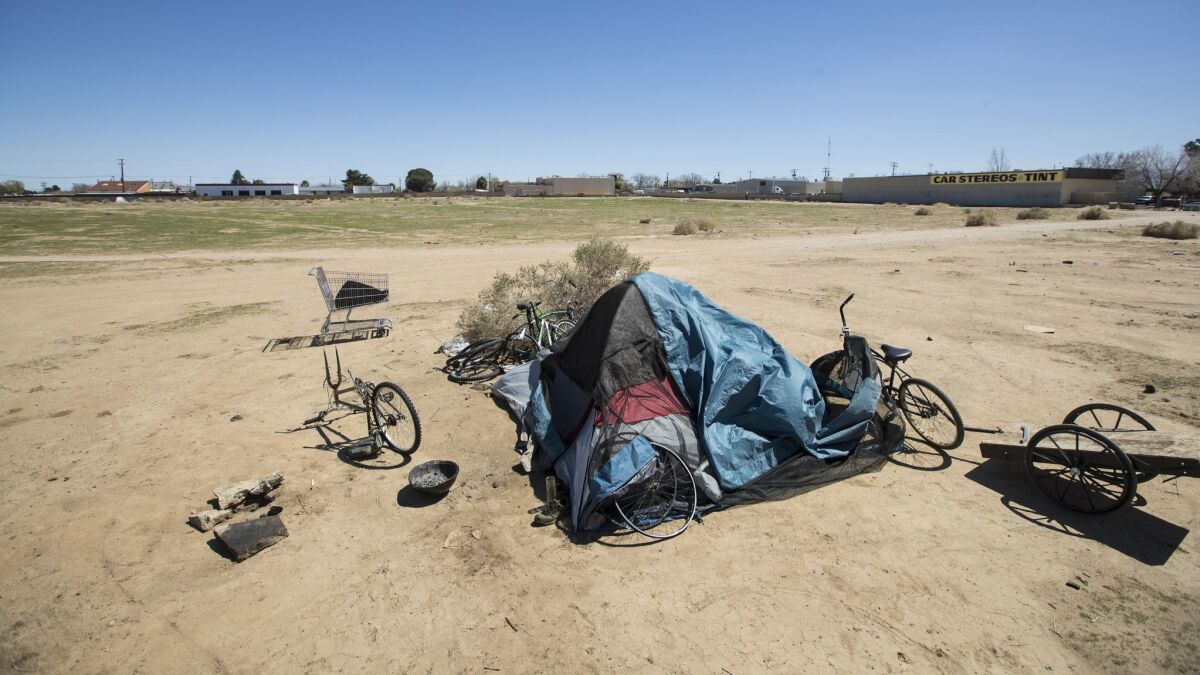 California's top auditor Thursday sharply criticized the state's response to homelessness, recommending more spending and a stronger state role.
"California should do more to address homelessness," the audit concluded. "California has more people experiencing homelessness than any other state in the nation, and it does a poor job of sheltering this vulnerable population."
Other states with large homeless populations spend more per capita to shelter them and have single statewide entities dedicated to addressing homelessness, it said.
The audit was ordered last year in response to complaints from state Sen. Scott Wilk (R-Santa Clarita) that the Los Angeles Homeless Services Authority was shortchanging the Antelope Valley in shelter funding.
Only mildly faulting the homeless authority for not developing adequate procedures to ensure all areas receive a fair share of resources, the audit broadened into a sweeping statewide analysis.
"Until recently, California lacked a single statewide entity for addressing homelessness and had no mechanism for coordinating the many homeless programs that the state funds," it said.
The entity recently created for that purpose, the Homeless Coordinating and Financing Council, has no permanent staff. The audit recommended that the Legislature provide funds for a staff, including an executive director, and direct the agency to develop and implement a statewide strategic plan by next April.
That plan should identify additional funding sources and include objectives and timelines for addressing homelessness, it said.
A spokeswoman for State Auditor Elaine Howle said the report's scope expanded as auditors pursued their charge to explore "best practices" and assess any other significant issues.
Wilk praised the audit for highlighting "what is obvious to many Californians."
In a statement released by his office, he said, "Years of bureaucratic malaise and inefficiencies have to be addressed if we are to get a handle on this problem and find a path that gets services and housing to the people that need it."
While not recommending specific funding amounts, the audit contrasted spending in Los Angeles County with New York City.
New York's Department of Homeless Services budgets about $17,000 annually per homeless person in local, state and federal funds and shelters all but about 5% of the city's homeless population. In Los Angeles, the audit estimated, annual spending is only about $5,000 per person and three-quarters of the homeless population has no shelter.
Much of the audit focused on other parts of the state, especially rural areas where resources are spread so thin that agencies have a hard time meeting basic federal requirements such as conducting annual homeless counts and maintaining databases of homeless people.
The beefed-up state council should assist those agencies, it said.
The state audit comes two weeks after a fiscal review by Los Angeles County auditors found weaknesses in the homeless authority's finance operation including understaffing and lack of management oversight.
In response, Los Angeles County Supervisor Mark Ridley-Thomas called for the county's chief executive, assisted by the auditor-controller and the county counsel, to recommend immediate and long-term structural improvements.
Examining Wilk's complaint, the state auditor found significant funding variations among service areas in Los Angeles County, with the smallest amount going to areas outside the city of Los Angeles. But it said the homeless authority had a reasonable process to evaluate funding applications.
Disparities were partly the result of some areas lacking service providers to apply for funds.
But the audit added that the authority did a poor job of identifying barriers faced by potential service providers and helping them make successful applications.
The stories shaping California
Get up to speed with our Essential California newsletter, sent six days a week.
You may occasionally receive promotional content from the Los Angeles Times.