Review faults L.A. homeless authority's fiscal management, raising questions over Measure H funds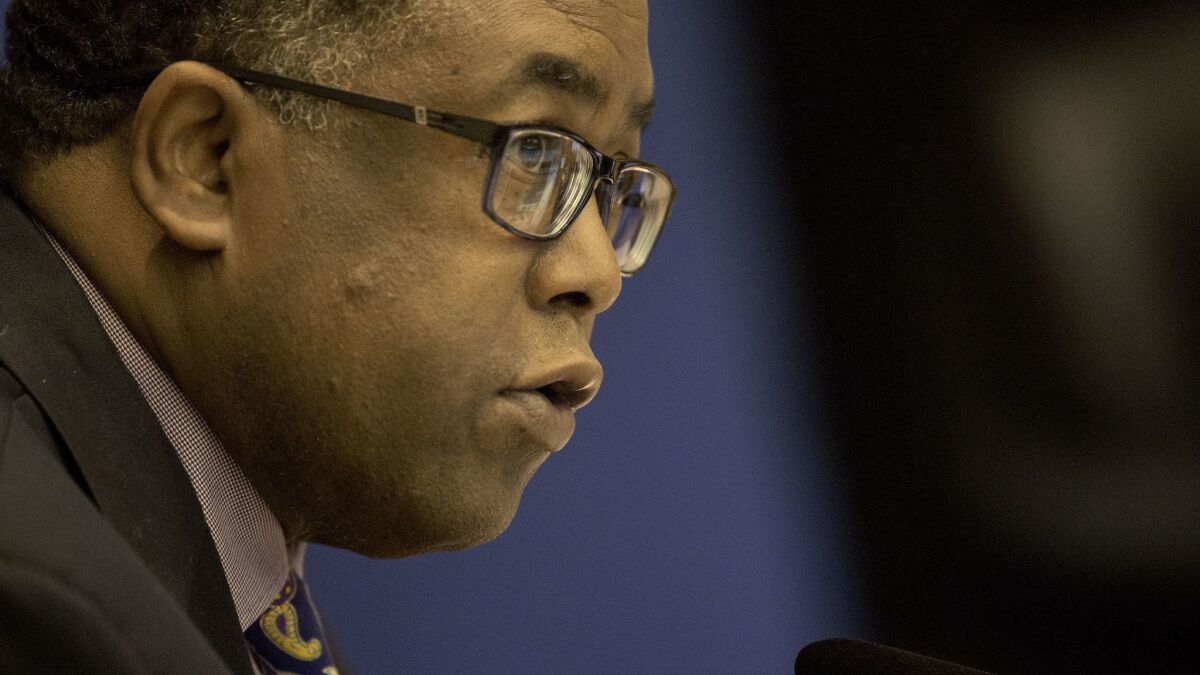 After a county auditor's critical review of the fiscal management of the Los Angeles Homeless Services Authority, L.A. County Supervisor Mark Ridley-Thomas called Wednesday for an evaluation of whether the agency is capable of managing the large influx of funds generated by Measure H.
Ridley-Thomas filed a motion asking for a report from top county officials on "relevant structural adjustments necessary … to improve the outcomes and accountability of Measure H funds."
The fiscal review, conducted by the county's auditor-controller, found that the authority's finance operation is understaffed, lacks management oversight and pays its bills too slowly, among other faults.
"It would be prudent for the county to assess the capacity of LAHSA to manage the increased funding levels resulting from Measure H and to take the steps necessary to strengthen accountability of these funds," Ridley-Thomas, who was in Memphis, Tenn., for the 50th anniversary of Martin Luther King Jr.'s assassination, said in a telephone interview.
"The auditor-controller is saying there is reason for substantial concerns, and that would be a huge problem if not corrected sooner rather than later," Ridley-Thomas said. "The question then becomes whether or not LAHSA is capable of correcting the issues."
The homeless authority, which was formed in the 1990s to manage homelessness programs for the city and county, currently administers about $100 million in funds.
It is designated as the lead agency for eight of the 21 county homeless strategies funded by Measure H, the quarter-cent sales tax approved by voters last year that is expected to raise about $355 million annually.
Ridley-Thomas said the review was ordered to ensure that the agency could handle the influx of Measure H money that will add more than $140 million to its operations.
The motion, scheduled to be considered by the supervisors Tuesday, asks the county's chief executive, assisted by the auditor-controller and the county counsel, to report within 30 days on improvements the authority has made in response to the audit and to recommend immediate and long-term structural improvements.
The review, released Tuesday, validated complaints from homeless services providers that the authority's slow invoicing process forces them to pay program expenses with their own resources months before being reimbursed.
Leaders of an Antelope Valley shelter that closed last year cited the authority's slow reimbursement as a reason they couldn't continue.
The review said the agency didn't complete contracts in time, had inadequate cash flow to pay subcontractors on time and sometimes was late submitting reimbursement claims to its funding sources, among other findings.
Also, the review found that for the period covered, 72% of the agency's accounts payable were from one to 120 days overdue.
The review also found excessive management review of approvals, unclear job responsibilities and delays due to errors or lack of documentation.
The authority acknowledged the issues but said it had already fixed many of them.
Peter Lynn, executive director of the authority, said it has been taking measures to prepare for significant growth including bringing in a financial management assessment firm.
"We are implementing many changes, many of which were underway before the review," Lynn said. "That's why they were already implemented."
He said, for example, that the authority has shaved the reimbursement time by reconciling invoices after paying them instead of before.
It had improved procedures and was 97% current as of January, he said.
Va Lecia Adams Kellum, president and chief executive of the St. Joseph Center in Venice, testified at the Measure H citizen oversight committee last month that reimbursement generally took 30 to 60 days most of last year, but that new procedures had shortened the time to 10 to 15 days this year.
Ridley-Thomas said he wanted more assurance.
"We need more evidence in order for our confidence level to be raised," he said.
Twitter: @LATDoug
---
The stories shaping California
Get up to speed with our Essential California newsletter, sent six days a week.
You may occasionally receive promotional content from the Los Angeles Times.