More snow in Redding than Boston? This winter is already 'bonkers,' and another storm is coming
Workers shovel giant snowdrifts off the roof of the Mammoth Luxury Outlets in Mammoth Lakes on Feb. 6 after a blizzard dropped as much as 10 feet of snow.
(Allen J. Schaben / Los Angeles Times)
Snow blankets U.S. 395 and the Eastern Sierra near Mammoth Lakes.
(Allen J. Schaben / Los Angeles Times)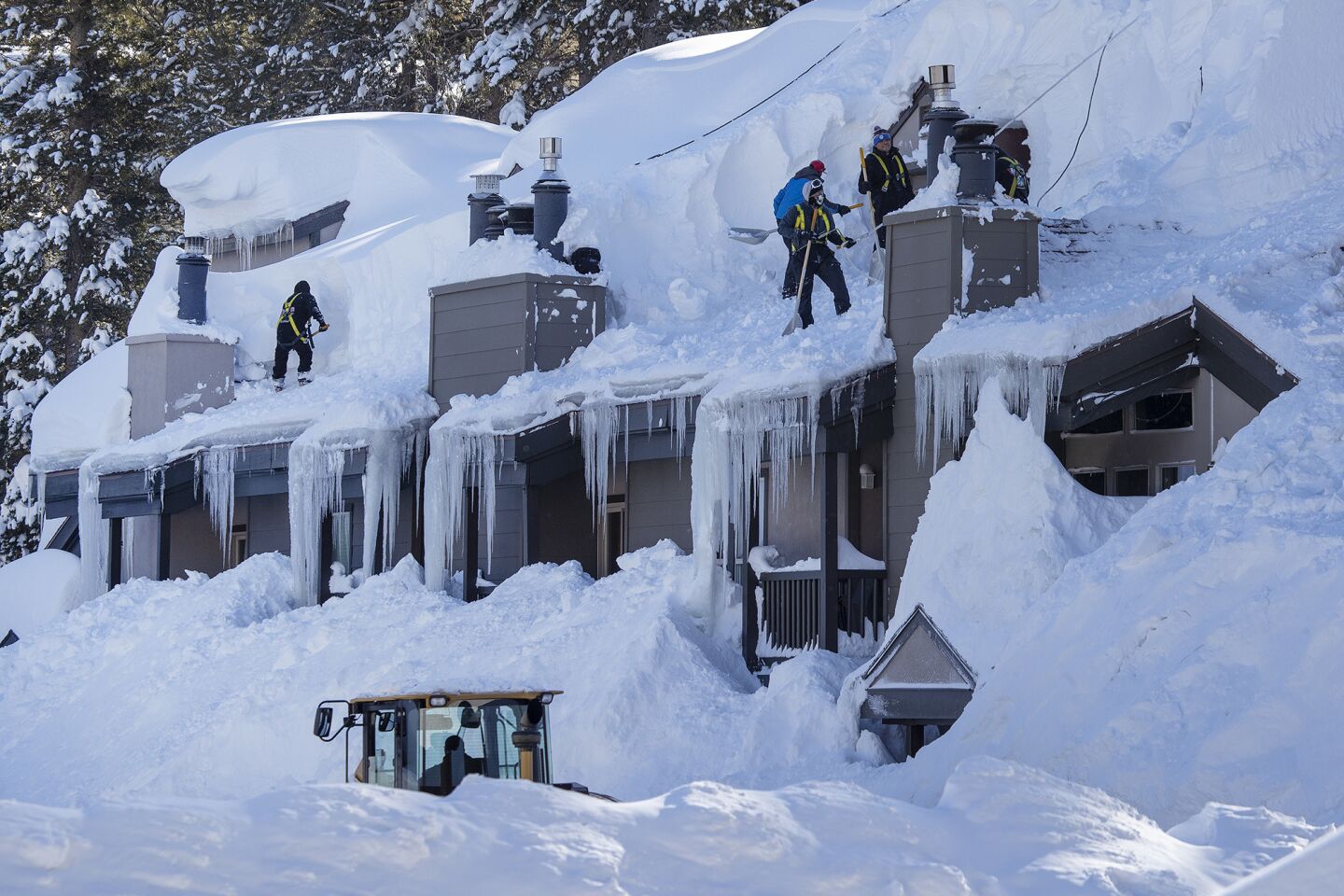 Workers shovel snow off the roofs of condos in Mammoth Lakes on Feb. 6.
(Allen J. Schaben / Los Angeles Times)
A skier glides past snow-covered trees at Mammoth Mountain Resort. The resort was closed because of the blizzard on Feb. 5 but reopened the following day.
(Allen J. Schaben / Los Angeles Times)
Heavy snow blankets Mammoth Lakes Feb. 6. Since the storms started Feb. 2, Mammoth Mountain has seen 132 inches of snow.
(Allen J. Schaben / Los Angeles Times)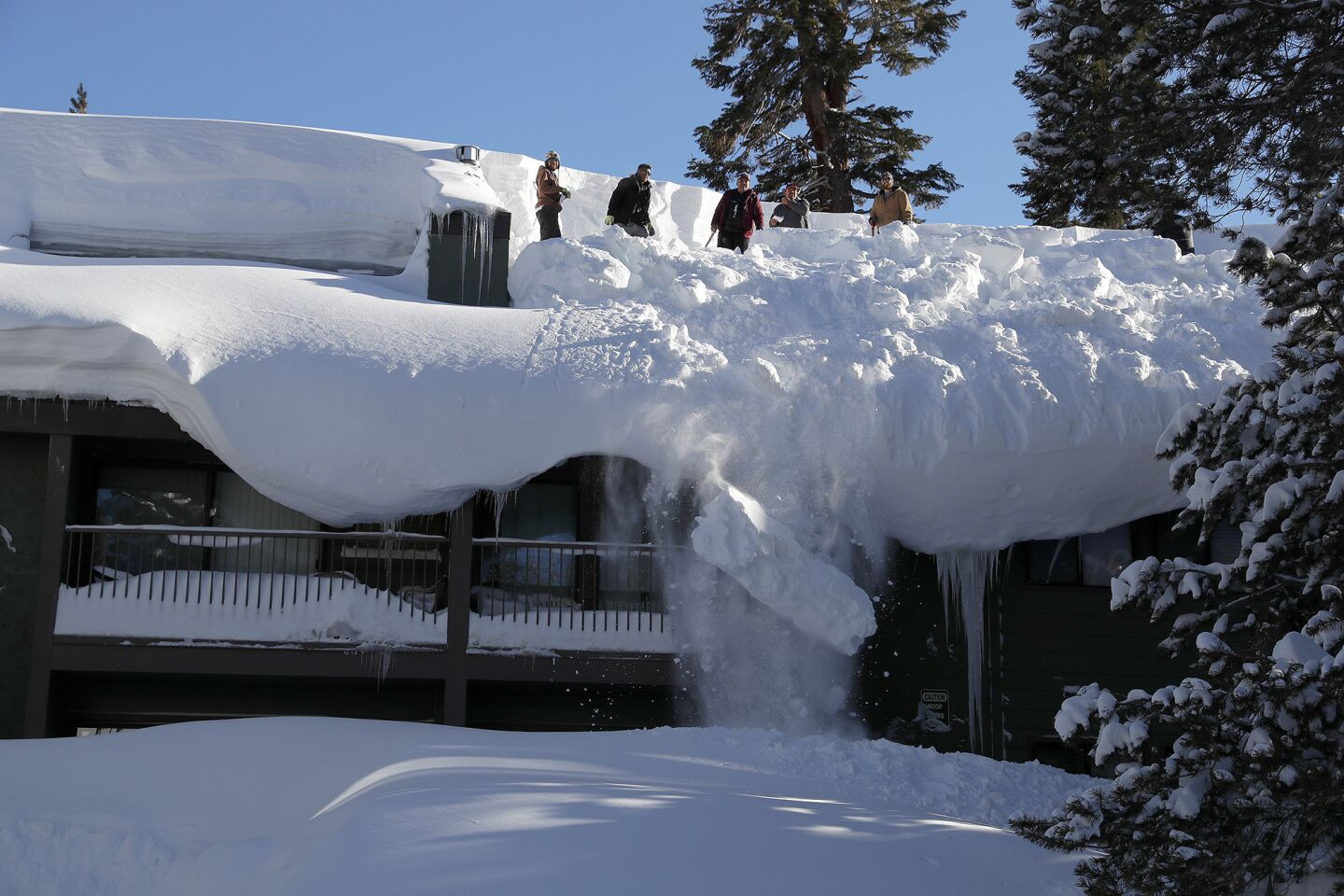 Working to displace giant drifts from a roof at St. Anton Condos in Mammoth Lakes.
(Allen J. Schaben / Los Angeles Times)
Snow covers the mountains as an Orange County Sheriff's patrol boat navigates Anaheim Bay in Sunset Beach on Feb. 6.
(Luis Sinco / Los Angeles Times)
On the evening of Feb. 6, the San Gabriel mountains serve as a backdrop to the downtown Los Angeles skyline.
(Luis Sinco / Los Angeles Times)
Las montañas de San Gabriel sirven como telón de fondo para el horizonte del centro de Los Ángeles.
(Al Seib / Los Angeles Times)
El viento sopla la nieve desde la cima de la montaña Whitney, la cima más alta en Estados Unidos, después de tormentas recientes, en los límites de los condados californianos de Inyo y Tulare. La ladera oeste de la montaña termina en el Parque Nacional Sequoia.
(Allen J. Schaben / Los Angeles Times)
Una pareja descansa bajo Mobius Arch en Alabama Hills en Lone Pine, ubicada en el Valle Owens, condado de Inyo.
(Allen J. Schaben / Los Angeles Times)
Los árboles de Joshua están recortados por montañas cubiertas de nieve en Adelanto, California.
(Allen J. Schaben / Los Angeles Times)
La nieve bloqueó caminos e hizo peligroso conducir desde Middletown hasta Cobb Mountain en Lake County.
(Kent Porter / Associated Press)
California is known as a land of sunshine. But, for the extreme weather that has accompanied the West's colder months, California might as well be called the snowy state.
A series of winter storms has brought record-breaking rainfall and dropped snow levels dramatically across the state, causing fresh powder to fall in areas that rarely see any. First, snow fell along the coast in Northern California's Humboldt County on Sunday. Then, Redding — at an elevation of roughly 500 feet — received more powder over a 12-hour period than Boston has seen this entire winter.
"I believe the scientific term for this statistic is 'bonkers,' " Daniel Swain, a climate scientist at the UCLA Institute of Environment and Sustainability, wrote on Twitter this week.
Forecasters said between 10 and 13 inches of snow fell on Redding this week, and the region could see more depending on how far the weekend's next chilly winter storm drops snow levels.
Snow levels across much of the Sierra Nevada are hovering between 2,000 and 3,000 feet and will probably remain there through much of the weekend, said Hannah Chandler-Cooley, a meteorologist with the National Weather Service in Sacramento.
Forecasters said there is a chance that snow levels could fall below 700 feet by Sunday night in the northern Sierra. But the storm will be on its way out by then, Chandler-Cooley said, so "it'll be hit or miss with how much snow these communities get."
Much of the northern part of the state has already been under siege by snow following a string of storms that hit in early February and even after this week's warmer atmospheric river.
Sierra at Tahoe had received 2.8 feet of snow in 24 hours by Friday morning, pushing the resort's total over the last week to 6.4 feet. Dodge Ridge in Tuolumne County saw 1.8 feet in the same time span, and 14.5 feet over the last two weeks, according to the weather service.
Snow piled high in the Sierra might look alluring for skiers and snowboarders hoping for a good shred session, but getting there won't be easy. The weather service has issued winter storm and avalanche warnings over much of the Sierra, cautioning travelers of dangerous conditions.
The Snow Valley ski resort in Running Springs was closed Friday because California 18, the highway that leads to the area, was blocked off after a rock slide, Caltrans reported. Mt. Baldy also was closed because of road damage.
Parts of roads leading to Idyllwild and other mountain communities were heavily damaged and in some cases destroyed, but access was not completely cut off.
Crews were starting repairs on California Highways 74 and 243. A route combining surviving portions of the two mountain highways and a county road kept the communities connected to the world, but authorities urged outsiders to leave the tenuous route to residents.
"We're discouraging tourism and snow play up there this weekend," said California Department of Transportation spokeswoman Terri Kasinga.
Highways also were damaged in the nearby San Bernardino Mountains, where ski resorts around Big Bear Lake have an abundance of snow. Kasinga said those routes would be open to the public.
In Mono County, home to Mammoth Mountain and June Lake, the weather service has issued a winter storm warning through noon Sunday.
A 70-mile stretch of Interstate 80 over the Sierra Nevada that was closed Thursday night because of white-out conditions remained blocked off Friday. Officials said it's not clear when the road will reopen.
The next storm is also expected to gradually lower snow levels in Southern California, in addition to delivering scattered showers. Communities at elevations of 5,000 feet will probably see a fresh dusting of powder by Saturday afternoon, and those as low as 1,500 feet may get some snow by Sunday night, said Keily Delerme, a meteorologist with the weather service in Oxnard.
"There's a colder air mass that's expected to move across the area and that's what's going to bring temperatures below normal and drop snow levels," she said.
More snow means more picturesque views of the San Gabriel Mountains behind the downtown Los Angeles skyline next week.
Aside from the recreational splendor of fresh snow, the deluge also adds to an already wet winter that has replenished reservoirs and created a healthy snowpack in the Sierra Nevada — a major source of California's water supply. The snowpack on Thursday measured 141% of average for that date and 107% of average for what would typically be recorded at its peak on April 1, according to the California Department of Water Resources.
This is welcome news for the state's water supply, which is replenished when the snow melts during warmer months. But water experts warn that conservation is still necessary, even during wet winters.
"Climate change has created a situation in California that the only thing that's constant is that our weather is so variable we can hardly judge it," said Chris Orrock, a Department of Water Resources spokesman. "It's not if, it's when we'll get another drought. We need to be prepared for that next round."
Rain in Southern California does much less to boost water supplies. But this week saw some record rain totals.
The storm Thursday dropped more than 10 inches of rain on Palomar Mountain, more than 6 inches in Julian and close to 3.5 inches in Oceanside.
The system produced one of the wettest winter days in decades, breaking daily rainfall records in seven communities, including Palomar. The mountain received 10.10 inches, snapping the record of 9.58 inches set on Feb. 14, 1991. Ramona got 4.05 inches, nearly 2 inches higher than a record set in 1995.
A weather balloon released from Miramar Marine Corps Air Station at 4 a.m. Thursday "showed the highest level of precipitable water in the atmosphere, for winter, since 1948," said Matt Moreland, meteorologist in charge of the National Weather Service office in Rancho Bernardo.
Downtown Los Angeles saw 2.12 inches of rain in the 24-hour period that ended at midnight Friday. The area has seen 15.5 inches of rain this water year, which began Oct. 1, surpassing the average for the entire year of 14.93 inches. This represents the region getting 173% of average precipitation for this time of year. Typically, the downtown area sees less than 9 inches in that time frame.
The Associated Press contributed to this report.
Twitter: @Hannahnfry
The stories shaping California
Get up to speed with our Essential California newsletter, sent six days a week.
You may occasionally receive promotional content from the Los Angeles Times.