Monster storm pummels California, prompting evacuations amid mudslides and flooding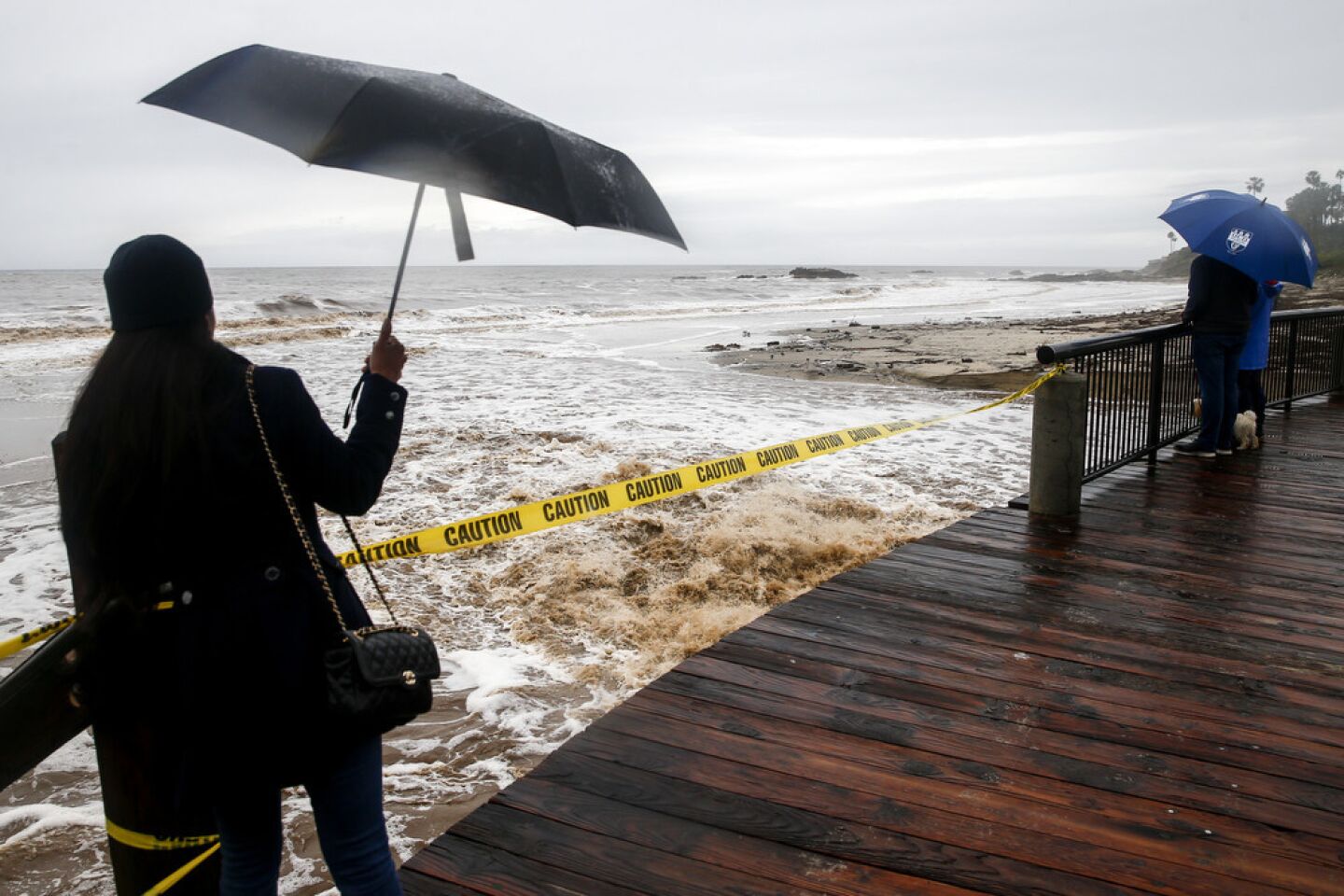 The Laguna Beach boardwalk.
(Kent Nishimura / Los Angeles Times)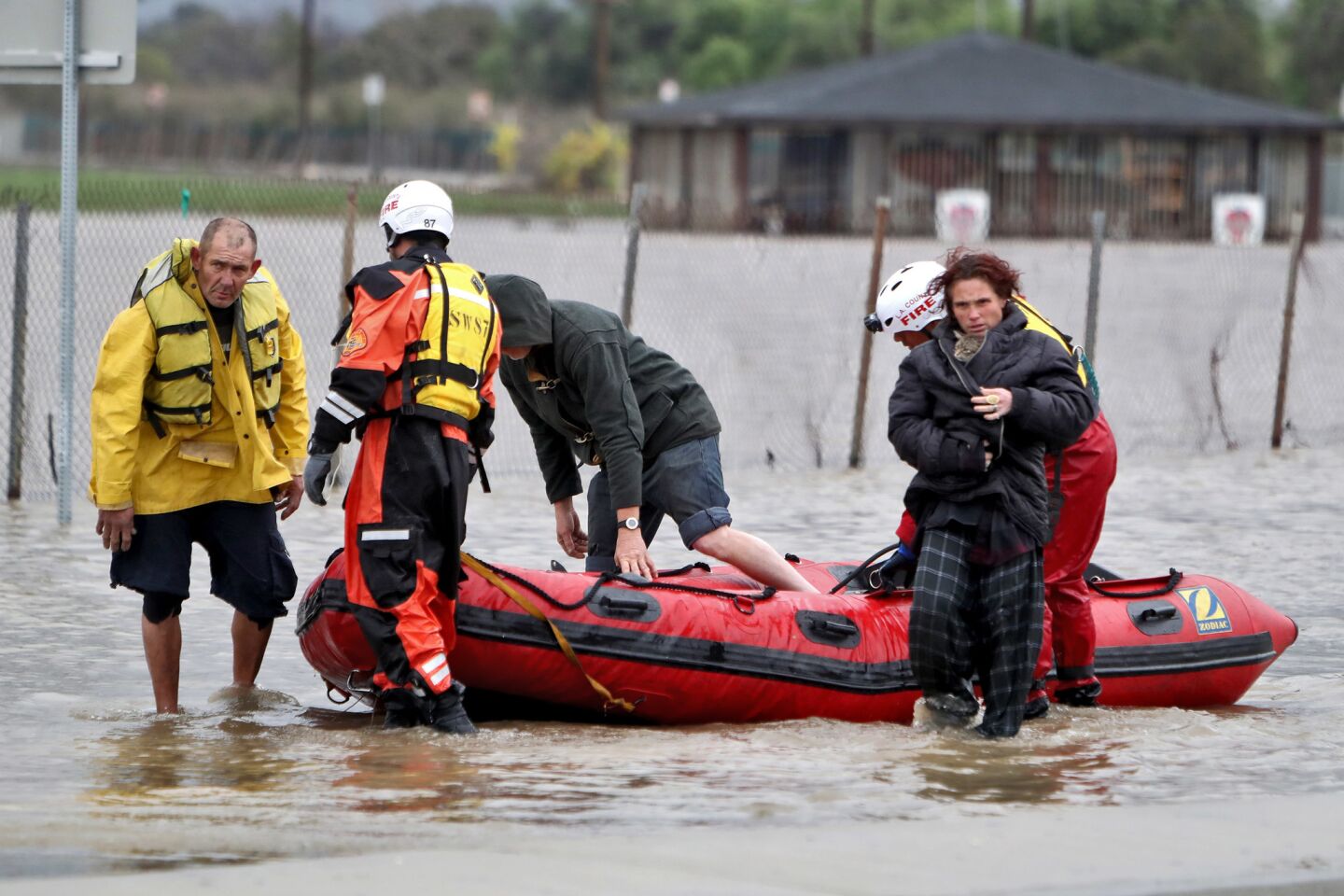 Two men and a woman with her cat emerge from a boat with helmeted L.A. County Fire Department members who rescued them from a treehouse as river waters rose in El Monte.
(Raul Roa / Burbank Leader)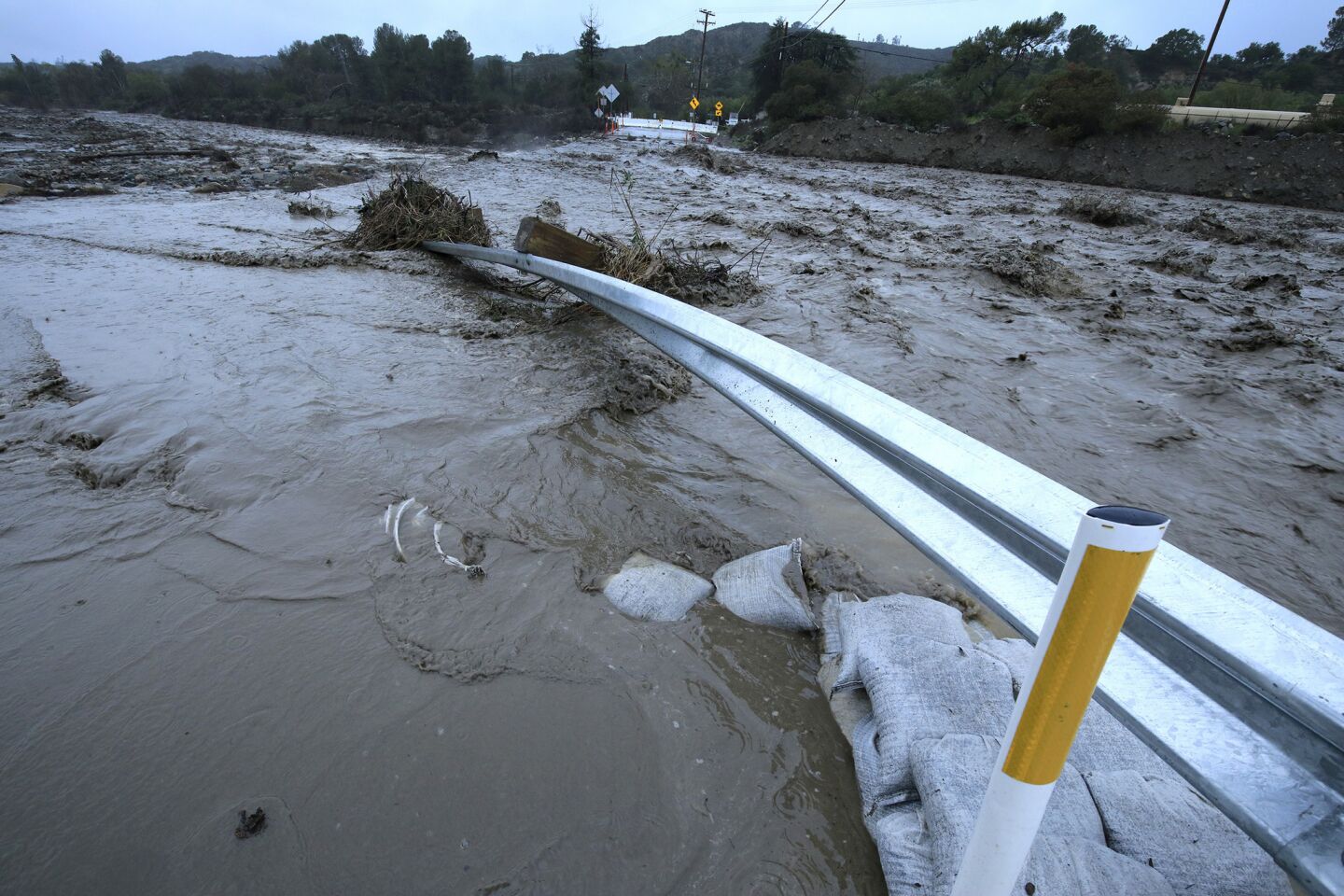 A new guard rail is twisted and bent after Trabuco Creek overflowed the bridge at Trabuco Canyon Road thanks to a strong winter storm. The mud and debris are flowing downstream from the Holy fire burn scar.
(Mark Boster / For The Times)
Streams of water on Laguna Canyon Road in Laguna Beach.
(Kent Nishimura / Los Angeles Times)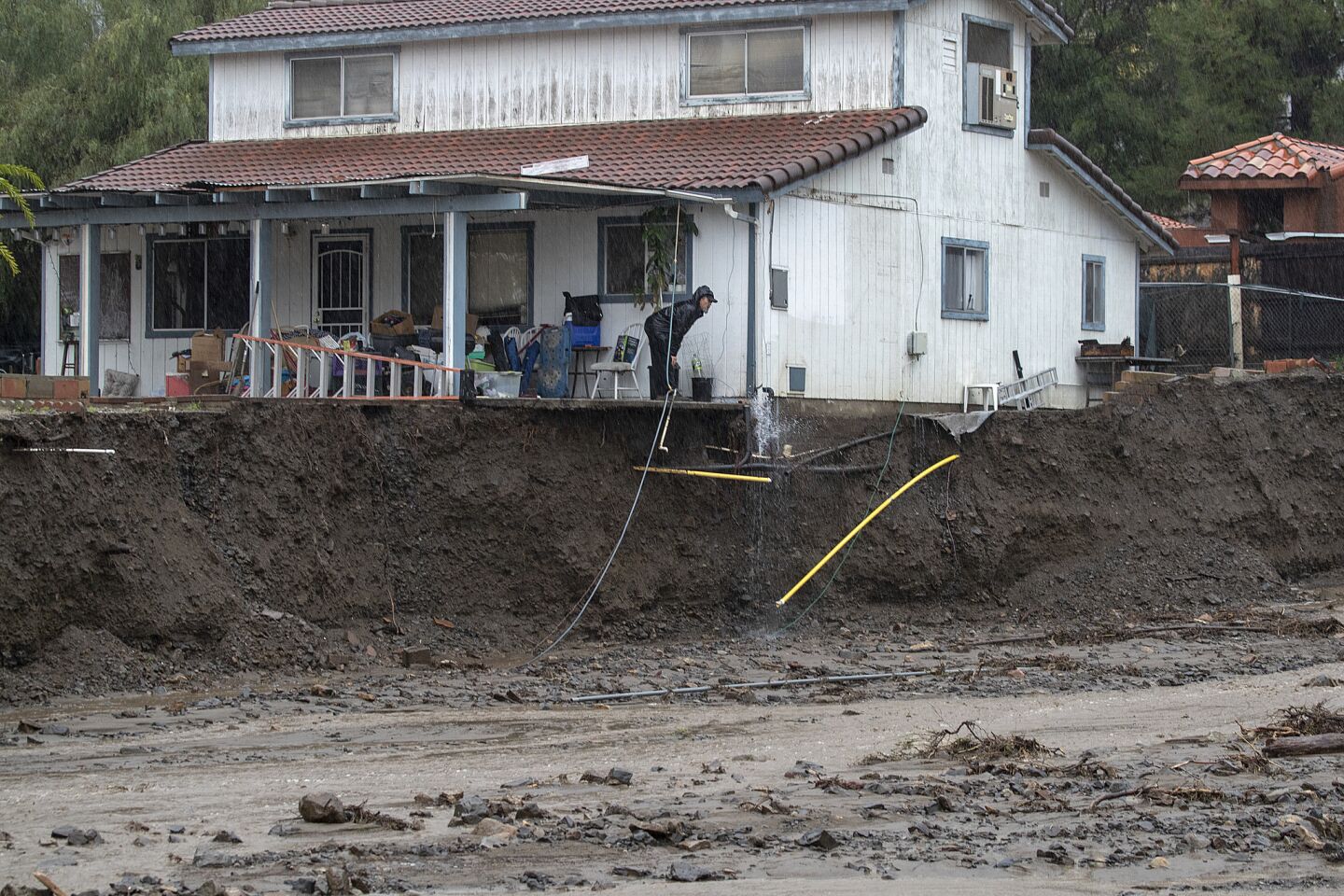 A home in Lake Elsinore is imperiled by the storm.
(Allen J. Schaben / Los Angeles Times)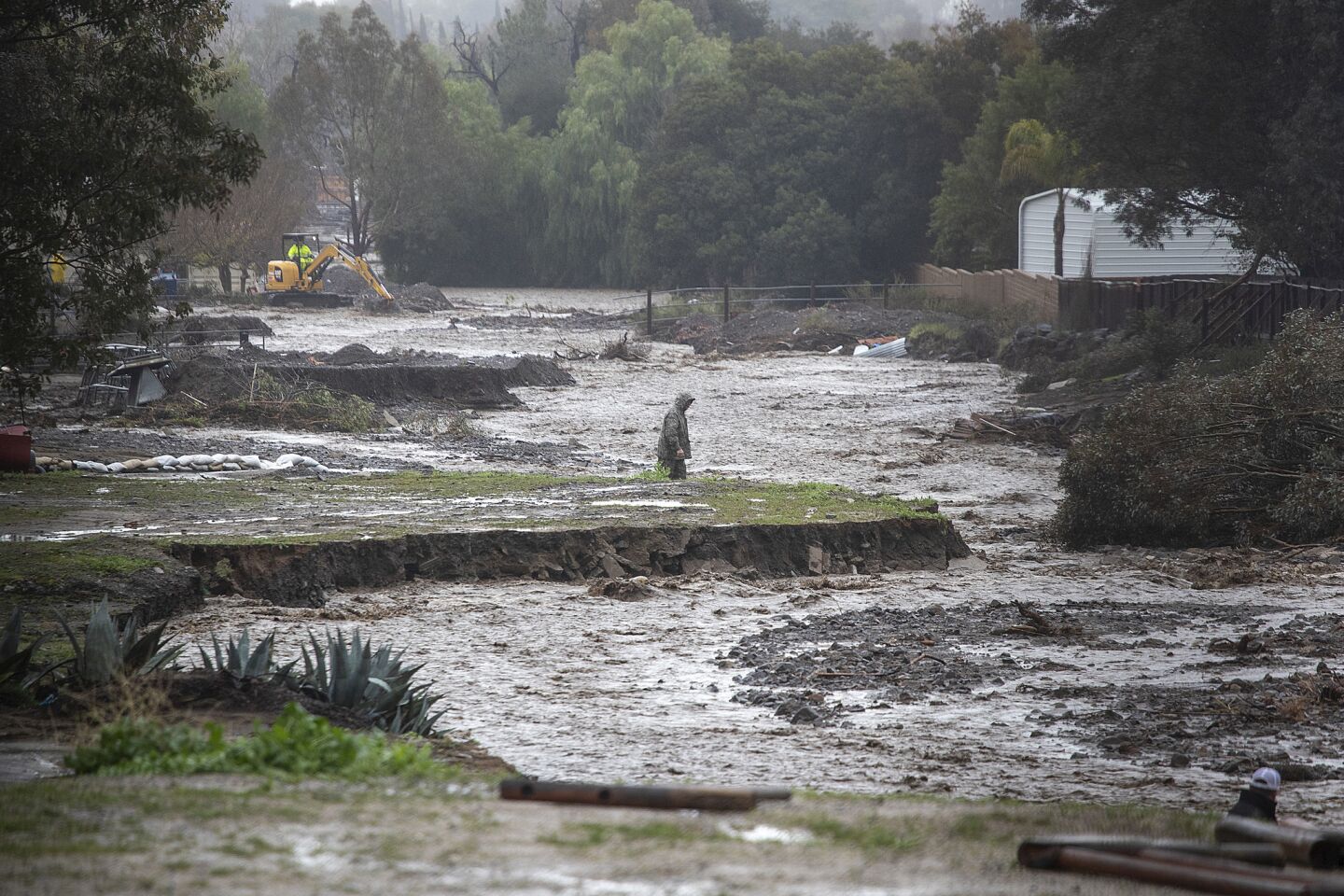 Robert McDonough keeps an eye on erosion of river banks along his property in Lake Elsinore.
(Allen J. Schaben / Los Angeles Times)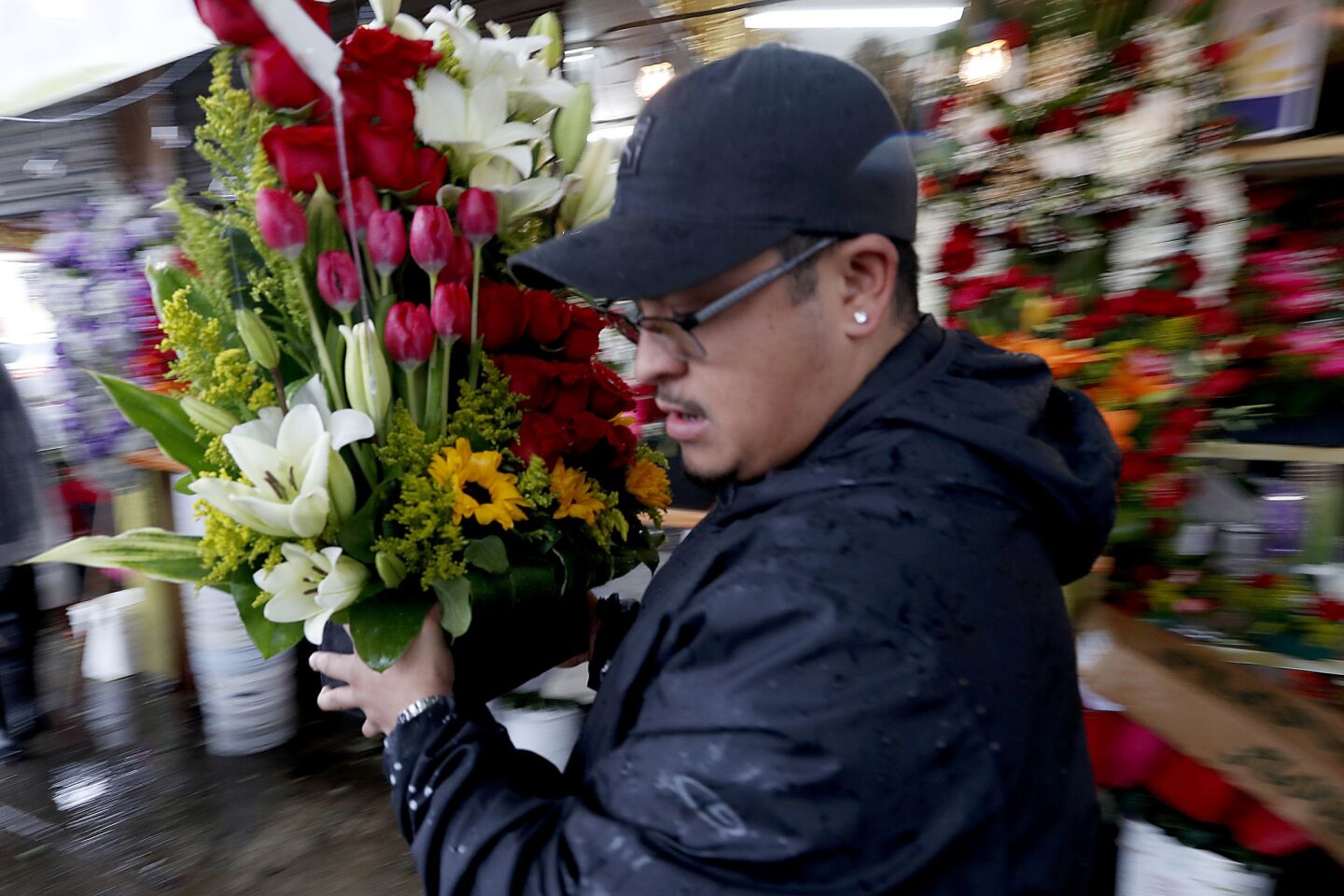 Valentine's Day flower sales remained brisk despite heavy rain in the downtown L.A. flower district.
(Luis Sinco / Los Angeles Times)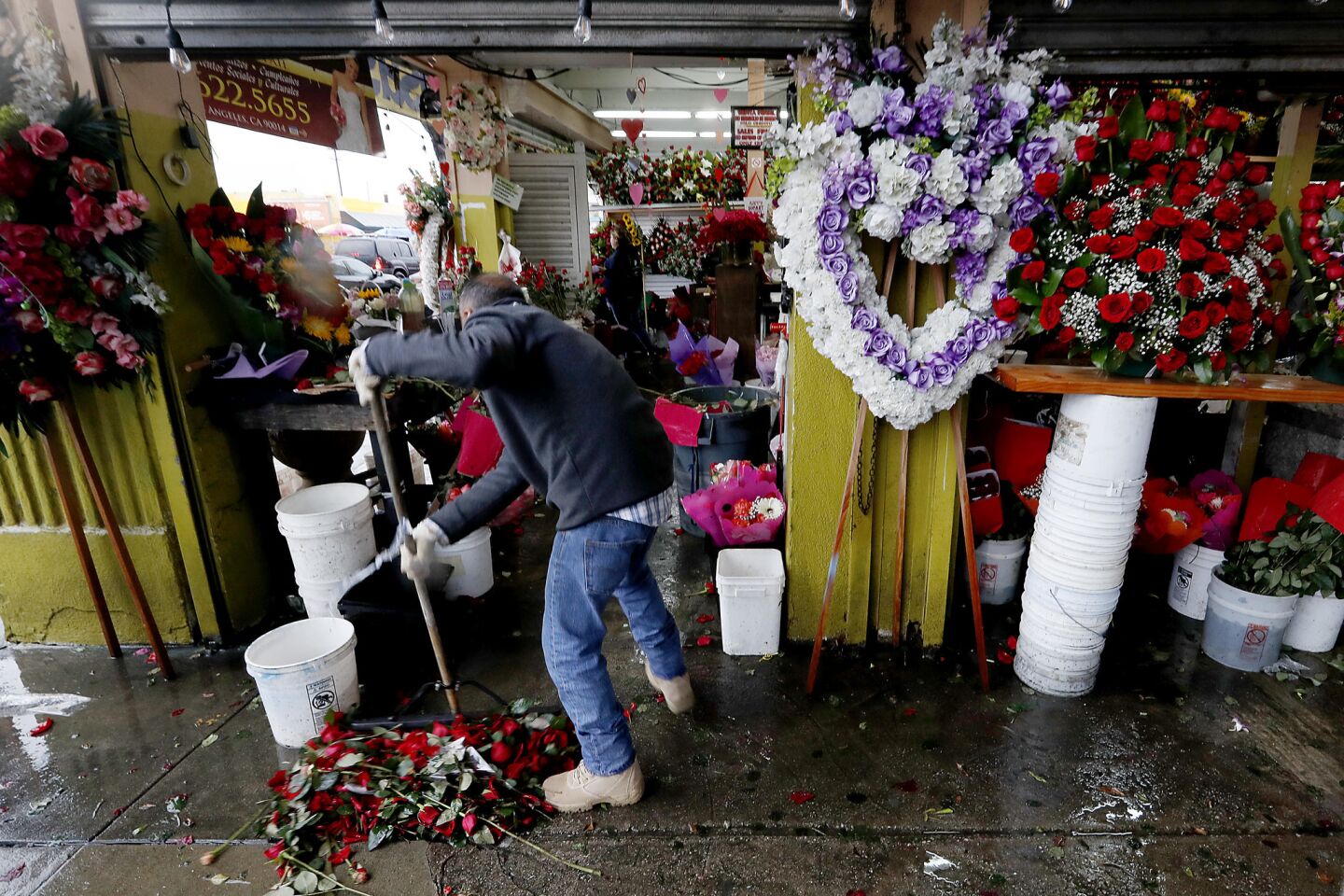 A florist sweeops up rose petals from the wet sidewalk as Valentine's Day flower sales remained brisk despite sometimes heavy rain in downtown L.A.
(Luis Sinco / Los Angeles Times)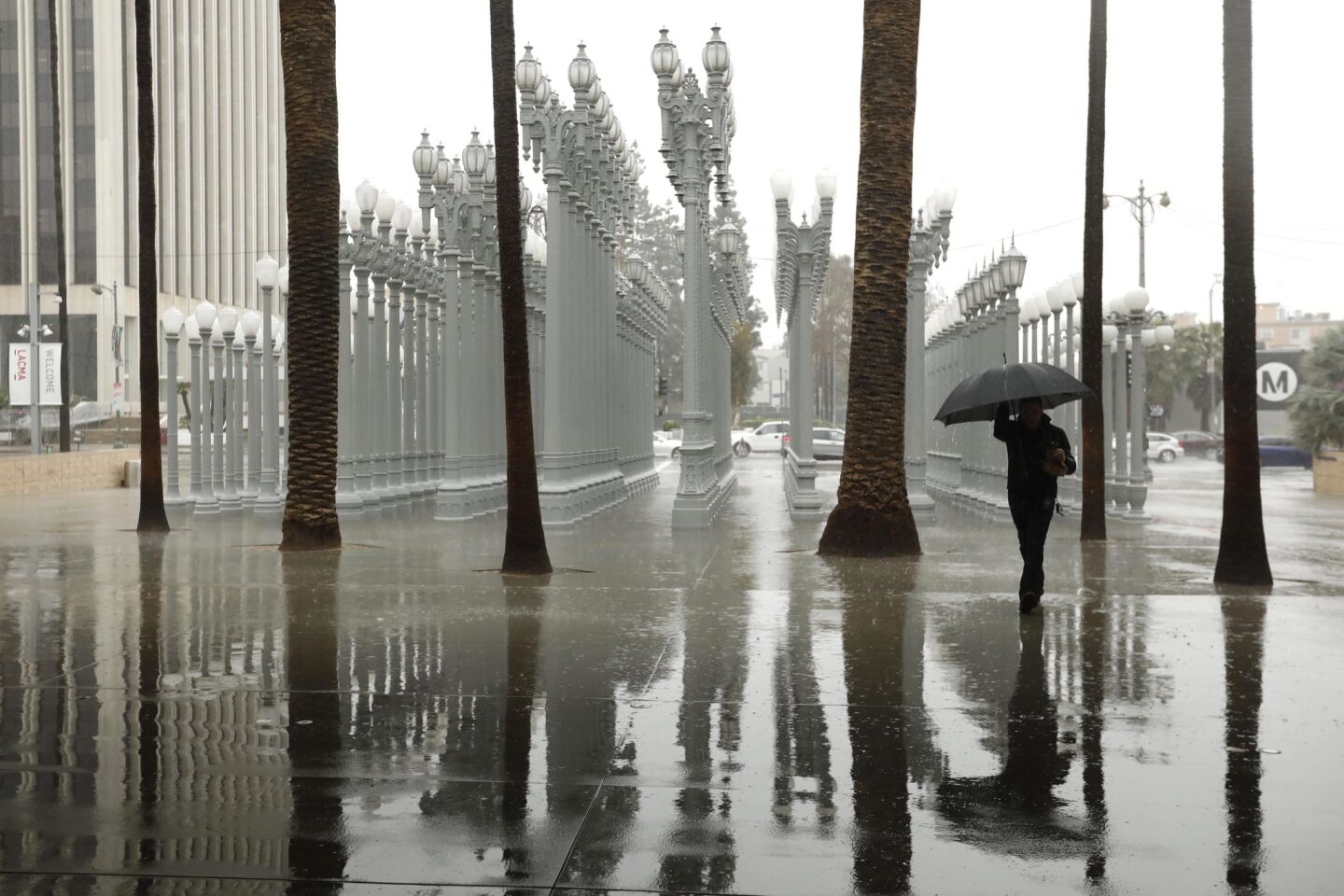 A visitor to the Los Angeles County Museum of Art makes his way through the rain and walks by Chris Burden's sculpture, "Urban Light," in the Mid-Wilshire district of Los Angeles.
(Genaro Molina / Los Angeles Times)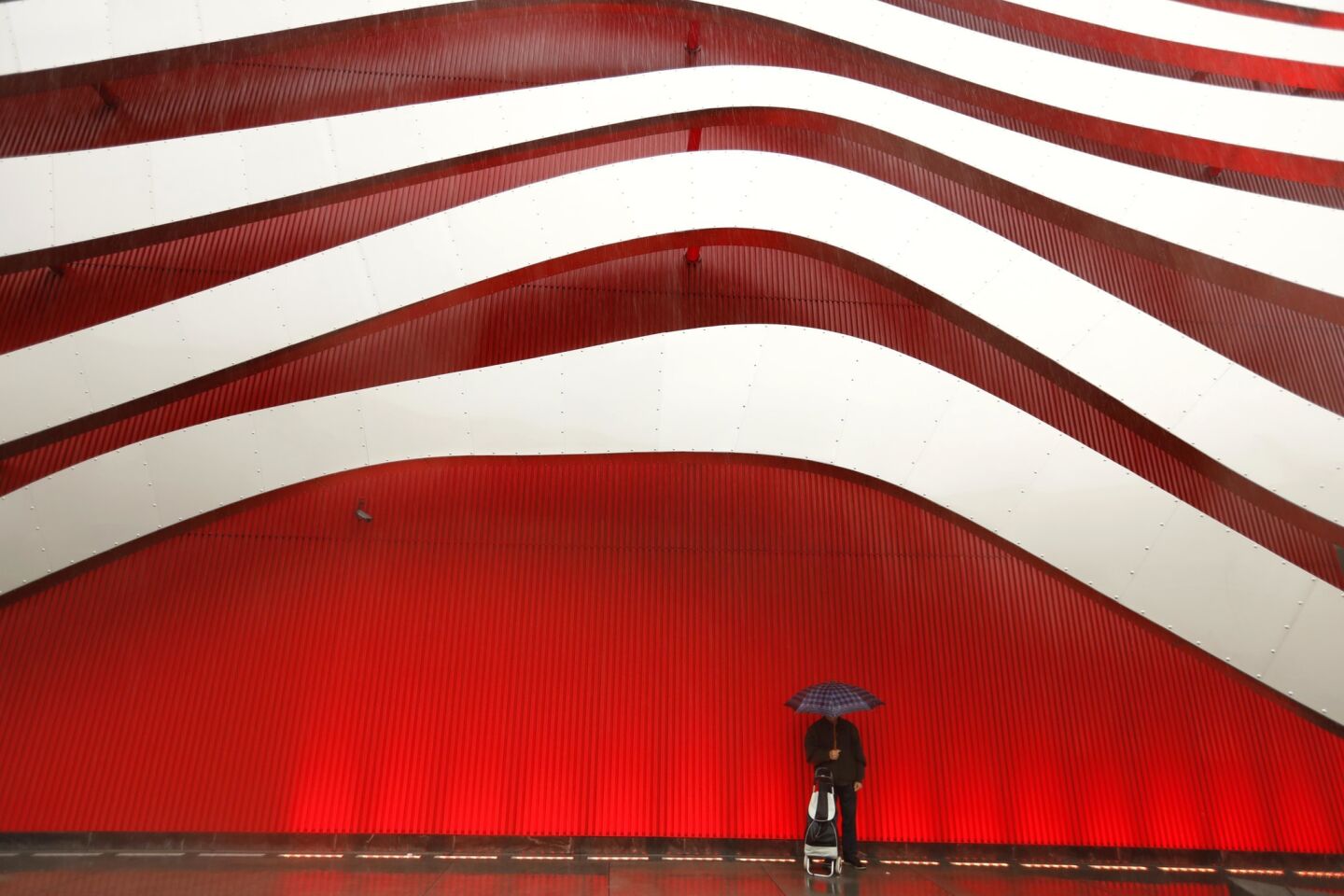 Red seems to be the color of the day for Valentine's along with sheets of rain as David Jaouny, seeks shelter outside the Peterson Automotive Museum in the Mid-Wilshire district of Los Angeles.
(Genaro Molina / Los Angeles Times)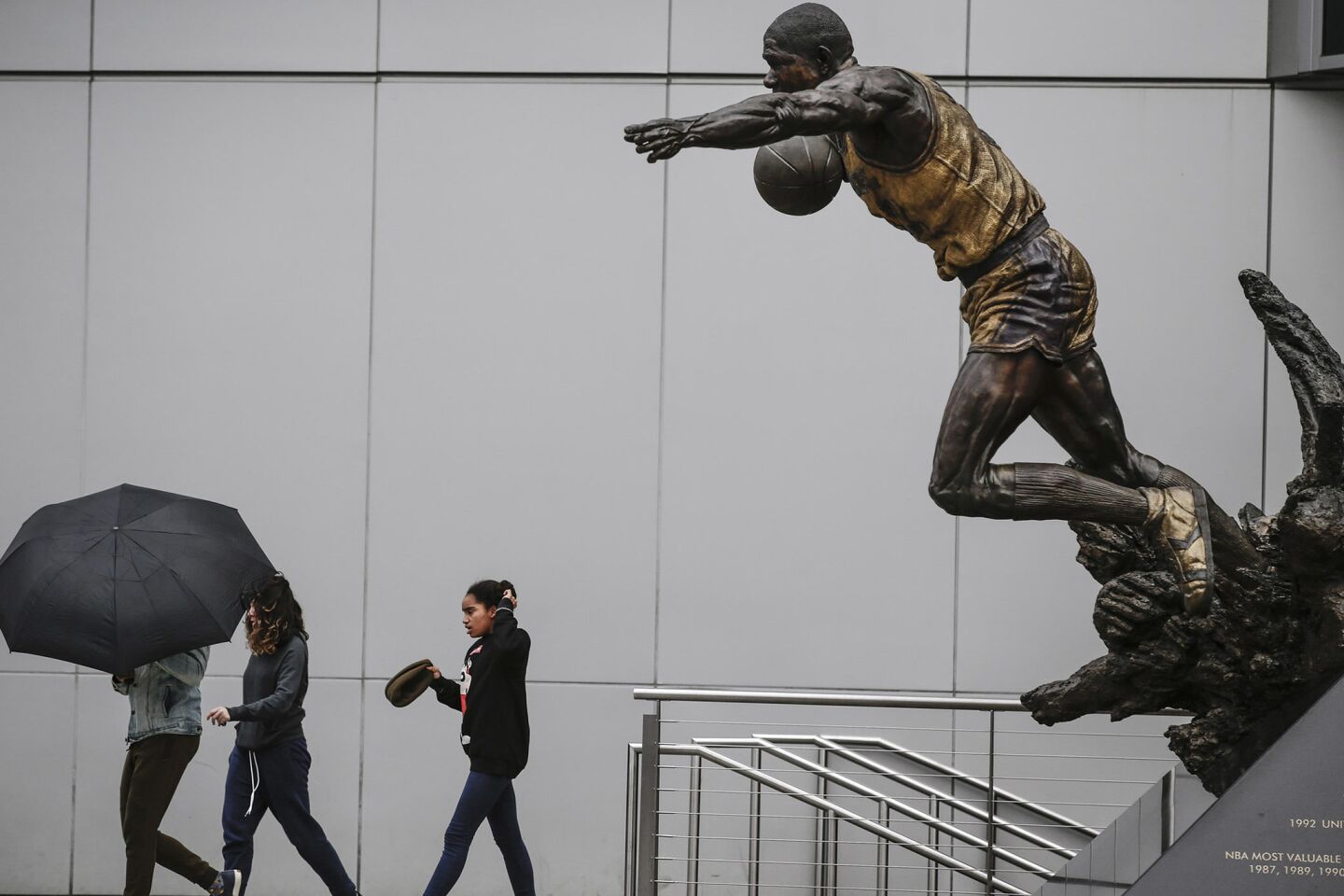 Pedestrians pass a statue of Magic Johnson leaning into a blustery wind outside Staples Center in downtown Los Angeles on Wednesday.
(Robert Gauthier / Los Angeles Times)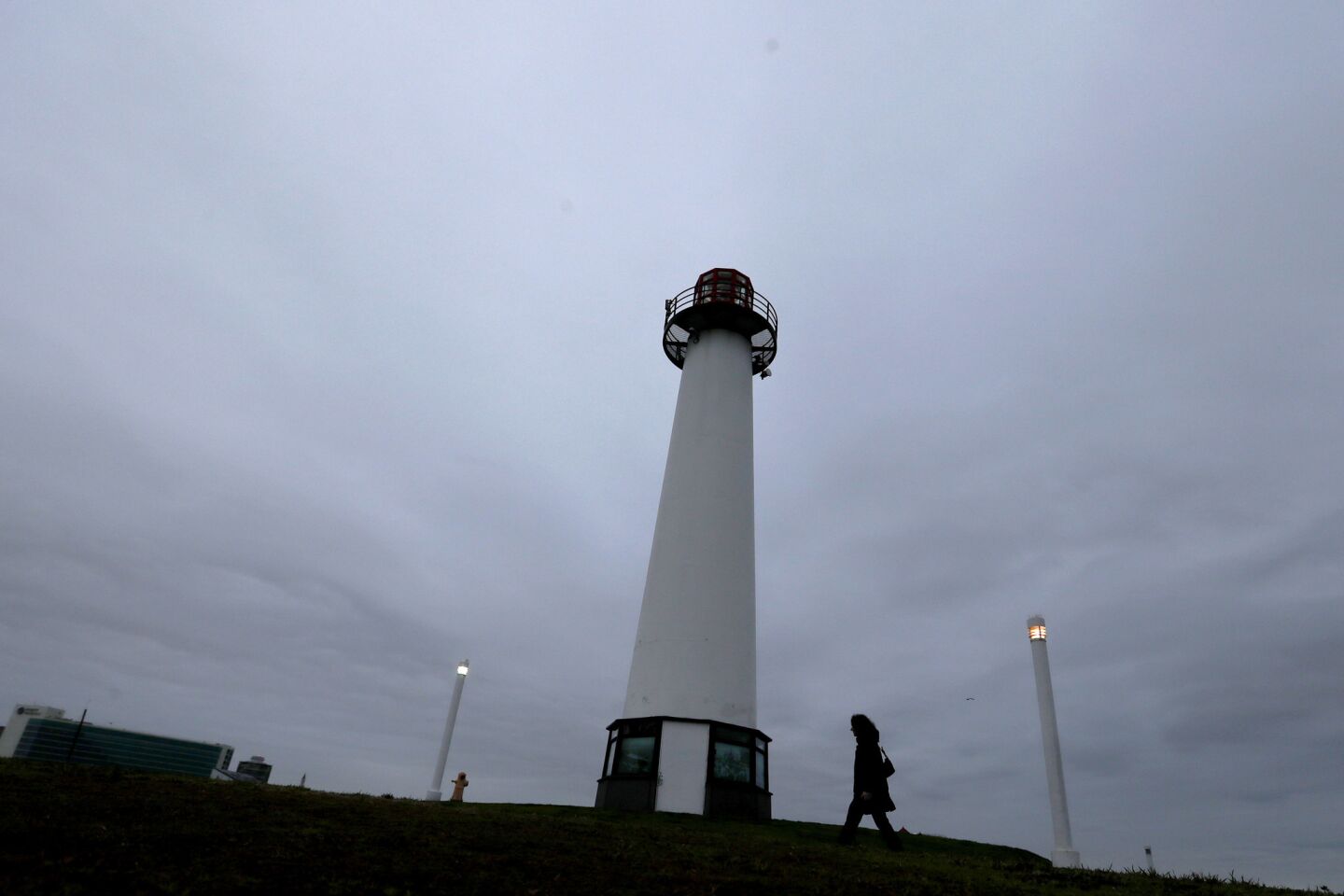 Gray clouds hang over Long Beach as another astmospheric river-driven storm makes its way ashore on Wednesday.
(Luis Sinco / Los Angeles Times)
Pedestrians in L.A.'s Chinatown neighborhood are buffeted by a chilly wind Wednesday.
(Irfan Khan / Los Angeles Times)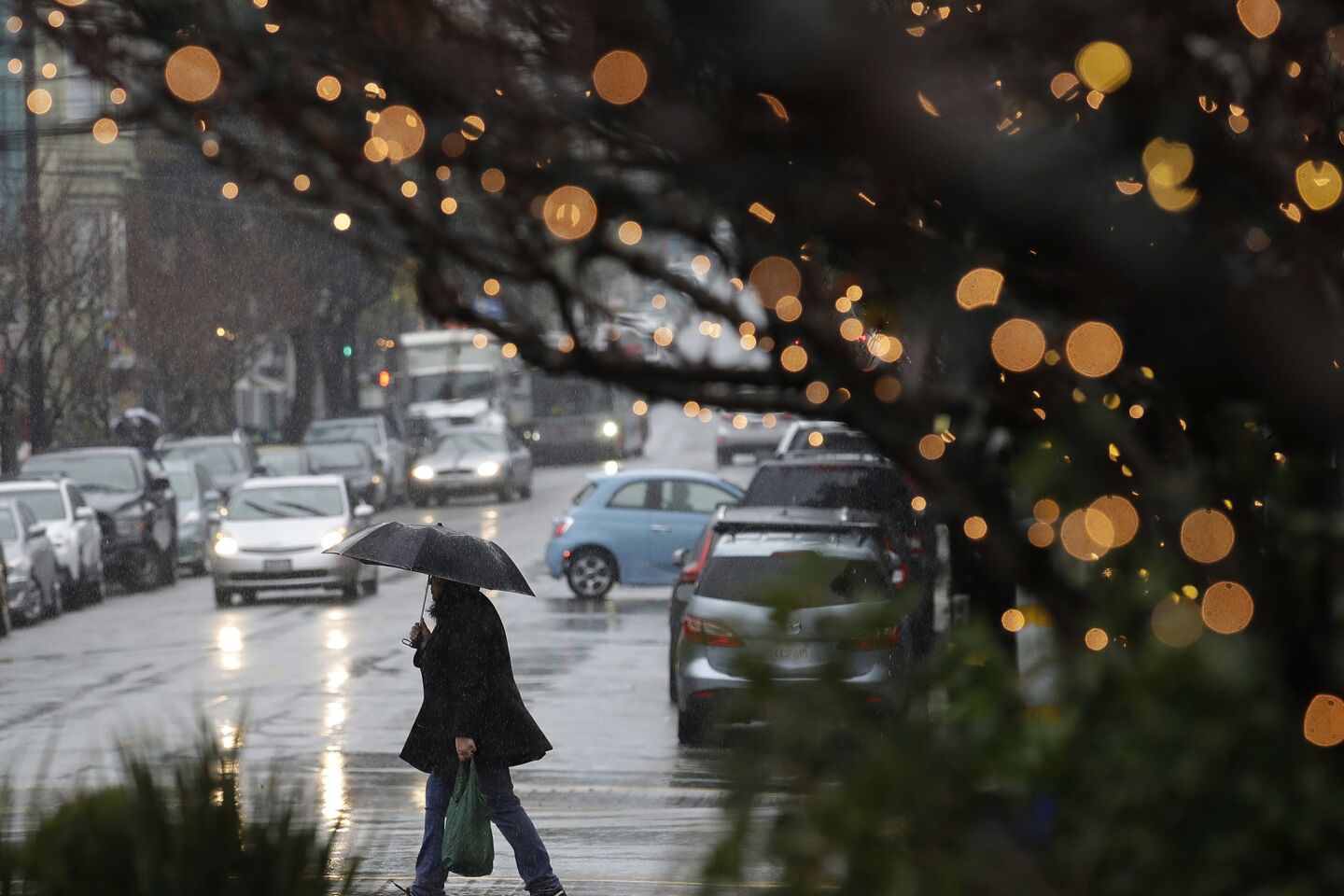 Rain falls in San Francisco on Wednesday as a new round of storms in California flooded roadways, toppled trees and disrupted travel while bringing renewed threats of mud and debris flows.
(Jeff Chiu / Associated Press)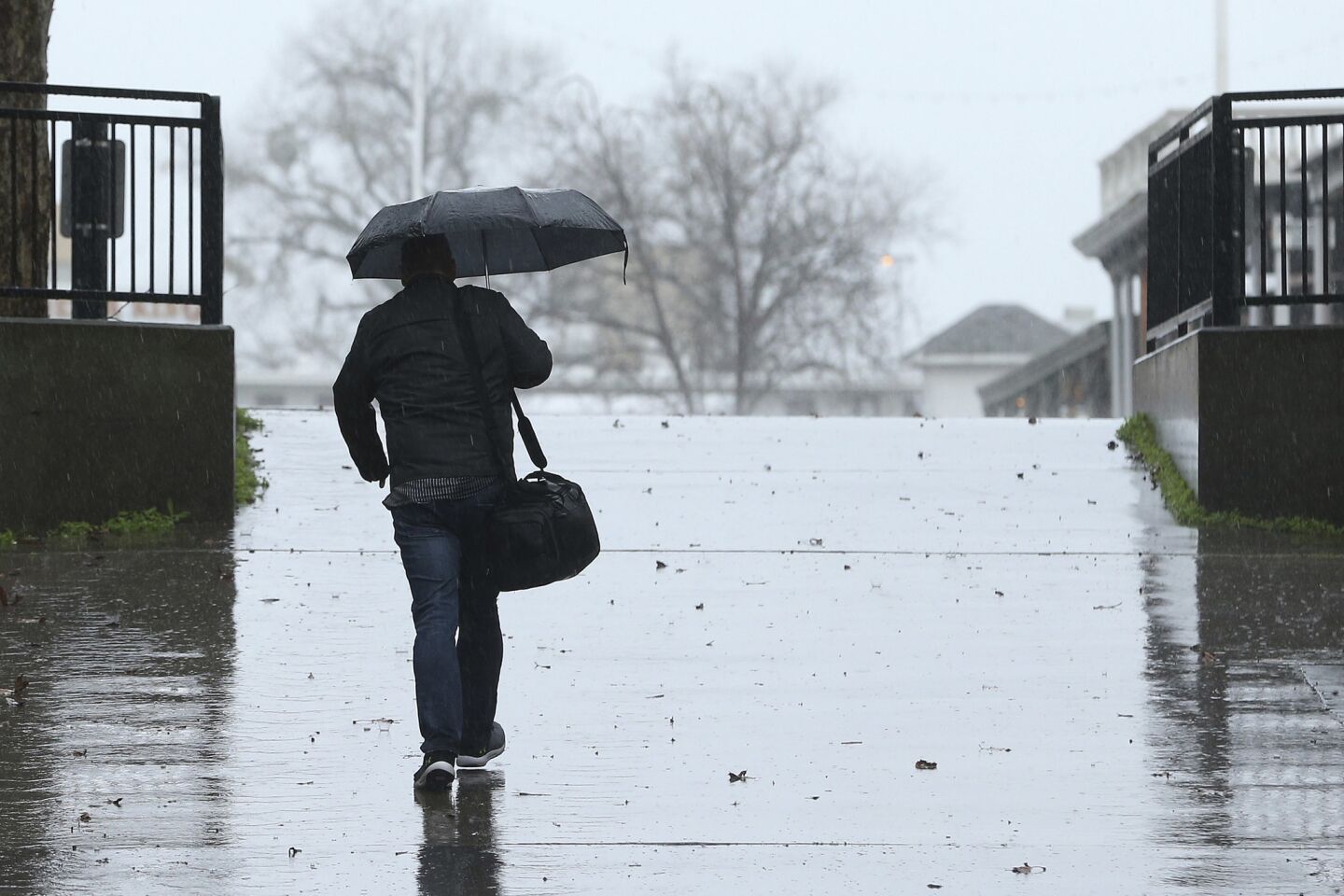 The storm discouraged foot traffic as it moved through downtown Sacramento on Wednesday.
(Rich Pedroncelli / Associated Press)
In San Francisco, a pedestrain huddles under an umbrella as seen through a rain-streaked window at Golden Gate Park.
(John G. Mabanglo / EPA/Shutterstock)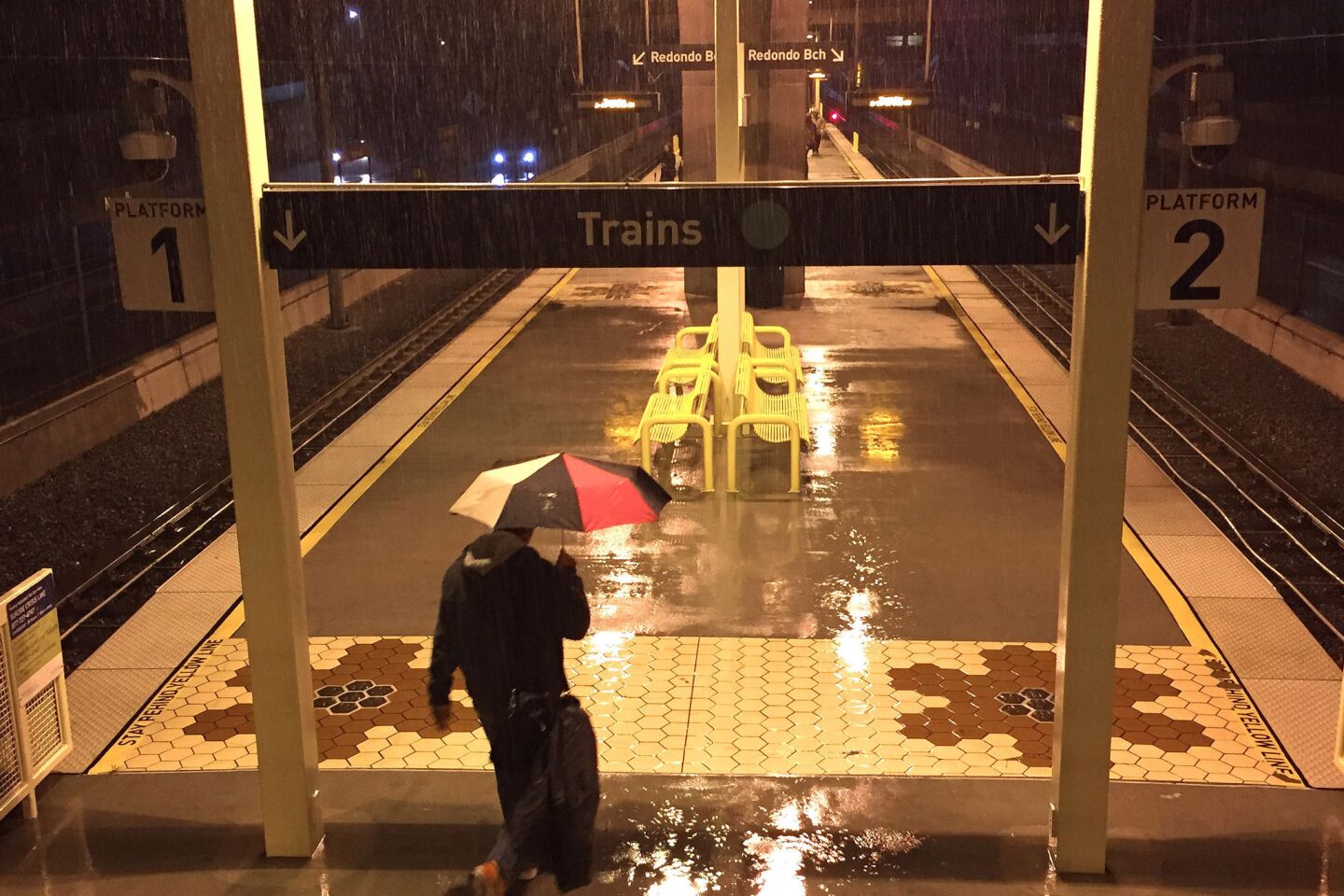 A Los Angeles commuter makes his way onto the platform as a downpour hits the Green Line's Norwalk Station on Thursday morning.
(Marc Martin / Los Angeles Times)
A fierce winter storm packed with subtropical moisture continued its destructive path across California on Thursday, triggering widespread flooding that prompted evacuations and unleashing a mudslide that sent one home sliding into another in Marin County.
Southern Marin fire officials said the mudslide dislodged the home from its foundation and pushed it down a hill before it slammed into another residence shortly before 3 a.m.
Rescuers pulled a woman from the wreckage after they saw her hand sticking out of the debris. She was caked in mud as officials wheeled her on a stretcher into an ambulance and took her to a hospital. Officials evacuated 50 homes in the area after the hillside gave way.
"Surprisingly, she was in great condition," Southern Marin Fire District Capt. Doug Paterson said of the woman. "She was talking to us. She was alert. She was able to tell us exactly what had happened."
The moisture-rich storm, known as an atmospheric river, pounded Northern California with torrential rain beginning late Tuesday before it arrived in the Southland overnight Wednesday. Venado, an unincorporated town in the North Bay, was doused with 12.44 inches of rain in 48 hours.
Other Bay Area cities also got a solid soaking. San Francisco received more than 3 inches of rain in the same time frame and faced wind gusts of up to 50 mph. The conditions prompted the National Weather Service to issue a flash-flood watch and high-wind warning for the region.
The massive storm has already broken daily precipitation records after 1.94 inches of rain fell in downtown Sacramento on Wednesday. That shattered the record of 1.61 inches set in 1926, according to the weather service.
Residents in Northern California's Butte County — where the Camp fire carved a path of devastation last year — were told to leave their homes Thursday morning amid concerns that heavy rain could cause Rock Creek to overflow and inundate their communities. Authorities also issued an evacuation order for residents on River Road between Chico River Road and Highway 32 due to possible flooding from the Sacramento River.
Sonoma County residents living near the Russian River were also told to relocate to higher ground after forecasters said the river would crest at 36 feet by 1 a.m. Friday.
Laguna Beach in Orange County faced a similar concern hours later, prompting officials to evacuate a cluster of homes and businesses along Laguna Canyon Road. Officials warned residents on social media and made announcements over a loudspeaker at the city's beaches that Laguna Canyon Creek had reached levels that could trigger flooding in the city's downtown.
Forecasters said San Diego, Orange and Riverside counties were hit hard during the storm. Some areas saw more than 3 inches of rain along the coast and more than 10 inches at higher elevations, said Casey Oswant, a meteorologist with the weather service in San Diego.
"Usually these storms are stronger up north, but this one is hitting our area much harder," said James Brotherton, a meteorologist with the weather service in San Diego. "It's definitely stronger than others we've experienced, and it's likely the strongest we've seen this winter."
Some residents whose communities were affected by last year's Holy fire in Riverside and Orange counties were told to leave their homes before the brunt of the storm hit Thursday.
About 3.5 inches of rain had fallen on the region by 11 a.m. Thursday, which was enough to send deep rivers of mud down creeks in both counties. A torrent of mud that made its way through Lake Elsinore caused the outer wall of a property to collapse, but widespread damage hadn't been reported.
Outside of evacuated areas, morning commuters were met with flooded roads, closures, spinouts and significant delays that continued through the day.
Downtown Los Angeles saw more than 2 inches of precipitation. That means the area has seen 15.5 inches of rain this water year, which began Oct. 1, surpassing the annual average of 14.93 inches.
"We're definitely past that," said Kristen Stewart, a meteorologist with the National Weather Service.
More than an inch of precipitation fell in Long Beach over 24 hours, and heavy rain flooded the northbound side of the 710 Freeway, trapping at least one car as early-morning motorists drove through the torrent. Flooding along Pacific Coast Highway in Huntington Beach forced officials to close a portion of the scenic road from Seapoint Street to Warner Avenue. Rocks that tumbled from a hillside onto Malibu Canyon Road cracked the windshield of at least one car, and mud that slid down onto the roadway blocked a section of Topanga Canyon Boulevard.
Some areas of the San Gabriel Mountains saw more than 6 inches of rain Wednesday and Thursday, Stewart said.
Several school districts and colleges — from Sonoma County to San Diego — canceled classes because of flooding and power outages. Wet weather also forced Knott's Berry Farm and Six Flags Magic Mountain to close and forced suspension of play at the Genesis Open golf tournament at Riviera Country Club in Pacific Palisades.
Slick roads caused hazards in San Diego, where the plume of subtropical moisture dropped nearly 6 inches of rain in some areas early in the day. Three firefighters with the California Department of Forestry and Fire Protection were taken to a hospital after their engine careened off the road and overturned north of Escondido about 6:15 a.m. The storm also generated strong wind that shook commercial jets during takeoffs and landings at San Diego International Airport.
L.A. is having a very wet winter. And that's a good thing »
The storm arrived amid what has already been a wet winter for Californians.
The National Oceanic and Atmospheric Administration issued an El Niño advisory on Thursday, indicating the climate pattern has taken effect and is likely to continue through the spring. Forecasters say there is about a 55% chance that El Niño conditions will continue through the spring.
But the slow formation of the El Niño weather conditions is not what has caused the state's recent storms, said Michelle L'Heureux, a meteorologist with the weather service's Climate Prediction Center. She said the El Niño would be weak through April.
A much more random phenomenon taking place in the central tropical Pacific — the Madden Julian Oscillation — is what has been causing the on-and-off rainfall since its formation in October, she said. The Madden Julian Oscillation is a fast-moving weather pattern that creates a jet stream extending to the northern Pacific Ocean.
Together, El Niño and the Madden Julian Oscillation will make it more likely for rain on the West Coast through the end of February, L'Heureux said.
"It looks like roughly every time an MJO gets in a certain state, we're seeing rainfall along the West Coast," she said. "And it's still going on."
Times staff writers Alejandra Reyes-Velarde, Alene Tchekmedyian and Rong-Gong Lin II, San Diego Union-Tribune staff writer Karen Kucher and the Associated Press contributed to this report.
Twitter: @Hannahnfry
The stories shaping California
Get up to speed with our Essential California newsletter, sent six days a week.
You may occasionally receive promotional content from the Los Angeles Times.