More frosty weather on the way for California, and the snow might stick awhile
Workers shovel giant snowdrifts off the roof of the Mammoth Luxury Outlets in Mammoth Lakes on Feb. 6 after a blizzard dropped as much as 10 feet of snow.
(Allen J. Schaben / Los Angeles Times)
Snow blankets U.S. 395 and the Eastern Sierra near Mammoth Lakes.
(Allen J. Schaben / Los Angeles Times)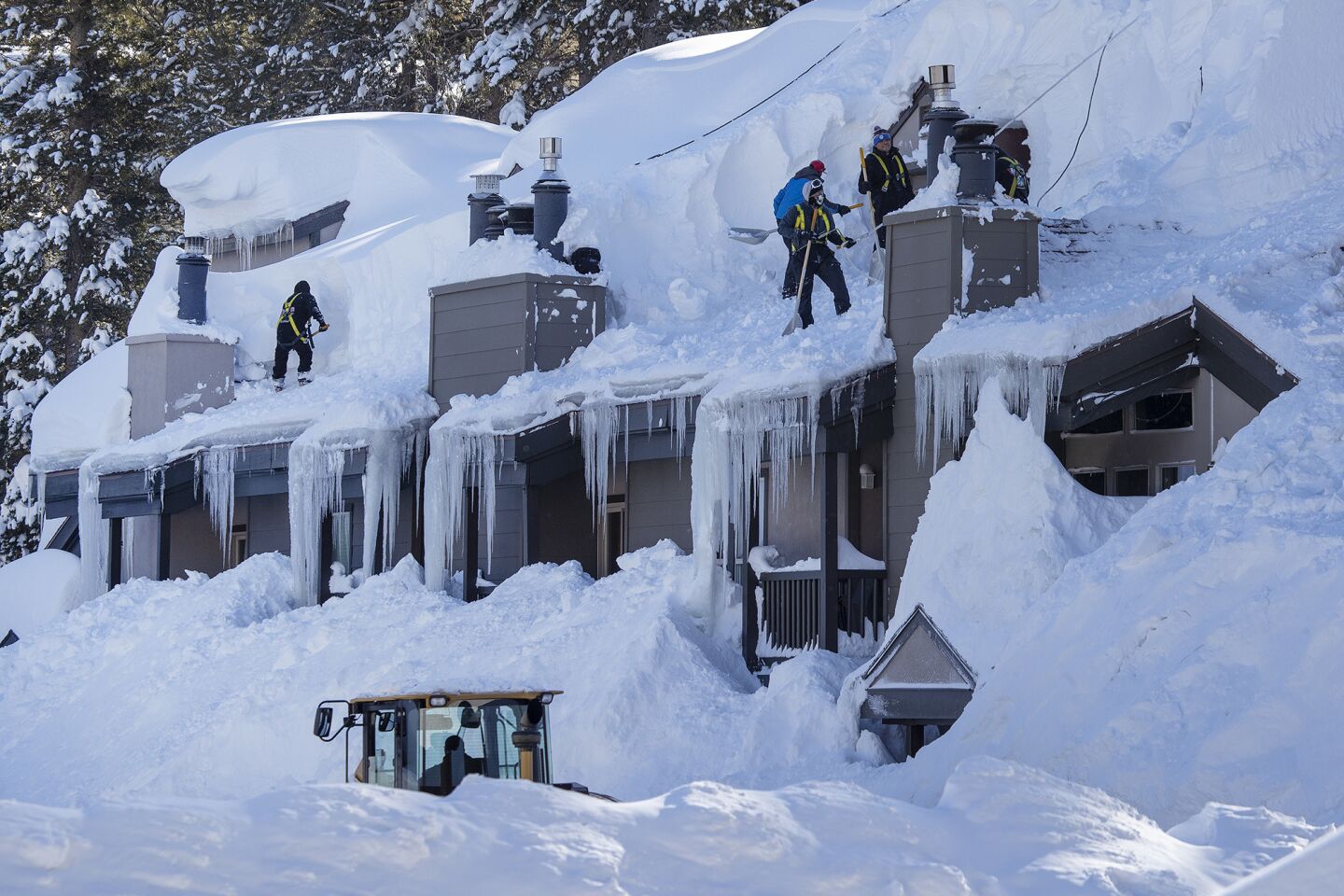 Workers shovel snow off the roofs of condos in Mammoth Lakes on Feb. 6.
(Allen J. Schaben / Los Angeles Times)
A skier glides past snow-covered trees at Mammoth Mountain Resort. The resort was closed because of the blizzard on Feb. 5 but reopened the following day.
(Allen J. Schaben / Los Angeles Times)
Heavy snow blankets Mammoth Lakes Feb. 6. Since the storms started Feb. 2, Mammoth Mountain has seen 132 inches of snow.
(Allen J. Schaben / Los Angeles Times)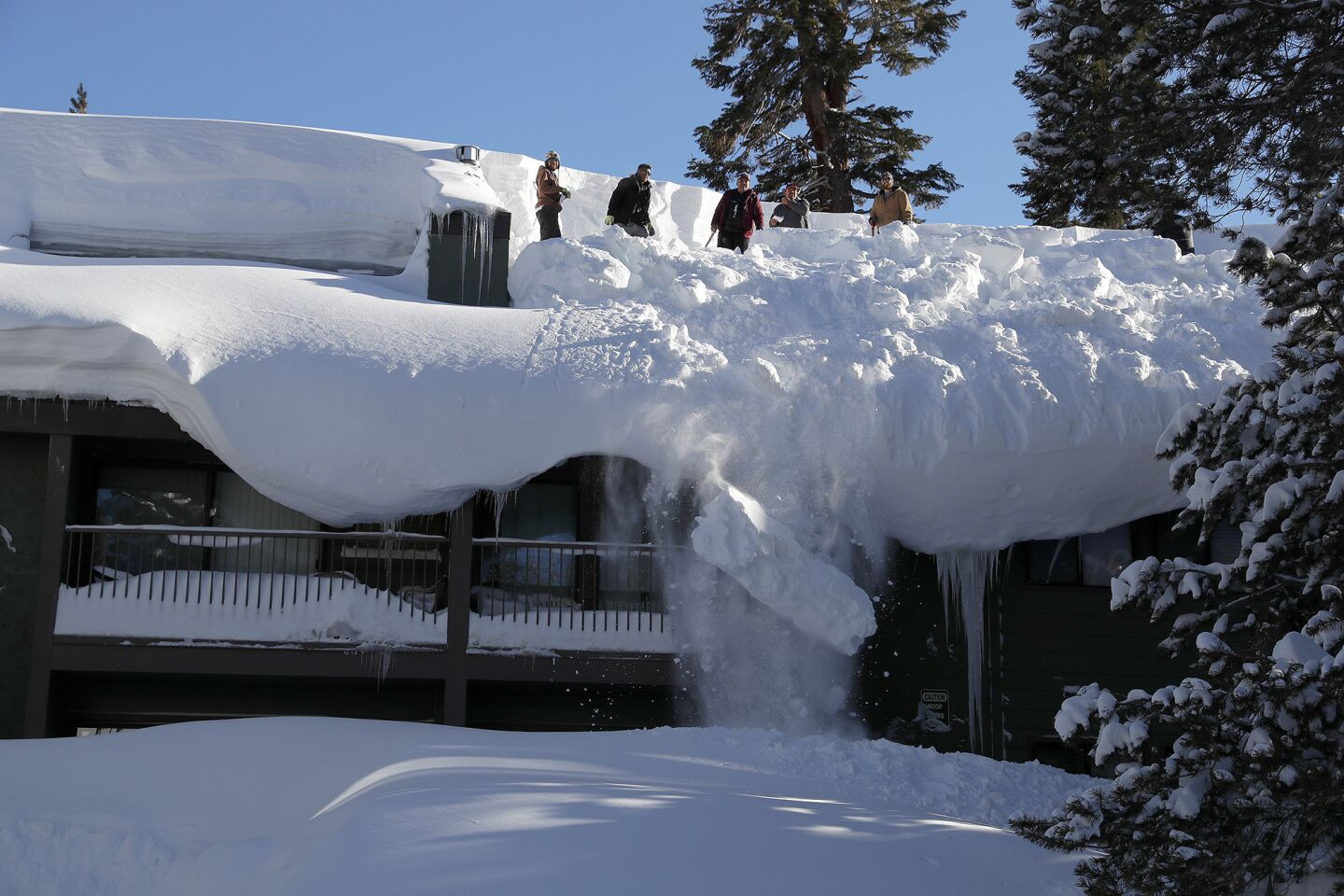 Working to displace giant drifts from a roof at St. Anton Condos in Mammoth Lakes.
(Allen J. Schaben / Los Angeles Times)
Snow covers the mountains as an Orange County Sheriff's patrol boat navigates Anaheim Bay in Sunset Beach on Feb. 6.
(Luis Sinco / Los Angeles Times)
On the evening of Feb. 6, the San Gabriel mountains serve as a backdrop to the downtown Los Angeles skyline.
(Luis Sinco / Los Angeles Times)
Las montañas de San Gabriel sirven como telón de fondo para el horizonte del centro de Los Ángeles.
(Al Seib / Los Angeles Times)
El viento sopla la nieve desde la cima de la montaña Whitney, la cima más alta en Estados Unidos, después de tormentas recientes, en los límites de los condados californianos de Inyo y Tulare. La ladera oeste de la montaña termina en el Parque Nacional Sequoia.
(Allen J. Schaben / Los Angeles Times)
Una pareja descansa bajo Mobius Arch en Alabama Hills en Lone Pine, ubicada en el Valle Owens, condado de Inyo.
(Allen J. Schaben / Los Angeles Times)
Los árboles de Joshua están recortados por montañas cubiertas de nieve en Adelanto, California.
(Allen J. Schaben / Los Angeles Times)
La nieve bloqueó caminos e hizo peligroso conducir desde Middletown hasta Cobb Mountain en Lake County.
(Kent Porter / Associated Press)
From the Bay Area to Los Angeles, it was a day to gaze upon snow-capped peaks, acknowledge that yes, California does have a winter, and share a photo or two on social media.
And don't expect the alpine glory — caused by a series of cold storms that dropped snow levels dramatically — to disappear soon.
Wet weather will kick back up again Friday for large swaths of the state, which could bring hazardous conditions for drivers. The National Weather Service said two new low-pressure systems coming from the Arctic would slam the Sierra Nevada with low temperatures and snow this weekend.
"Temperatures are going to be pretty cold, so there's a pretty good shot we'll see some snow affecting the I-5 corridor Friday night into Saturday," said Curt Kaplan, a meteorologist with the weather service in Oxnard.
Three feet or more of snow is expected in mountain passes this weekend, with snow levels as low as 2,000 feet and winds threatening whiteout conditions. Frost advisories were issued for parts of Santa Barbara and Ventura counties, where temperatures were in the low 30s.
Bay Area skiers and snowboarders trying to capitalize on the snow in the Lake Tahoe area are going to have trouble crossing the Sierra Nevada.
The system that will hit the state Friday into Saturday is expected to dump 8 to 12 inches of snow on Donner Pass, while the Sunday system will bring 18 to 24 inches, said Cory Mueller, a meteorologist with the weather service in Sacramento.
"It is going to be another weekend of poor Sierra travel," he said.
The systems coming from western Canada won't be as strong as the storms earlier this week, but they will still be cold. Since the Feb. 2, Mammoth Mountain has seen 132 inches of snow, Kirkwood 92 inches and Northstar 78 inches.
Mammoth and June Lake resorts reopened Wednesday and are now contending with as much as 11 feet of new snow and temperatures hovering around zero.
All lifts at Mammoth were expected to be up and running Wednesday. But early-day skiers faced biting cold. The temperature early Wednesday was 5 heading toward an expected high of 18.
The National Weather Service reported Wednesday morning that 7 inches of snow fell in Squaw Valley in the previous 24 hours.
The lower lying coastal mountains in the Bay Area got a dusting of snow, too.
About a foot of snow fell on Junipero Serra peak near Big Sur. Silicon Valley workers could look out and see the 8 inches of snow that fell on nearby Mount Hamilton.
Meanwhile, Southland residents looking to the north and east were graced with picturesque views of the San Gabriel Mountains behind downtown Los Angeles.
Mount Baldy got 16 inches of snow in the 24 hours preceding Tuesday morning while Mount Wilson got 4.5 inches.
During the seven days prior, 7.67 inches of rain fell in Pasadena, 6.21 inches fell near the Eagle Rock reservoir and Beverly Hills saw 5.21 inches of rain.
There were even reports of heavy hail and snow in the Antelope Valley.
Though the temperatures may have Angelenos bundling up — Los Angeles International Airport reported 45 degrees Wednesday morning, just below the average of 49 — it is nothing compared to this same date in 1989, when the weather station at the airport reported a record low of 35 degrees.
"We are not breaking any records right now," said Lisa Phillips of the weather service in Oxnard.
The weather service issued a frost advisory through Thursday morning for the Santa Barbara and Ventura County coasts and the Los Angeles County valleys, with forecasters urging people to cover their plants and bring their pets inside.
Times staff writer Alene Tchekmedyian contributed to this report.
The stories shaping California
Get up to speed with our Essential California newsletter, sent six days a week.
You may occasionally receive promotional content from the Los Angeles Times.