Prosecutors drop charge against ex-boyfriend and business partner of Aliso Viejo blast victim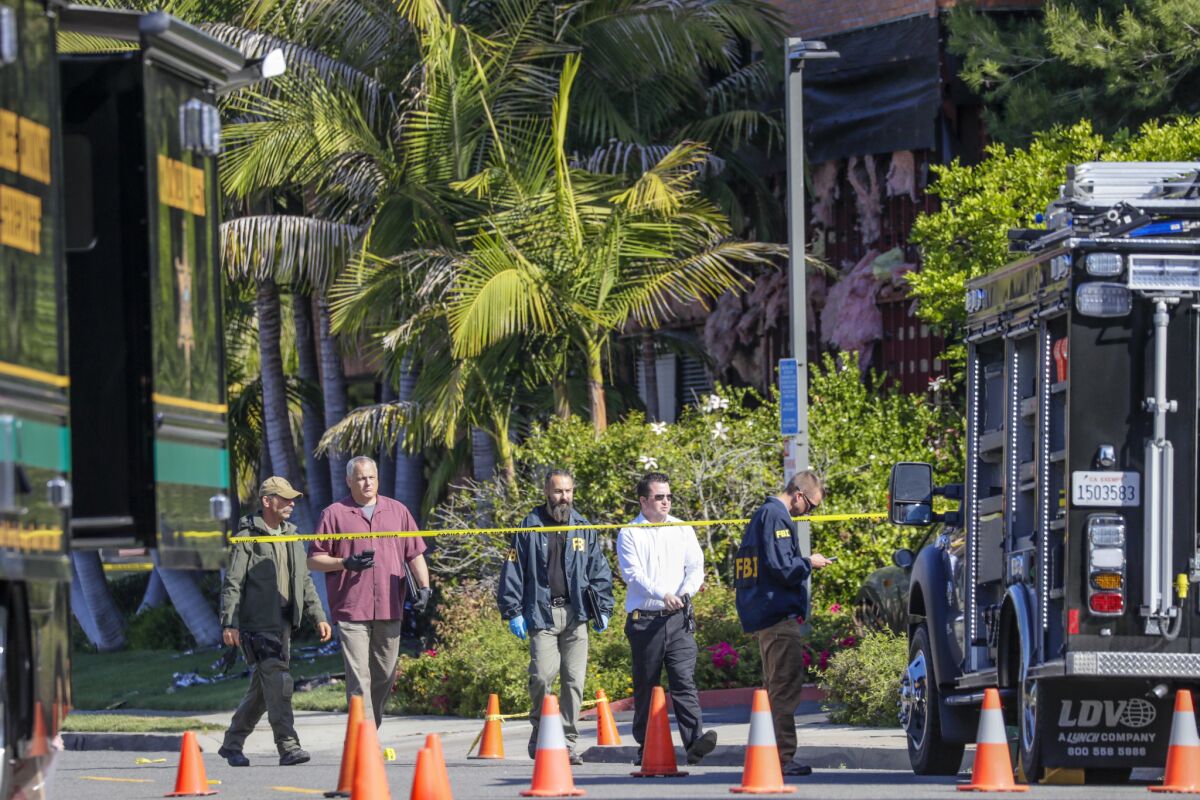 Federal prosecutors have dropped a criminal charge against a man whose home was searched after a suspected package bomb killed his former girlfriend and business partner in Aliso Viejo, according to court documents.
Stephen Beal, 59, of Long Beach had faced one count of possessing an unregistered destructive device. He has not been charged in connection with the explosion that killed Ildiko Krajnyak, Beal's former girlfriend.

For the record:
6:50 p.m. May 29, 2018A previous version of the article said that prosecutors had dropped charges against Beal. Beal faced only one charge, of possessing an unregistered destructive device.
The motion to dismiss the charge was filed Saturday afternoon. Beal was released early Sunday morning, according to a U.S. attorney's office spokesman.
Krajnyak, 48, was killed when a cardboard package blew up at the Magyar Kozmetika spa. The May 15 explosion tore open the ceiling and buckled the floor of the business.
Soon after, during a search of Beal's Long Beach home, authorities said they found two "complete" improvised explosive devices, two cardboard tubes, batteries, a 9-volt battery connector, 130 pounds of explosives and precursors, two handguns and a shotgun.
The findings were detailed in a 10-page affidavit and criminal complaint filed by federal authorities in U.S. District Court. However, a motion filed over the weekend to dismiss the complaint called the findings into question.
"Further examination by the Federal Bureau of Investigation raises questions as to whether the devices meet the statutory definition for a 'destructive device,' " the U.S. attorney's office stated in court documents.
Beal told investigators that he saw news coverage of the Aliso Viejo explosion and said he did not have material to create a blast that large, according to the document.
According to the court filing, Beal told investigators that Krajnyak was his former girlfriend and that he was a model rocket builder but had dropped the hobby in 2004.
When asked by investigators about one of the rocket devices, Beal first said he did not recognize it. Later, a court filing said, he identified the device as a smoke detonator that releases smoke during flight so a rocket would stay visible.
When he was shown photographs of the two pipe IEDs, Beal initially said he didn't recognize them. But he later explained exactly where the items were found, according to the affidavit, which said the devices were "not consistent with that of a model rocket."
Beal and Krajnyak met on a dating app in the summer of 2016. They traveled extensively and vacationed in Cuba, Portugal and Canada. They opened a day spa together in Aliso Viejo. Krajnyak was a skin care specialist who had recently filed for bankruptcy, and Beal was a widower who occasionally acted.
Their romance fizzled, authorities said, over disagreements about money and their dating exclusivity. In February or March, they broke up, but decided to remain business partners. Beal paid the $1,500 monthly rent for the spa space and half its operating costs. Sometimes, if Krajnyak didn't make enough, he would loan her money.
Twitter: @Brittny_Mejia
---
UPDATES:
10:40 a.m.: This article was updated with details of Beal's release.
10:35 a.m.: This article was updated with additional details about Beal.
This article was originally published at 10 a.m.
The stories shaping California
Get up to speed with our Essential California newsletter, sent six days a week.
You may occasionally receive promotional content from the Los Angeles Times.