Whopping $800,000 salary is a ticket to prison for Bell's Rizzo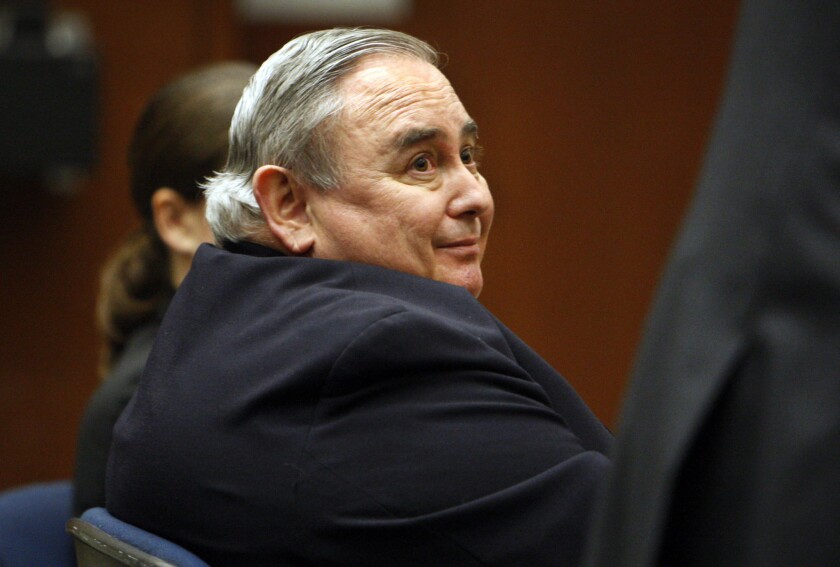 In January of 2011, the attorney representing Robert Rizzo told me his client would beat the 69 public corruption charges against him. Citizens had a right to be ticked off about the Bell administrator's staggering $800,000 a year in compensation, lawyer Jim Spertus said, but no crimes had been committed.
Now Spertus is singing a different tune, and apparently, Rizzo will be doing his own singing, soon.
"Mr. Rizzo wants to make amends to the citizens of Bell for engaging in wrongdoing," Spertus said in explaining Rizzo's surprise "no contest" plea today, a week before scheduled jury selection, "and we've been able to negotiate a fair and just outcome that will hopefully establish that Ms. Spaccia was the mastermind behind all the greed that led to the charges."
Spertus was talking about Rizzo's deputy, Angela Spaccia, who's got her own corruption trial pending.
That's beautiful, isn't it? An attempt to spin Rizzo as a poor sap who now finally admits his grotesque ripoff of Bell citizens, but claims he was sucked into it by Spaccia. Can we expect him to testify against her now, or will Spaccia cut her own deal?
It's all a little disappointing, really, because I was looking forward to watching Rizzo squirm in court. But still, a case that began with Pulitzer Prize-winning investigative work by The Times' Ruben Vives and Jeff Gottlieb will land Rizzo in the big house for 10 or more years.
And the scandal led to statewide scrutiny, and reform, of the various tricks and schemes used by public officials to pad their compensation and retirement pay.
L.A. Dist. Atty Jackie Lacey said that if Rizzo does 10 or 12 years, as he's apparently agreed to do, it would stand as longest sentence ever in an L.A. County corruption case.
Makes you wonder whether, going back a century or so, prosecutors just haven't been trying hard enough.
ALSO:
Rizzo wasn't Bell 'mastermind,' assistant was, attorney says
Bell's Robert Rizzo pleads no contest, to get 10 to 12 years in prison
Miramar air show at Marine base canceled due to government shutdown
---
The perils of parenting through a pandemic
What's going on with school? What do kids need? Get 8 to 3, a newsletter dedicated to the questions that keep California families up at night.
You may occasionally receive promotional content from the Los Angeles Times.