L.A. County district attorney declines to charge Steven Seagal in sexual assault case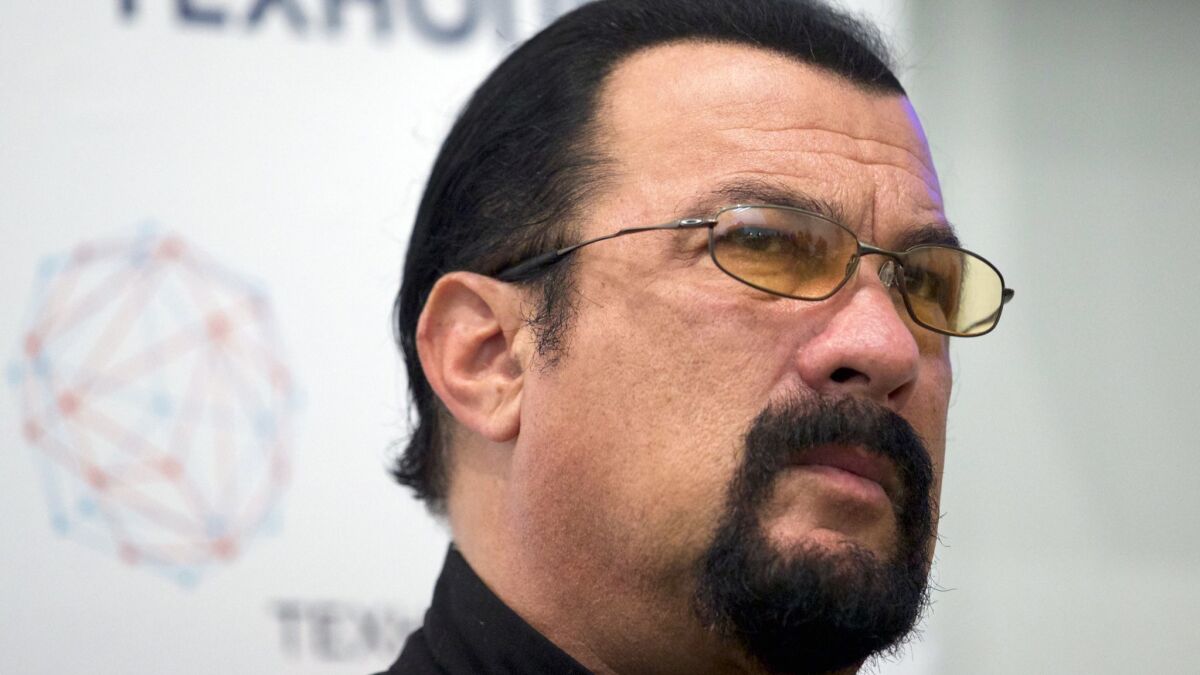 Actor Steven Seagal will not face criminal charges in a sexual assault case, the Los Angeles County district attorney's office said Friday.
The case stems from allegations former model Faviola Dadis made to police this year. Dadis claimed that when she was 17 years old in 2002, Seagal groped her during an audition at the Beverly Hills Hotel.
Prosecutors said they were declining to file charges because there wasn't sufficient evidence and the statute of limitations had expired.
Dadis is the second woman to publicly accuse Seagal of sexual assault. Actress Regina Simons has claimed that he raped her when she was 18 and an extra on his 1994 film "On Deadly Ground."
Simons claimed Seagal invited her to a party at his home to celebrate the filming of the movie, but when she showed up no one was there. She alleges that Seagal took her to a bedroom, kissed her and then raped her.
Prosecutors also declined to file charges against Seagal in that case because the woman was 18 and the statute of limitations for rape charges was six years at the time.
Seagal — a Russian citizen who was named in August as the Kremlin's newest special envoy to the United States — has faced more than half a dozen allegations of sexual assault, including rape, over several decades.
The allegations, which he has denied, have been leveled by actresses, film workers and reporters.
Anthony J. Falangetti, the attorney representing Seagal, said they "are very pleased with the outcome."
He said he was grateful that prosecutors evaluated the case carefully and rejected it. He said Seagal wants to put the accusations behind him.
"From a career standpoint, he wants to move on," Falangetti said.
Lisa Bloom, the attorney representing Dadis and Simons, said she appreciated that prosecutors looked at the case but was frustrated that state laws were unfairly preventing women from obtaining justice.
"The law fails to recognize that few minors are emotionally ready to seek justice against their rapists until many years later," Bloom said in a statement.
"Instead, it offers rapists a 'get out of jail free' card if they simply pass an arbitrary time deadline. And the law seems to presume that victims are lying, creating an unfairly high evidentiary standard not required in other criminal cases. Few rapists commit their crimes in the presence of witnesses."
For more Southern California news, follow @latvives on Twitter.
---
The stories shaping California
Get up to speed with our Essential California newsletter, sent six days a week.
You may occasionally receive promotional content from the Los Angeles Times.