L.A. street vendor protest: 'We are not criminals'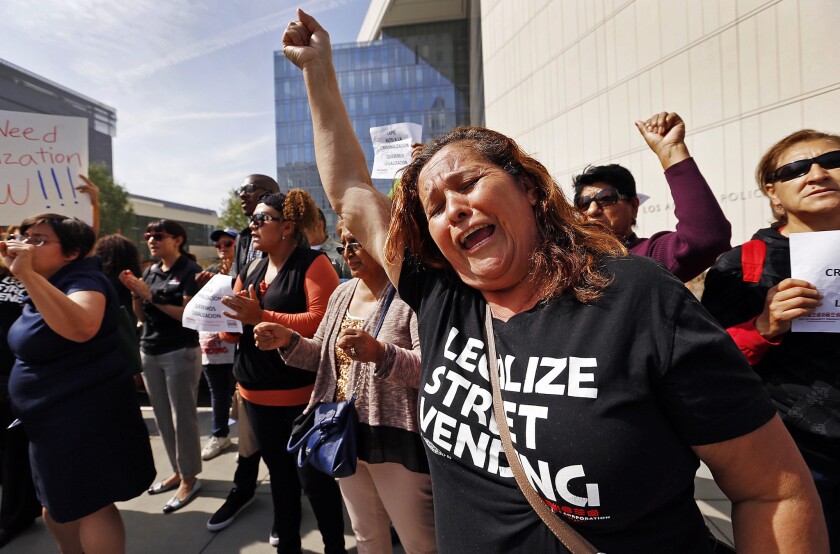 Saying they are increasingly targeted by police, dozens of street vendors and their allies protested Tuesday outside the LAPD headquarters for a moratorium on ticketing or harassment of those who sell food and wares on the streets.
The protest comes amid efforts to legalize street vending in Los Angeles.
Members of the Los Angeles Street Vendor Campaign and other vendors and allies gathered in front of the Los Angeles Police Department, carrying signs that read, "We need legalization now" and "We are not criminals" while chanting "Sí, se puede," the motto of the United Farm Workers and other union and civil rights groups.
The group of about 30 also carried a list of grievances they planned to give to Police Chief Charlie Beck.
Alfonso Garcia, a street vendor in San Fernando Valley, said a month ago there were 10 officers on horseback and four patrol cars who participated in a raid at Hansen Dam in Pacoima, where he works.
"They dedicated themselves to pursuing all of us," Garcia said. "None of us could escape."
Garcia said he sells food once a week in Hansen Dam to provide for his family in Mexico. The 53-year-old said he received a $250 ticket in one police crackdown, an amount he says it takes nearly a full day for him to earn.
"Stop the criminalization and support us in our business ... our family depends on it," said Garcia, who was met with cheers from the gathered crowd. "We're asking Charlie Beck, please intervene."
In addition to street vendors, Cynthia Anderson-Barker, an attorney with the National Lawyers Guild, also spoke about alleged police harassment. She cited an agreement with LAPD's Rampart division not to confiscate property or give tickets if vendors aren't blocking sidewalks or business entrances and are not selling pirated goods.
"We're calling on LAPD today to do what the captain of the Rampart division recently agreed to do," Anderson-Barker said. "LAPD can do this, they should do it now."
At one point, Garcia, joined by Anderson-Barker and another street vendor, went inside LAPD headquarters to give their grievances to Beck. Cmdr. Andrew Smith listened quietly as the two vendors asked for the decriminalization of street vending.
Smith took the list and explained that the LAPD can't legally ignore the sales of counterfeit products or permit street vendors to block entrances of buildings. Smith said officers try to get voluntary cooperation from vendors.
"We're not in the business of going after people that are selling food or selling items like that on the street. That is the health department," Smith said.
Smith added that the LAPD has already met with the Lawyers Guild and representatives of different vendor groups.
"We've got good cooperation from the folks that we have met with," Smith said. "We're waiting to see what the city does with respect to making vending legal in certain areas."
Tuesday's rally comes amid efforts to legalize street vending in the city. Late last year, an L.A. council committee took a step toward legalizing and regulating street vending, discussing how sellers could obtain city permits.
But for many, efforts aren't moving fast enough.
"The urgency in City Hall is not meeting the need on the outside," said Mike Dennis, a spokesman for the Los Angeles Street Vendor Campaign. "We're asking for LAPD to slow down while City Hall gets its act together and moves."
For Lorena Galicia, 31, hiding from police has become a way of life. Galicia said she has sold raspados in Hansen Dam every Saturday and Sunday for the last eight years. But in the last few years, she said she's seen an increased police presence.
She said when her young children heard police telling vendors they had to leave or they would get ticketed, they asked her to explain why she didn't have permission to sell goods.
"They worry because they know if I work then there's money to buy them what they need," Galicia said. "I told them not to worry, tomorrow we're going to keep working."
---
Life is stressful. Our weekly mental wellness newsletter can help.
You may occasionally receive promotional content from the Los Angeles Times.