Doctor who: This man faked his death and shed identities from L.A. to Kiev to escape justice, officials say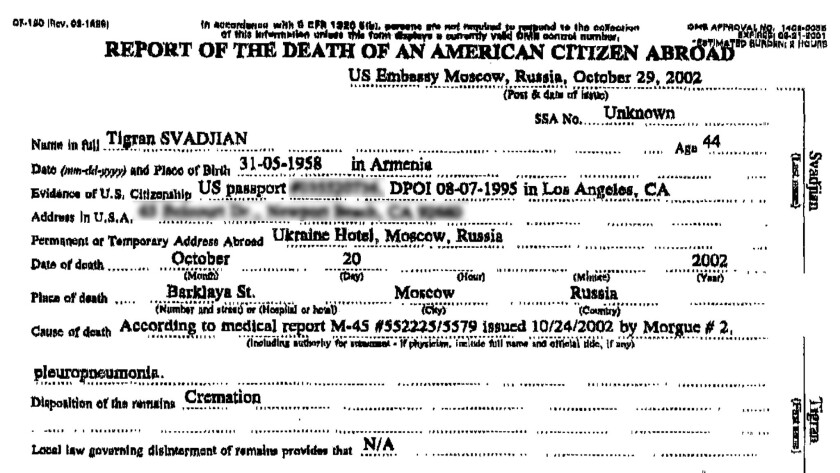 Facing charges of healthcare fraud, Tigran Svadjian, a Newport Beach doctor, agreed to go undercover for federal prosecutors.
But before he would wear a wire, he told them, he needed to visit his ailing mother in Russia.
He never returned. The day he was to appear in court in 2002, prosecutors received paperwork from a Russian morgue stating that, just a few days before on a Moscow street, Svadjian died of pneumonia.
More than 10 years passed before prosecutors asked a judge to dismiss the charges against Svadjian. In 2013, they discarded the evidence collected against him.
The criminal case against Svadjian was over. His estate was divided up among creditors. His wife and children moved on with efforts to rebuild their lives.
Then, one day in July, a man traveling on a fake Lithuanian passport landed in Kiev.
::
Svadjian began his career as a medical student at the Albert Einstein College of Medicine in the Bronx. He was still a student when, at 25, he married Emilya Badzhaksizyan in 1983.
A year later they had their first child, Andre, in New York. After Svandjian's graduation, the young family moved to Southern California, where his father was also a doctor.
The couple welcomed their first daughter, Alexandra, in 1986. Soon after, Svadjian, a native of Armenia, launched his own practice and expanded it into two offices in Orange County.
Then, in 1998, Svadjian made a fateful decision. He purchased the Southwest Medical Group from a man ensnared in a federal medical fraud investigation, according to court records. The man also had suspected ties to Armenian and Russian organized crime.
The man and dozens of other doctors were believed to have overbilled the government at least $13 million for medical tests and procedures at its offices in Burbank, Ventura and San Francisco, news clippings from the time show.
Svadjian would later tell investigators that he was not involved, according to court records.
But by 2002, the government's focus had turned on him anyway.
According to a letter the state Department of Health and Human Services sent to Svadjian that year, a 14-month audit of his practices in Fresno and Los Angeles revealed he had overbilled California more than $1.9 million in treatments for state-insured patients.
The letter claimed Svadjian provided only 13 of 200 medical records the state requested as part of an audit and that he could not account for 94% of the services he had allegedly performed. Some of the patients he had supposedly treated were dead, authorities said.
Prosecutors eventually made Svadjian an offer, according to an FBI affidavit filed this summer: If he wore a wire and turned against his co-conspirators, his case would be kept confidential and the charges possibly reduced.
Svadjian agreed and hopped on a flight to Russia. His lawyer told prosecutors that he'd be back by the end of October.
But on the last day of that month, Svadjian's attorney in L.A. sent federal prosecutors in Sacramento a fax. Included was a Report of the Death of an American Citizen Abroad from the U.S. Embassy in Moscow. Svadjian had died 11 days prior on Barklaya Street, the document said.
His remains were cremated and given to his mother, Margarita Petrosova.
::
The Egyptian town of Hurghada had blossomed from a once-quiet fishing village stretching along the Red Sea to a beach resort that drew tourists with immaculate hotels and charming night life.
See the most-read stories this hour »
It was there, in late 2002, that Vasily Petrosov found a home and began earning a living as a part-time scuba instructor. He fell in love with a woman from Sochi, Russia, a resort city on the coast of the Black Sea.
In 2012, the couple had their first child, a son. Things were looking up for Petrosov and by the end of last year, he expected a second child.
But this would be a difficult pregnancy, and would require a caesarean procedure. Petrosov's girlfriend flew back to her hometown, where the medical care would be better. There she would wait for him.
Petrosov did not have a passport. The one he had was fake, and authorities seized it when he tried to renew it in Russia years before. Petrosov contacted a Lithuanian friend in Hurghada and purchased another fake passport.
Petrosov became Viktoras Cajevkis. A Lithuanian.
Armed with his passport and other documents, Cajevkis left Egypt for Russia — with a stop in the Ukraine.
But authorities in Kiev soon realized his passport was fraudulent and sent him back to Hurghada, where Egyptian police arrested him on July 31. Determined to find out who he really was, they searched his apartment, which yielded a Russian passport under the name of Petrosov.
They also found a canceled American passport with another name.
Tigran Svadjian.
::
In the time Svadjian was gone, his father in California was diagnosed with prostate cancer and died. His daughter got married and had a son.
His wife, Emilya, spent years in court fighting off creditors seeking to liquidate family assets to pay off millions of his debt.
Some of Svadjian's family members knew that he had not died, the affidavit says. His mother reportedly visited him in Egypt and he told investigators that he spoke to his father over the phone after vanishing, though they never saw each other again.
But it's unclear whether his wife and children knew his secret, according to a federal affidavit. When reached by a Times reporter, Emilya Svadjian said she was surprised to discover her ex-husband was not dead.
"How do you think I feel? I was given a death certificate, his ashes," she said during a brief phone interview. "It's devastating and I can't talk about it."
Greta Flate, whose husband represented Emilya Svadjian when she handled his last will and testament, was shocked to learn Tigran Svadjian was alive.
"What! What! That is wild!" she said. "We never asked any questions."
::
On Monday, Aug. 1, Egyptian police notified the U.S. Embassy in Cairo that they may have an American citizen in custody.
Late night on Thursday, Egyptian police escorted four representatives of the U.S. Embassy — an FBI special agent, a diplomatic security special agent, an American Citizen Services officer and a Foreign Service National investigator — to the Hurghada police station to interview their mystery man.
They told the man he had the right to an attorney. He declined the offer and agreed to cooperate.
They took his fingerprints and sent them to the FBI's high-tech Criminal Justice Investigative Services Division in West Virginia. But according to court records, Svadjian admitted who he was and gave his real date of birth, Social Security number, and showed them his U.S. naturalization certificate.
Then, according to the FBI affidavit, he unraveled for them the tale of how he remained hidden for so long:
While overseas in October 2002, Svadjian met a Russian police officer at a party who said that for a "service fee" the man could fake his death. Svadjian agreed and paid $200 for the privilege of being dead, courtesy of falsified paperwork from a morgue in Moscow.
He then obtained the Russian passport under the name Vasily Petrosov, whose birthday was in February 1961. Svadjian told his interrogators that the pseudonym was an old family name and the birthday belonged to one of his cousins.
He moved to Egypt, where his father had citizenship and authorities at the time didn't check documents. He applied for citizenship there, authorities said, though he never got it.
Svadjian faced up to 10 years in prison on his original case, but the charges had a five-year statute of limitations. It's unclear whether the statute was suspended after he vanished.
Additionally, federal authorities discarded the evidence against him, thinking he was dead, the affidavit said. U.S. attorney officials said evidence on old cases is typically sent into storage, but they could not speak to what happened with the evidence they had against Svadjian.
Though Svadjian sits in a federal holding cell in downtown L.A, he faces only a single charge of unlawful flight to avoid prosecution, which carries a maximum five-year sentence — half what he faced before he vanished. Prosecutors said they expect to reach a plea agreement with Svadjian by mid-November and won't prosecute him on the old, and much more serious, Medi-Cal fraud charges.
When he was caught, authorities say, Svadjian had $2,000 in cash and $10,000 in an Egyptian bank account. His girlfriend had $260,000 in her accounts but he was unable to access it, the FBI said.
While Svadjian was abroad, the state Department of Health and Human Services sought a judge's order to allow them to take his family's home in a gated Newport Beach neighborhood.
The state gave up its fight in 2005 and a year later, Emilya Svadjian divided her ex-husband's $63,000 in assets among the family. Her claim on his life insurance was rejected.
But the FBI said she managed to empty out a Swiss bank account Svadjian maintained with $3 million.
To read the article in Spanish, click here
For breaking California news, follow @JosephSerna on Twitter.
MORE LOCAL NEWS
Californians have a lot to lose if Obamacare is repealed
Metro staff recommends switching to LAPD for transit patrols in L.A.
---
For reporting and exclusive analysis from bureau chief John Myers, get our California Politics newsletter.
You may occasionally receive promotional content from the Los Angeles Times.