Metro says dumping deputies in favor of local police will address safety concerns in some areas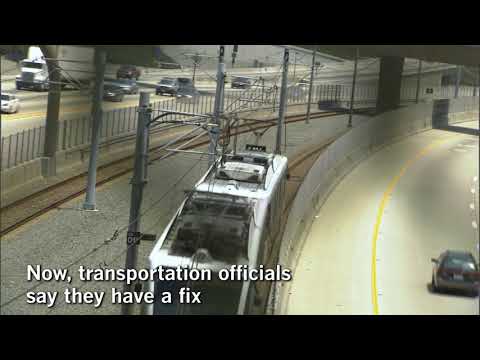 The Metropolitan Transportation Authority recommends transferring public safety duties for part of the subway and rail system away from the Sheriff's Department  
Transportation officials are seeking to shift many Metro policing duties from the Sheriff's Department to the Los Angeles and Long Beach police departments, a significant change in approach to public safety on the county's sprawling bus and rail system.
A report written by the Metropolitan Transportation Authority and reviewed by The Times recommends transferring public safety responsibilities for more than half the subway and light-rail system and 60% of the region's bus service away from the Sheriff's Department.

For the record:
4:30 p.m. Dec. 4, 2023An earlier version of this article stated that Metro directors will consider awarding policing contracts at a Nov. 24 meeting. The meeting has been rescheduled to Dec. 1.
Instead, agency staff said, the LAPD should oversee bus and rail service and other Metro facilities in Los Angeles, and Long Beach police officers should patrol eight Blue Line stations. The Sheriff's Department would patrol the remainder of the system.
Metro's directors will consider awarding the policing contracts, worth almost $527 million over five years, at the board's Dec. 1 meeting. The new policing structure would take effect in January.
The Sheriff's Department, the sole agency policing the Metro transit system since 2003, has "poor system-wide visibility" and struggles to schedule enough deputies to meet required staffing levels, staff wrote.
Hiring Long Beach and Los Angeles police in their own cities would "vastly improve performance" and visibility on the system, Metro staff wrote, and would be nearly $100 million cheaper than hiring more sheriff's deputies.
Metro and the Sheriff's Department transit policing division did not return requests seeking comment Friday.
Riders have complained that they rarely, if ever, see deputies on trains or buses. In a recent survey, 29% of former riders told the agency that they stopped riding because they felt unsafe. Another survey found that one in 14 passengers had been groped or touched inappropriately on transit.
Under the new contracts, the number of law enforcement officials riding the system's 2,228 buses would increase from six to 34.
"The proposals present reliable staffing options, reduce existing emergency response times, and have capable ancillary services," the report noted, including traffic enforcement and an emphasis on community policing, a practice that focuses on officers building ties with the communities in which they work.
Many Metro rail and bus lines in Los Angeles also cross into at least one of the other 87 cities in the county, which could pose new jurisdictional challenges.
The report noted that the structure would add a "layer of complexity" in how law enforcement agencies respond to crimes, but could be addressed through better computer dispatch systems and frequent "communication and collaboration" between agencies.
In the past, auditors have faulted Metro for failing to develop a formal plan or hire any employees to ensure that the terms of policing contract were met.
Two years ago, Metro's inspector general found that the Sheriff's Department had failed to meet its goals to reduce violent crime on the bus and rail network and had not adequately tracked emergency response times.
The audit also found that Metro and law enforcement officials had not reliably measured fare evasion. Metro had asked deputies to reduce the rate of fare-jumping to 2%, but agency studies and other reviews suggest the number is much higher.
After those findings, Metro's directors voted to strengthen oversight, including requiring audits of the transit police every two years.
The new contract would shift responsibilities for fare-checking and monitoring security camera footage to Metro staff. The agency would also continue to employ private security guards.
Twitter: @laura_nelson
ALSO
L.A. voters make bold bets with new taxes for transit, homelessness
Success of homelessness and transit measures could give L.A. Mayor Eric Garcetti a boost
Sign up for Essential California for news, features and recommendations from the L.A. Times and beyond in your inbox six days a week.
You may occasionally receive promotional content from the Los Angeles Times.