Synagogues struggle with security measures following attacks at houses of worship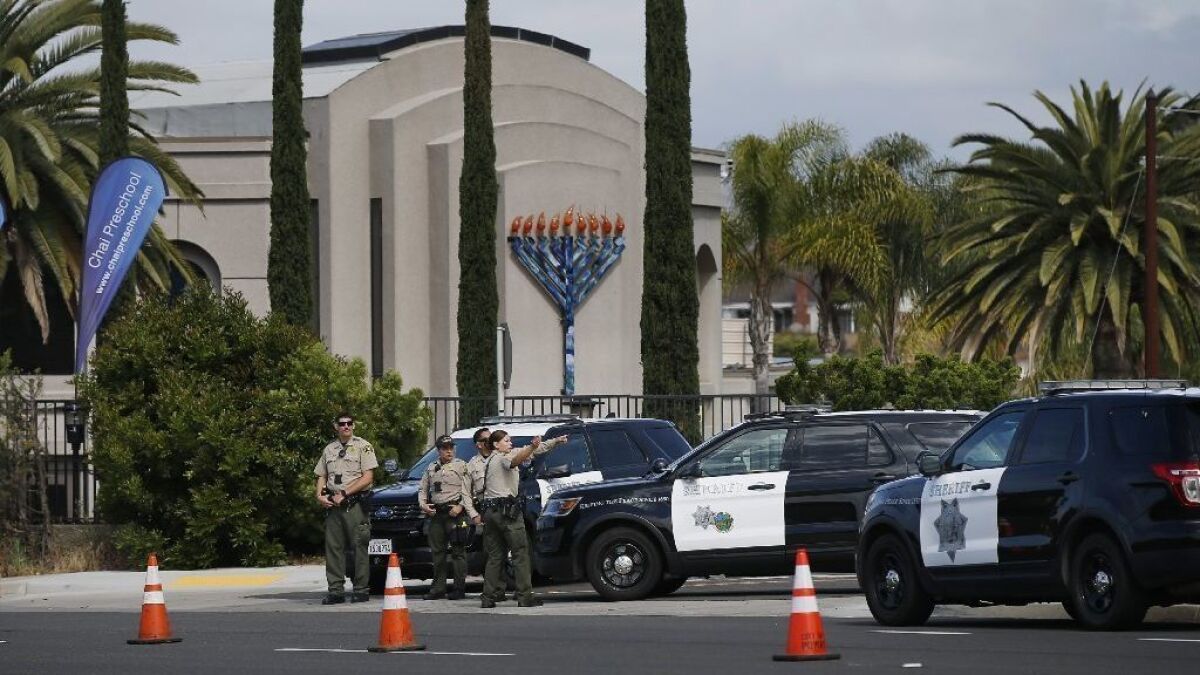 Rabbi Yonah Bookstein of Los Angeles' Pico Shul was at home Saturday afternoon, observing the Sabbath, when someone on the synagogue's security team alerted him about the deadly shooting at the Chabad of Poway.
The synagogue was prepared. After a gunman killed 11 people and wounded seven others at the Tree of Life Synagogue in Pittsburgh last year — one in a string of attacks on houses of worship in the U.S. and abroad — Pico Shul developed extra security measures as a precaution and out of concern about rising incidents of anti-Jewish hate. On Saturday, officials were ready to implement those measures.
"People on our security committee carry cellphones on Sabbath," Bookstein said. "We have security protocols so that when something happens, we put it into play."
The attack at the Poway synagogue in San Diego County on Saturday morning killed one woman and injured three others, including the rabbi who was celebrating the last day of Passover with his congregants when a gunman wearing a green military-style vest and armed with a semiautomatic weapon burst in and began shooting. The suspect was later arrested.
Many members of Bookstein's congregation still hadn't heard about the shooting until after Shabbat ended, but the synagogue's additional security measures were already in place when members gathered for prayer. Bookstein said he wasn't allowed to go into details about what those measures entail.
On Saturday evening, when Bookstein led prayers for the more than 100 congregants who gathered at his shul in West Los Angeles, he was faced with a choice: Tell his congregants that a shooting had happened in San Diego or refrain from that conversation. He decided not to bring it up with his congregants.
"Every rabbi had to decide whether to announce it, and we decided not to announce it publicly," he said. "We wanted people to find out organically."
Rabbi Diane Rose of Cool Shul, an LGBTQ and interfaith-friendly shul in a secure office building in Culver City, said the shooting on Saturday reinforced a decision last year not to move her 50-member congregation into a separate building.
Rose said she and her congregants had been thinking of moving the synagogue but decided against it after the shooting at the Tree of Life Synagogue.
"There's no marking that says 'Jews are here,'" Rose said of the present location. "In some ways you want to be welcoming, but after the Pittsburgh shooting we decided we didn't have what it takes to have more security or be able to have armed guards standing at the door."
Anti-Semitic incidents around the nation have been increasing since 2013, with the biggest all-time annual jump coming in 2017, when the tally climbed 57% to 1,986, according to the Anti-Defamation League.
The majority of those incidents were harassment, which rose 41% to 1,015 incidents, including 163 bomb threats against Jewish community centers and synagogues. Vandalism rose 86% to 952 cases. The number of physical assaults fell from 36 to 19.
Rabbi Rick Jacobs, president of the New York-based Union for Reform Judaism, the largest branch of Judaism with 900 congregations serving 1.5 million people, said that his congregation has been reviewing security procedures since the Tree of Life shooting six months ago.
"We have been doing everything possible to keep our congregation safe and to be able to welcome people at the same time," he said. "We also work closely with law enforcement."
Jacobs said that in addition to training professionals and volunteers at houses of worship, congregants have also been practicing active shooter drills.
"These are not things that people intuitively know how to do," he said.
melissa.etehad@latimes.com
The stories shaping California
Get up to speed with our Essential California newsletter, sent six days a week.
You may occasionally receive promotional content from the Los Angeles Times.