Thousands of LAUSD teachers march downtown as union moves closer to calling first strike in nearly 30 years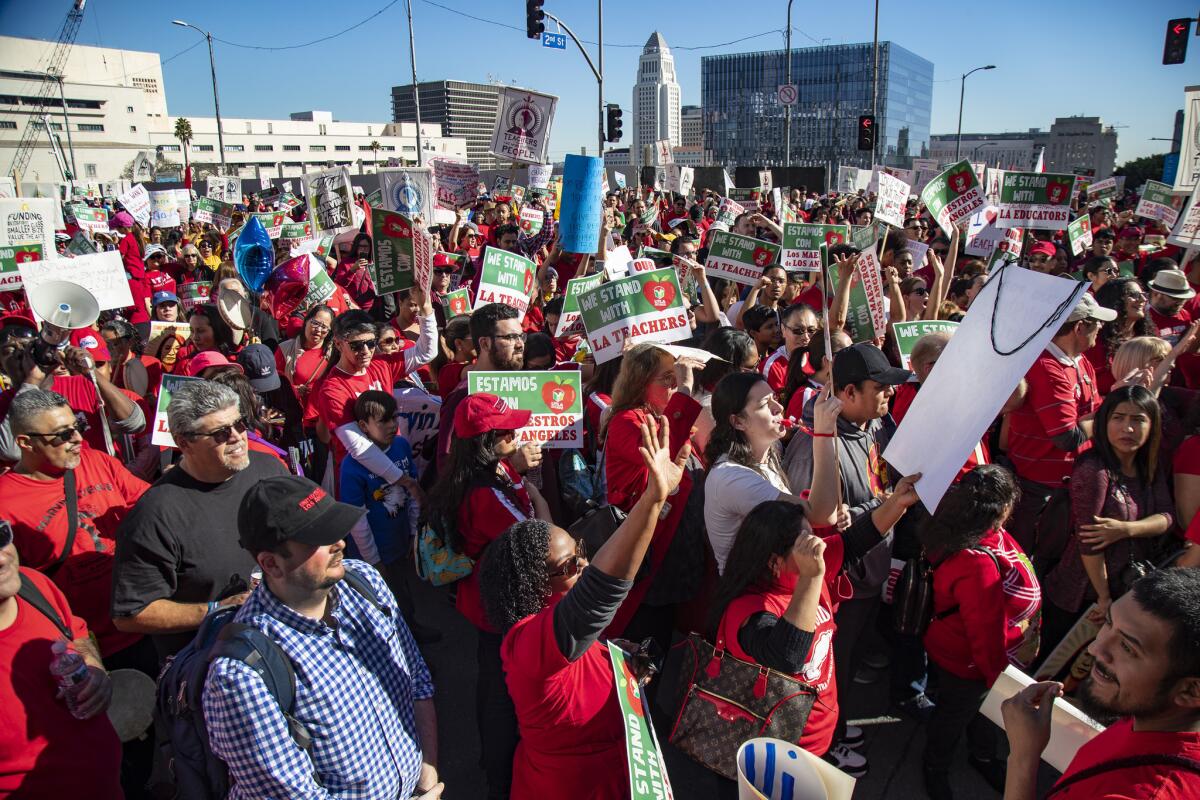 Thousands of teachers, students and union allies marched through downtown Los Angeles on Saturday, from City Hall to the Broad museum, a month ahead of a possible strike that L.A. educators have threatened if the district doesn't meet demands that include retroactive raises, smaller class sizes and more nurses and counselors.
The March for Public Education, organized by United Teachers Los Angeles, was meant to be a show of force to Supt. Austin Beutner, who has said Los Angeles Unified School District does not have the funds to meet the union's demands and ensure the district's financial solvency in future years.
Thousands filled Grand Park and the western steps of City Hall leading up to the 10:30 a.m. rally, holding signs that said, "We work for the people," "Education is a human right," and others that called for more reasonable hours for teachers, improved arts education and more nurses.
The march was sandwiched by rallies at both ends, with local and national education activists, teachers and students reiterating the demands.
"Amidst the wealth of Los Angeles, we should not have class sizes of 45 students," UTLA President Alex Caputo-Pearl told the crowd from a truck's flatbed, adding that after 20 months of bargaining, "the time draws closer to taking dramatic action."
Around 11 a.m., the marchers, most wearing bright red in support of UTLA, walked down Broadway and through the 3rd Street tunnel up to the Broad museum to protest the role that they say billionaires such as Eli Broad are playing in the growth of charter schools, most of which are not unionized and pull students from district schools.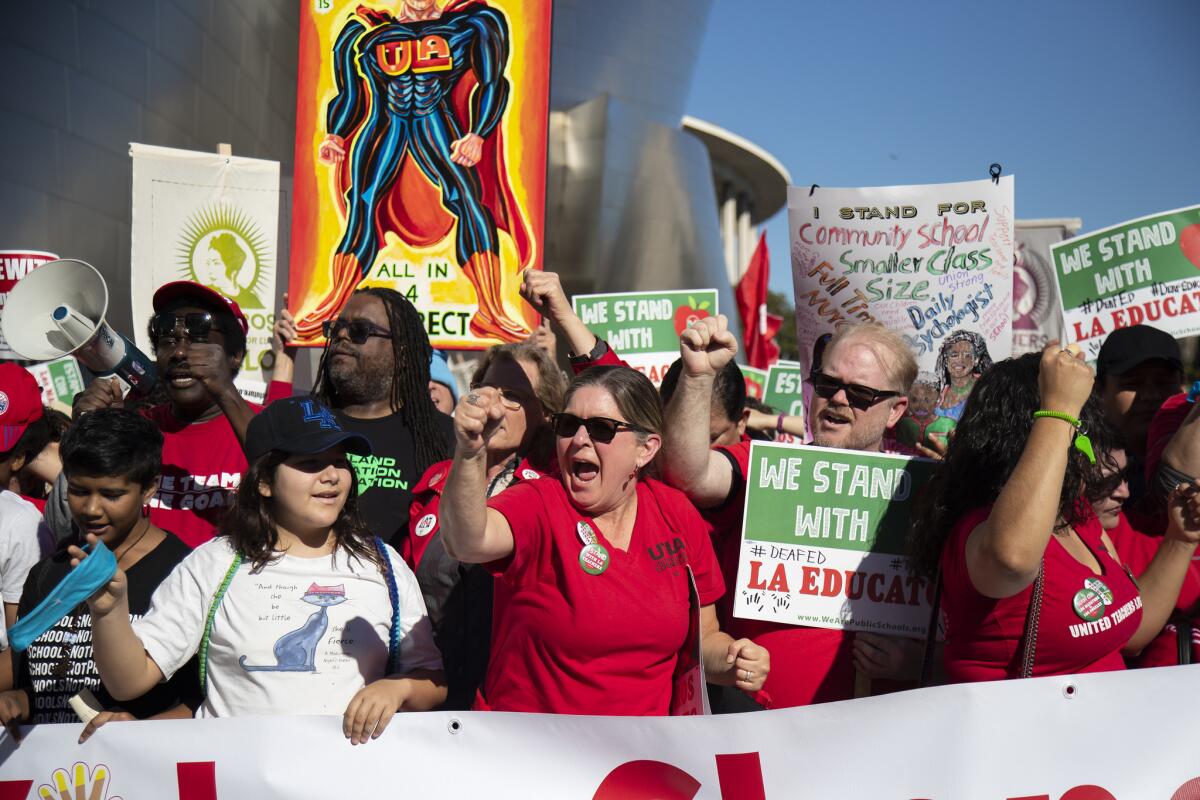 The tunnel boomed with echoes of "UTLA," with protesters stretching back to the starting point. Although not all participants were UTLA members themselves, the turnout was a reminder that Los Angeles Unified, the nation's second-largest school district with more than half a million students, would be starkly affected if a strike does happen.
The crowd was full of union families, some of which included L.A. Unified students who said that they too will strike if their parents and teachers do.
Toby Smith has been a dance teacher for 14 years and said she works with 2,000 students at eight different schools. Arts education can be a powerful force in getting kids to love school, but it's hard to form connections and address needs with so many students, she said.
The district's latest proposal offers a 3% raise starting retroactively from July 1, 2017, followed by an additional 3% raise taking effect from July 1, 2018. The union wants a 6.5% raise retroactive to July 1, 2016.
L.A. Unified officials say their offer would increase district costs by $430 million over the three-year life of the contract. They say the union demand would cost $750 million over that same time.
Teachers in L.A. Unified earn $44,000 to $86,000 a year depending on their education and experience, according to the L.A. County Office of Education, which compiles the data. L.A. Unified says the average teacher salary is $75,000, which reflects the district's older, more experienced workforce.
For some teachers, this wouldn't be their first strike. Malabar Elementary School teachers Jeff Hiroto and Rosalind Marquez started teaching at the school together almost 35 years ago and went on strike in 1989. The nine days out of class were worth the improvements they saw, they said.
Teachers in 1989 were able to maintain health benefits and were relieved of recess and lunch supervision duties, Hiroto said.
Now, he wants to see raises as well as more nurses and mental health resources for students. "In elementary the kids are always getting hurt," he said.
Jackie Goldberg, the UTLA-endorsed candidate for the school board's District 5 seat vacated by Ref Rodriguez this year, spoke outside the Broad museum. Teachers and support staff "every day make a difference in the lives of hundreds of thousands of young people," she said, before thanking the union for its endorsement.
Times staff writer Howard Blume contributed to this report.
Sign up for Essential California for news, features and recommendations from the L.A. Times and beyond in your inbox six days a week.
You may occasionally receive promotional content from the Los Angeles Times.