Air Force launches test missile off Central California coast to show nuclear deterrent capability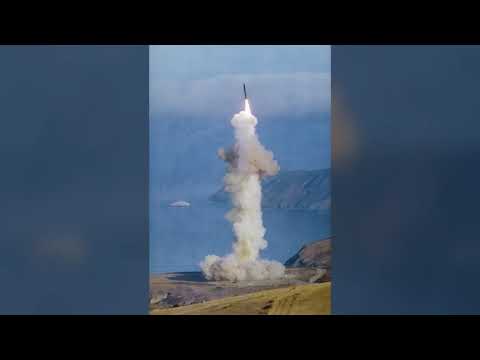 The Minuteman III missile traveled 4,200 miles to a test range in Kwajalein Atoll in the Marshall Islands. (Sign up for our free video newsletter here http://bit.ly/2n6VKPR)
An unarmed intercontinental ballistic missile was launched just after midnight Wednesday from Vandenberg Air Force Base as part of an operational test to show the country's nuclear deterrent capability, according to the U.S. Air Force.
The Minuteman III missile test launch occurred at 12:03 a.m. from the base northwest of Lompoc, according to Vandenberg's 30th Space Wing. The launch command was delivered from the Airborne Launch Control System on a Navy E-6 Mercury jet, according to the Air Force Global Strike Command.
The missile, which was equipped with a nonexplosive payload that recorded flight data, traveled 4,200 miles to a test range in Kwajalein Atoll in the Marshall Islands, according to the Air Force.
Col. Chris Moss, Vandenberg's 30th Space Wing commander, said the test launch was "an important demonstration of our nation's nuclear deterrent capability."
The test was conducted by the Air Force Global Strike Command's team from the 90th Missile Wing at F.E. Warren Air Force Base in Wyoming, 341st Missile Wing at Malmstrom Air Force Base in Montana and the 625th Strategic Operations Squadron at Offutt Air Force Base in Nebraska. Warren Air Force Base is one of three missile bases overseeing the country's intercontinental ballistic missile forces.
According to the Air Force Global Strike Command, the launch was designed to "verify the accuracy and reliability" of the Minuteman missile system as well as provide "valuable data to ensure a continued safe, secure and effective nuclear deterrent."
The missile has been in service for 60 years, but it has been upgraded over the years with improved targeting and enhanced accuracy systems, the Air Force said.
On Monday, the Nuclear Age Peace Foundation, a nonprofit, nonpartisan organization, criticized the timing of the launch, citing heightened tension between the U.S. and North Korea. In recent weeks, North Korea has stepped up its testing of ballistic missiles.
"When it comes to missile testing, the U.S. is operating with a clear double standard: It views its own tests as justified and useful, while it views the tests of North Korea as threatening and destabilizing," foundation President David Krieger said in a statement. "What is needed is diplomacy rather than military provocations. Threats, whether in the form of tweets, nuclear-capable aircraft carrier groups, or nuclear-capable missile launches, only increase the dangers to us all."
To read the article in Spanish, click here
Twitter: VeronicaRochaLA
MORE LOCAL NEWS
Will sending selfies to Jupiter's moon, Europa, get the attention of an E.T.?
25 years after riots, South L.A. still waiting for its renaissance
Coulter says she'll speak at UC Berkeley on Thursday, invited or not
A judge has refused effort to block spending on California's bullet train
---
UPDATES:
9:00 a.m.: This article as updated with comments from the Air Force Global Strike Command on the Minuteman missile system .
This article was originally published at 6:55 a.m.
Sign up for Essential California for news, features and recommendations from the L.A. Times and beyond in your inbox six days a week.
You may occasionally receive promotional content from the Los Angeles Times.