L.A. city officials, organizers push back against termination of protected status for thousands of immigrants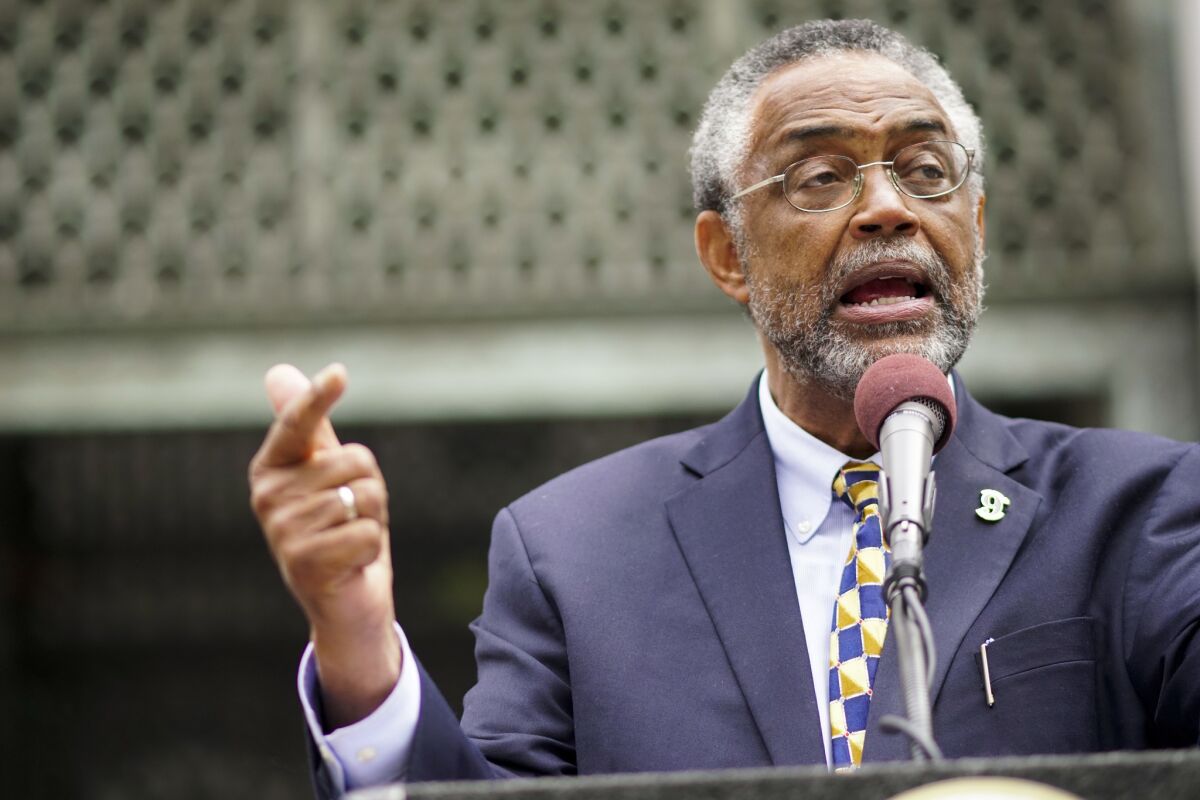 Los Angeles city officials and organizers struck a defiant tone Wednesday, pushing back against President Trump's plan to end protected status for tens of thousands of immigrants.
Organizers and elected officials, including City Council members Curren Price and Gil Cedillo, gathered outside City Hall to decry Trump's termination of temporary protected status, or TPS, and to offer strategies to protect those immigrants.
"We're focusing for the minute on TPS, given the termination of TPS programs and given that there's tens of thousands of TPS people who live in Los Angeles," said Peter Schey, L.A. city advocate for immigrant affairs, civil rights and equity.
"Now, for the first time in many, many administrations, their temporary protected status is being terminated by President Trump," he said. "This will simply push them into undocumented status."
Schey, who is also the executive director of the Center for Human Rights and Constitutional Law, introduced the L.A. Movement for Immigrant Justice and Equity, a coalition that includes members of the City Council, mayor's office and a range of grass-roots and faith-based groups "vowing to protect TPS recipients living in Los Angeles from arrest, detention or deportation."
TPS, which provides protection from deportation and gives people authorization to work in the country legally, is granted under immigration law for people from countries hit hard by natural disasters and civil wars.
The TPS designation for El Salvador will expire in November 2019. Protections for some 59,000 Haitians expire in July 2019. Both groups of protected immigrants must apply by March 18 to extend their protections until the new expiration dates.
About 5,000 Nicaraguans, who will lose TPS in January 2019, needed to apply for an extension by Feb. 13.
Schey said there is a plan to file a lawsuit in the next couple of weeks challenging the constitutionality and legality of the termination of TPS. Other strategies will include a mass distribution of legal protection letters signed by lawyers asserting the letter holder's rights, as well as drafting legislation for consideration by Congress to legalize the status of TPS holders.
Organizers also announced a TPS fair Saturday at Los Angeles Trade-Tech College beginning at 9 a.m. Free legal assistance will be provided to help complete TPS renewals for Salvadorans, Haitians and Syrians, whose status was recently extended.
Among those gathered outside City Hall on Wednesday was Astrid Garcia. Garcia, her mother and her father, originally from Honduras, all have TPS.
Garcia, a Long Beach resident, is studying sociology at El Camino College in Torrance.
"It's hard that they're trying to take it from us, because that's what helps us work, that's what helps me go to school," the 19-year-old said. "It's scary, because from one day to another they can just take everything from us."
The news conference came a day after the Trump administration announced plans to sue California over its new laws protecting immigrants living in the state illegally.
"I heard what Atty. Gen. Jeff Sessions had to say this morning about invalidating California's 'sanctuary' laws. Well, you had your turn, attorney general, now it's our turn to speak up, so listen," Price said.
"Enough is enough. First he came after our 'Dreamers,' then the Haitians, Nicaraguans, Salvadorans and now all of California. From Sacramento to the steps of L.A. City Hall, we've been ready for this fight. Washington, D.C., look closely, because you've met your match."
Twitter: @Brittny_Mejia
The stories shaping California
Get up to speed with our Essential California newsletter, sent six days a week.
You may occasionally receive promotional content from the Los Angeles Times.