After tough audit, Metro moves to strengthen transit police oversight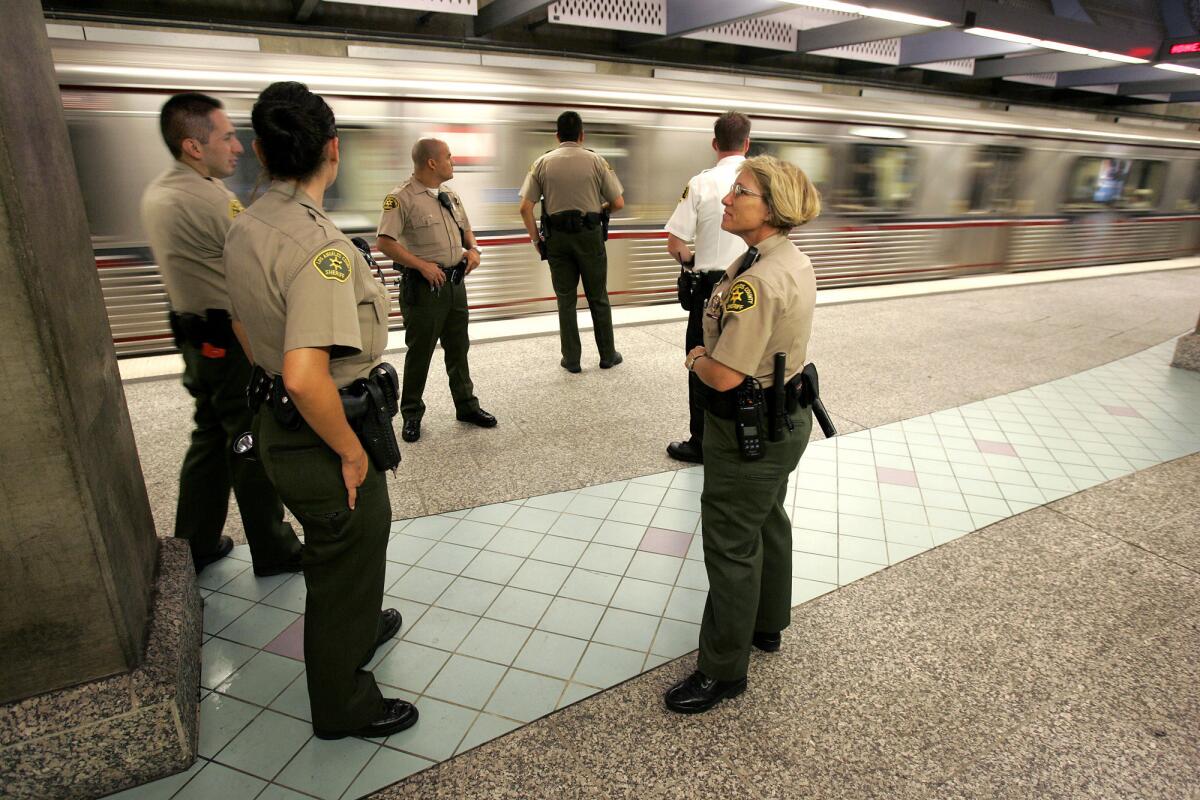 Following a bruising audit that criticized the Los Angeles County Sheriff's Department for failing to reduce violent crime on Metro trains and buses, transportation officials Thursday proposed new regulations to tighten oversight of the lucrative policing contract.
In a motion proposed by Los Angeles Mayor Eric Garcetti, the chairman of the county Metropolitan Transportation Authority, board members asked for several new Metro staff members who would keep tabs on key contract benchmarks, including fare evasion, system safety and response times. The board also asked Metro's inspector general, the internal agency watchdog, to audit the transit police contract every two years.
The audit, written by an outside firm and commissioned by Metro officials, also faulted the transit agency itself for weak oversight of the contract.
"We didn't hit some of the most basic things that are part of the contract," Garcetti said during a meeting at Metro's downtown headquarters. "We have failed on the oversight."
The push comes as officials weigh awarding a three-year security contract expected to cost about $400 million. The transit police agreement with the Sheriff's Department expires Dec. 31.
Sheriff's Department officials said they agree with the majority of the findings and are working to correct the issues raised in the audit.
Auditors said transit police struggled to maintain a "felt presence" on Metro's sprawling transit system, which has more than 85 miles of commuter rail tracks, dozens of train stations and thousands of buses. Their blistering report found a host of management and safety problems over the last five years of contracted service, which has cost Metro more than $365 million.
Auditors also noted some improvement in recent months, including more fare checks and citations. The agency has also struggled to gauge how many passengers are riding for free.
The Sheriff's Department was tasked with reducing crime on the Metro system by 8% a year, but total reported assaults, robberies and other crimes increased 28% in 2012 and 8.5% in 2013, according to the audit. Over a four-year study period, aggravated assaults climbed 75% to 280 in 2013, while robberies increased 43% to 407, according to FBI statistics included in the study.
Deputies do not have a coordinated plan for policing the countywide bus and rail system, the audit found, and do not have a "felt presence" on transit and in stations. It also found that the department has no way to quickly route emergency calls to other law enforcement agencies when help is needed.
There are fewer than 100 sheriff's deputies patrolling the system at any given time of day, officials said during the Thursday board meeting.
Sheriff's Department response times appeared to meet Metro contract requirements, but paint a misleading picture, the auditors wrote. They said that's partly because the department begins tracking response time when a deputy is dispatched, not when a call for help is received.
"When I talk to customers about safety on Metro, they will not use your standard," board member Jacqueline Dupont-Walker told sheriff's officials. What matters to customers, she said, is that uniformed deputies arrive as soon as possible.
The Sheriff's Department has been Metro's lone law enforcement agency for more than a decade. The Los Angeles Police Department lost the contract in 2003.
For more L.A. transportation news, follow @laura_nelson on Twitter.
Sign up for Essential California for news, features and recommendations from the L.A. Times and beyond in your inbox six days a week.
You may occasionally receive promotional content from the Los Angeles Times.