Higher rates, missed pickups: L.A. is hearing a rash of complaints about its new waste removal system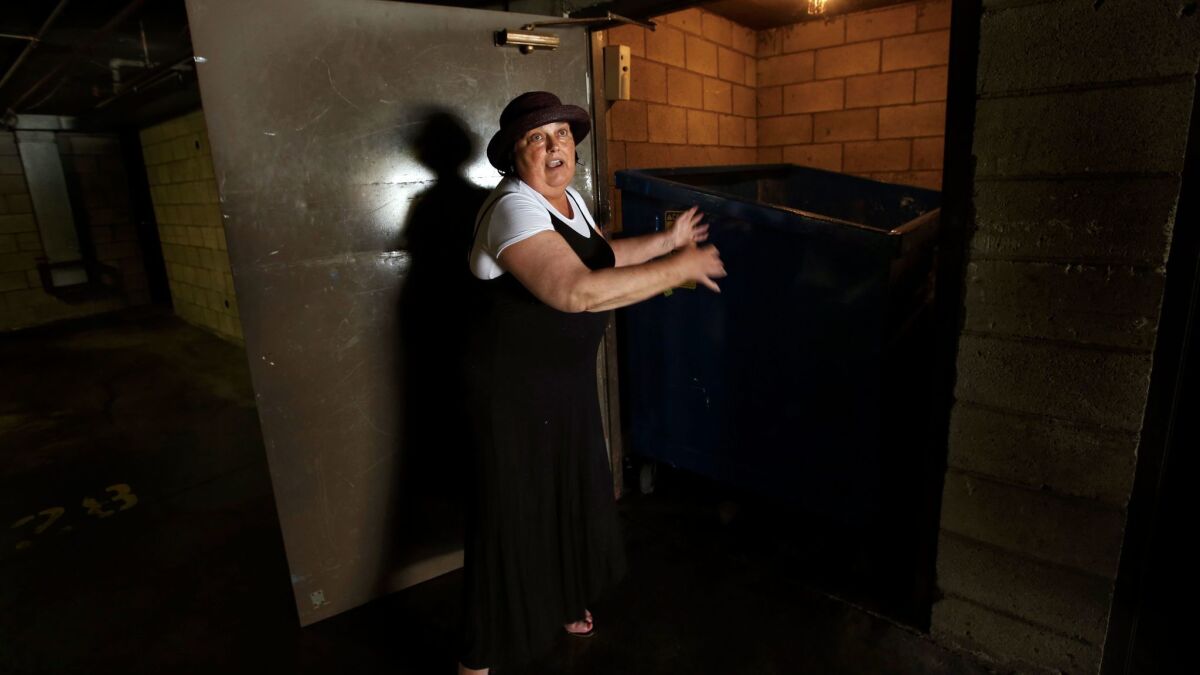 Eight months ago, the Los Angeles City Council voted to overhaul the way trash is picked up at tens of thousands of businesses and large residential buildings, giving the work exclusively to a select group of companies.
Backers of the program, championed by Mayor Eric Garcetti, said the new system would increase recycling, roll out cleaner-fuel trash trucks and improve workplace safety for sanitation workers.
But the new program, known as RecycLA, is not being universally welcomed by the businesses and residents who will rely on it for their trash pickup. In recent weeks, customers have begun complaining about soaring prices, uncollected trash and calls to their new waste hauling companies going unreturned.
One of those frustrated customers is Janet Garstang, who lives in a 14-unit condominium building in West Los Angeles. Garstang, president of the homeowner association, said she has been told to expect an 80% increase in her building's monthly bill — $428, up from $238 — unless she finds a way to cut back on service.
"Where are we supposed to get that money from? We have a budget down to the penny for our expenses for this year," she said.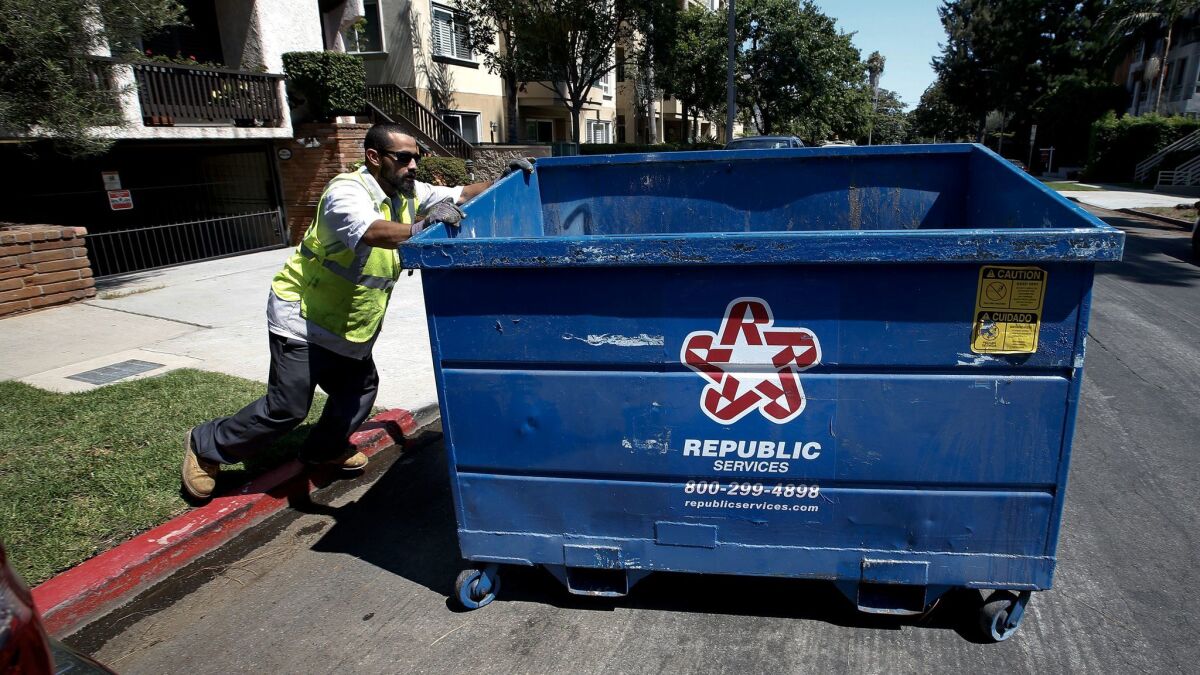 The complaints don't stop at price. Garstang said her building's recyclables have gone uncollected for five weeks. The new trash hauler, she said, has also so far shown a poor record of returning calls and showing up for appointments. "There's only been one time when they showed up when they were supposed to," she said.
L.A. sanitation officials say they expected some glitches in the short term as RecycLA is rolled out. The transition, which began in April and won't be complete until February, is moving 80,000 businesses and larger residential buildings — those with five or more units — into a new and complicated system aimed at cutting the amount of garbage sent to landfills.
So far, city officials say they are fielding around 90 calls a day about missed garbage collection. But they insist the issue is being addressed promptly. Haulers are learning new routes, meeting with customers and obtaining key codes for automated garages, said Dan Meyers, one of the sanitation officials overseeing the changes.
"I would actually characterize the transition as going well. And I characterize it as going well because of the fact that we have already moved a large number of customers through the system," said Meyers, who manages his agency's solid resources commercial franchise division.
Still, Meyers acknowledged that West Los Angeles has been a hot spot for service problems. Councilman Paul Koretz, who represents part of the Westside, estimated that his office has received 200 complaint calls about the new system so far — many of them about trash that went uncollected.
Athens Services, the trash hauler chosen by the city to serve the Westside, temporarily stationed a customer service representative in Koretz's district office to handle calls.
Koretz said he remains a supporter of the new system. But he questioned whether Athens had enough staff and trucks on hand to handle the increase in customers. And he signaled that the company will need to resolve its outstanding customer issues within three months — or risk losing its contract.
"They need to clean this up fast," he said.
Asked about Koretz's comments, Athens President Greg Loughnane said many of the Westside's customer service issues have already been resolved. The number of problems that have come up, Loughnane said, is statistically small compared with the thousands of customers that have switched haulers without incident.
"It's a six- to nine-month transition," he said. "Not everything is going to be smooth every day. But once we're through that, I think people will be very satisfied with the service."
The City Council approved the trash franchise system in December, awarding lucrative contracts to seven trash haulers. The 10-year agreements provided each company the exclusive right to operate in one or more sections of the city.
Sanitation officials say the system is needed, in part, to help the city comply with new state regulations, which will require recycling in commercial buildings and diversion of food waste from landfills. But some regulations were imposed by the city's elected officials, including a requirement that the city keep an additional 1 million tons of garbage out of landfills by 2025.
The transition has been a massive undertaking, with city officials pushing for each of the system's 80,000 customers to have an in-person assessment of their trash pickup needs. Those assessments, city officials say, can be used to offer customers strategies for reducing their monthly bills.
Customers who succeed in recycling more trash will have less material filling their regular refuse bins. And if those regular bins are emptied less frequently, the cost of the hauling service will drop, said Meyers, the sanitation bureau official.
Still, some customers have chafed at the notion that they can no longer negotiate with the company of their choice. Others say they already had a consultation with their new hauler — and are expecting higher rates anyway.
Todd Schwartz, owner of a Dickey's Barbecue Pit franchise, agreed to add a recycling bin after meeting with a representative of Waste Management Inc., the new trash hauler assigned to Northridge. But Schwartz fears his business will continue to generate enough regular trash to require twice-weekly pickup.
Unless the restaurant succeeds in cutting back on the number of trash days, its monthly bill will climb to $406, up from $260, Schwartz said. "I'm not too hopeful," he said. "I don't believe we're going to be able to sustain only a single pickup a week."
Garstang, the West Los Angeles resident, said she too had a consultation. But that customer representative struggled to figure out how to fit a larger bin in her building's enclosed trash area.
"He's taking pictures and measuring and says, 'Wow, you do have a problem,' " she said. "What am I supposed to do? I can't invent a room that doesn't exist."
With the program only a few months old, some city lawmakers have begun proposing changes to the pricing system. On Friday, councilmen Mitchell Englander and Bob Blumenfield introduced legislation calling for the city to let businesses cut costs by sharing trash bins with one or more of their neighbors.
An Englander spokesman said the changes were proposed after businesses complained of rates that had doubled or even tripled.
"The current pricing scheme does not have enough flexibility to reflect the full range of needs for area businesses," the councilman said in a statement.
Twitter: @DavidZahniser
ALSO
From spectacular vistas to the pits: A decades-long public land battle continues in the California desert
Op-Ed: L.A. is park poor. So why is one of the most beautiful green spaces in the city locked behind a fence?
In Southern California, one legacy of Cambodian genocide: Hundreds of jewelry stores
The stories shaping California
Get up to speed with our Essential California newsletter, sent six days a week.
You may occasionally receive promotional content from the Los Angeles Times.