How Cambodian refugees found a new life — and crisis-proof wealth — in Southern California's jewelry market
On a spring day in 1975, as Khmer Rouge forces launched a coup that would unleash four years of genocide in Cambodia, Jerry Young grabbed a fistful of jewels from his store and fled for his life.
He walked and hitched rides to the border of Thailand, where he waited days before reuniting with his family in a camp.

For the record:
3:00 p.m. Aug. 8, 2017An earlier version of this article described UC Berkeley professor Khatharya Um as a professor of sociology. She is a professor of ethnic studies.
"I was so scared. I ran," said Young, 68. "I was so lucky."
When they moved to the U.S., those jewels — a few cut rubies and sapphires — became the seed funding for a business that has become common in Cambodian American communities: the jewelry store.
There are now hundreds of Cambodian-owned jewelry stores across Southern California, home to more than 50,000 people of Cambodian descent, the largest such population outside the Southeast Asian nation.
The stores are one of the legacies of the Cambodian genocide and the economic upheaval that came with it.
I was so scared. I ran. I was so lucky.
— Jerry Young, jewelry store owner
About two dozen stores are packed into a single Chinatown strip mall, and about 30 more crowd the downtown jewelry district. Cambodian jewelry stores line Anaheim Street of Long Beach's Cambodia town, cluster in a Fullerton strip mall and dot Orange County's Little Saigon.
Cambodian jewelers have become well known in the business. The Youngs are now the official crown jeweler of the Miss California USA, and Young's son Peter designed the crown.
In the piece, diamond-encrusted patterns form stars for Hollywood and waves for the ocean. In the center is a single blue sapphire. It represents one of the jewels his father brought with him as he fled Cambodia.
There isn't any single reason for the proliferation of Cambodian jewelry stores. But a large proportion of jewelry store owners, like Young, are ethnically Chinese Cambodians from the mining province of Pailin, which contains several gem mines.
Chinese Cambodians were among the first to flee the country when Khmer Rouge forces seized the wealthy province's assets. Their backgrounds and connections in the jewelry industry helped them start new businesses in America as refugees.
Cambodian jewelry stores in particular have served multiple purposes for an immigrant population made of refugees with a strong distrust for government institutions. They help people store and exchange wealth in its most crisis-proof form: gold.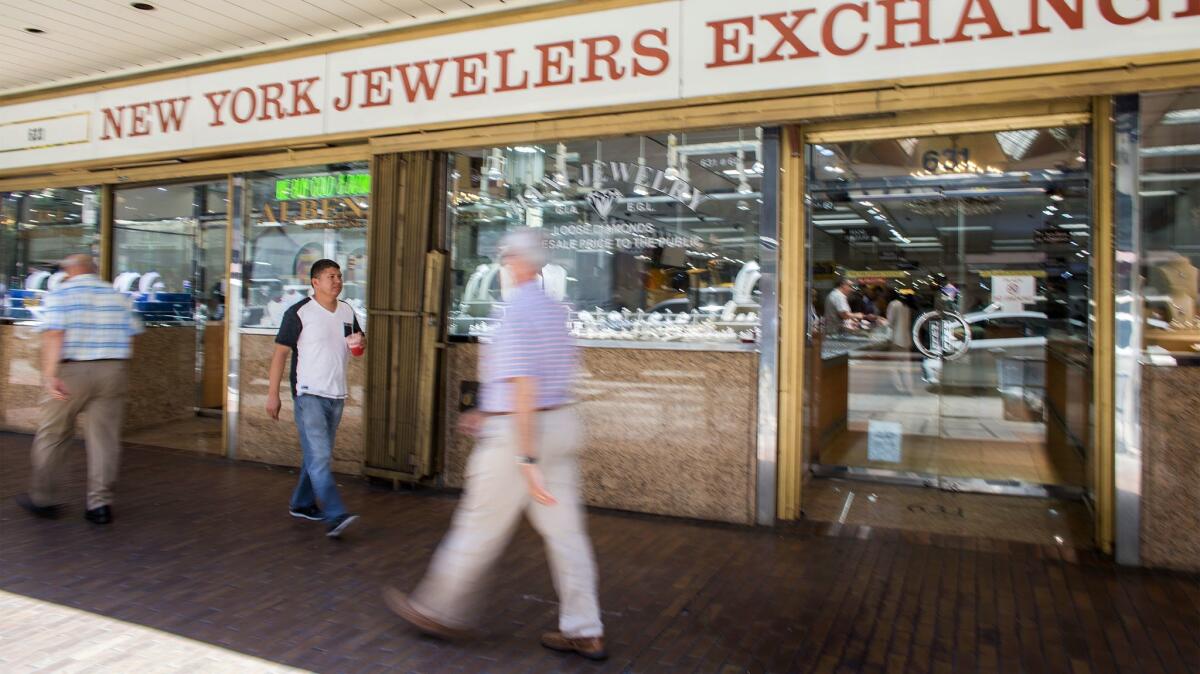 "It's a much more familiar and trusted institution," said Khatharya Um, a professor of ethnic studies at UC Berkeley. "It provides individuals with greater control over their wealth."
Cambodian people have stored their wealth in gold long before the Khmer Rouge, Um said, and that practice is common in other Asian societies.
Nearly 2 million people died in Cambodia's killing fields as a result of executions, starvation, torture and overwork. The violence instilled in refugees a strong distrust of institutions, one they brought with them to America, Um said. The Khmer Rouge regime eliminated currency, and many Cambodian refugees remember cutting slivers of gold to buy food and medicine in camps.
It might explain why there's currently no Cambodian American bank, but so many jewelry stores. Farmers and refugees from rural backgrounds were not used to using banks, Um said.
After stops in Guam, Hawaii and Camp Pendleton, Young and his family ended up in Bellflower. A friend, also from Pailin province, loaned them some jewelry inventory, and in 1978 Young opened Tory Jewelry Company, later renamed Inta Gems and Diamonds, the first Cambodian-owned jewelry shop in the downtown district.
The jewelry stores spread through the same tight-knit family networks that Cambodian refugees used to dominate Southern California's doughnut industry and take over the Louisiana Famous Fried Chicken chain.
Their proliferation accelerated during the 1980s, Young said. He and his family supplied gems, gold and advice to prospective shop owners, and Young's family members opened seven other jewelry shops.
In 1987, Long Ta and his wife, also jewelers from Pailin province, opened their first jewelry store in Chinatown. They helped family members open nearly two dozen other stores in the Chinatown swap meets.
"It's a small town. Everyone knows everyone," said Chay Leang Lim, owner of the Golden Gem Jewelry Co. Inc., located in the same space as Young's first jewelry store.
On a recent weekday at Thai Samnieng Jewelry in Long Beach's Cambodia Town, Madi Thai waits without much hope for customers. Entire days and weeks can pass without the door bells jingling.
The sparkling cabinets of jewels in his store give the impression of prosperity. But working in a luxury industry has not brought him a luxurious lifestyle, Thai said.
"I'm not getting rich off of this," Thai said. "I make enough every month to pay bills and buy my family some things, and then it's gone."
I'm not getting rich off of this. I make enough every month to pay bills and buy my family some things, and then it's gone.
— Madi Thai, Long Beach jewelry store owner
While Cambodian jewelers in Chinatown, downtown Los Angeles and Fullerton have thrived serving a diverse, international clientele, jewelers in Cambodia Town serve mostly Cambodians and locals, said Charles Song, former president of the Cambodian Jewelry Assn. of Southern California.
Cambodians usually buy more jewelry because they use it to store wealth, but there isn't much wealth in Cambodia Town. About a third of Cambodians in Long Beach's Cambodia Town live in poverty, according to a recent UCLA study — twice the poverty rate of the county. And business has taken a hit as more refugees have grown accustomed to using banks and reducing their jewelry consumption, Song said. Competition from Internet retailers has not helped.
Thai, who arrived in Long Beach in 1987 as a 12-year-old refugee, is hoping that later generations will find livelihoods beyond doughnut shops, chicken restaurants and jewelry stores.
"Someone will break through someday," Thai said. "It just takes time."
Cambodians own four of the 10 brick-and-mortar jewelry stores in Long Beach, according to city records. But there used to be more than a dozen Cambodian jewelers on Anaheim Street, Song said. The jewelry association also shuttered a few years ago when its leadership moved onto other ventures, Song said.
Owning jewelry isn't as important in America, Song said.
"Now it's for pleasure, not for eating every day. So people are buying less," he Song.
Song was one of the few Cambodian jewelers who had no Pailin connection. He learned the business from friends and relatives, and opened Phnom Pich Jewelry on Anaheim Street in 1997.
His seed money was a payout from a dong ting, an informal lending club that Cambodian families contribute to in order to get lump sums larger than any family could accumulate on their own.
During the genocide, he says, jewelers, and anyone with education, money, or status was targeted. He barely escaped with his life. Song and other Cambodians opened jewelry stores to survive, not get rich, he said. That's why Cambodian jewelers help each other.
"I don't know why I'm still here. But I believe in destiny, and I have the proof. I'm sitting here today," Song said. "I went through the killing fields. I want everyone to have the same opportunity."
Twitter: @frankshyong
ALSO
From spectacular vistas to the pits: A decades-long public land battle continues in the California desert
A transgender 8-year-old sues a private school, saying it didn't let her be the girl she is
Higher rates, missed pickups: L.A. is hearing a rash of complaints about its new waste removal system
Sign up for Essential California for news, features and recommendations from the L.A. Times and beyond in your inbox six days a week.
You may occasionally receive promotional content from the Los Angeles Times.