Trial delayed in 'Grim Sleeper' serial killings case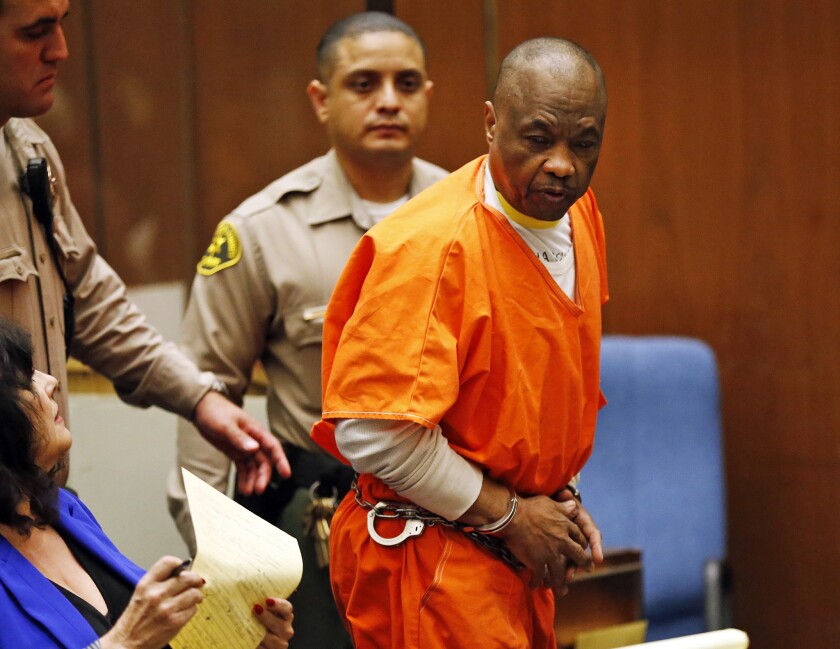 A Los Angeles County judge on Friday pushed back the start date of a trial for a man accused of being the so-called Grim Sleeper serial killer.
The capital murder trial of Lonnie Franklin Jr., who is charged with murdering 10 women and trying to kill another during a string of violence that spanned more than two decades, was expected to begin June 30.
But at a hearing Friday, Superior Court Judge Kathleen Kennedy delayed the trial until Sept. 9. Her decision came after she agreed to a request from Franklin's attorney, Seymour Amster, to test more items collected at the crime scenes – including a mattress pad draped over one of the victim's bodies – for DNA evidence.
Deputy Dist. Atty. Beth Silverman objected to another delay in starting the trial, saying the defense had several years to test the items but "waited until the 11th hour."
Kennedy ruled that the delay was necessary to "protect the rights of both sides."
The judge -- who picked the previous start date during a dramatic hearing where victims' families told her how much pain repeated delays caused -- expressed sympathy for the relatives on Friday.
"It's been an extremely long road to get to this point," she said. "We need to have an end."
Diana Ware, stepmother of victim Barbara Ware, nodded and whispered to herself: "Mmmhmm."
Franklin, 62, wore orange jail scrubs and sat silently with his hands folded in front of him, speaking only to say he didn't object to a later trial.
Though he is accused of killing Ware and nine other women, investigators have said they believe he is responsible for more killings. Many of the victims were found along a South L.A. corridor straddling Western Avenue, and prosecutors contend that a combination of DNA and ballistics evidence links him to the crimes.
Amster filed a motion last year saying that genetic material from another man was found on items collected at the crime scenes of three of the victims linked to Franklin. At a hearing earlier this month, Amster told Kennedy a defense expert had determined that DNA connected to two of the attacks were a match to convicted serial killer Chester Turner.
For more news from the Los Angeles County criminal courts, follow @marisagerber
---
Get breaking news, investigations, analysis and more signature journalism from the Los Angeles Times in your inbox.
You may occasionally receive promotional content from the Los Angeles Times.