Grim Sleeper: Defense says another serial killer linked to two victims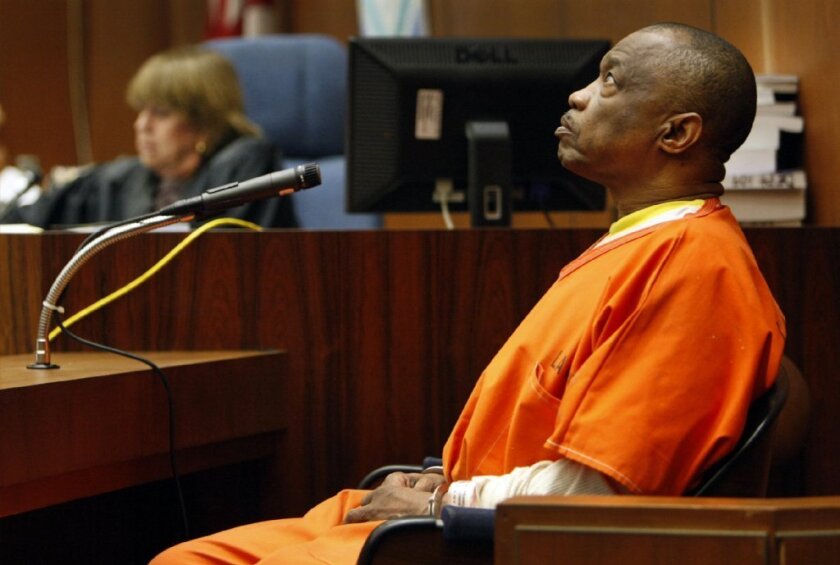 A defense attorney in the so-called Grim Sleeper serial killer case told a judge Friday that he believes genetic evidence links a man on death row to two women his client is accused of killing.
Attorney Seymour Amster said in court that an expert hired by the team defending Lonnie Franklin Jr. determined that DNA connected to two of the attacks were a match to prolific serial killer Chester Turner. The lawyer said Turner's genetic material was linked to victims Enietra Washington and Barbara Ware.
"The primary premise of this trial is going to be DNA," Amster said during a pretrial hearing Friday, adding that he thinks the expert's finding could help show there is "lingering doubt" about Franklin's guilt.
But Deputy Dist. Atty. Beth Silverman disputed the defense claim and questioned the expert's interpretation of the genetic evidence.
"This guy's taking it and doing his own abracadabra," Silverman said during a break in the hearing, "and coming up with a conclusion that is outrageous."
Turner's DNA has been in a database of genetic profiles for years, Silverman said, and therefore would have been matched much earlier to the victims in the Grim Sleeper case.
"It's so outlandish," she said.
Turner, a onetime pizza deliveryman, was one of at least five serial killers who prowled South L.A. in the 1980s and '90s. Most of his victims were attacked along the Figueroa Corridor, an area then notorious for prostitution, drug crime and violence. Most were raped and strangled.
In two separate trials, he was convicted of killing a total of 14 women, including one who was 6 1/2 months pregnant. Turner, 48, was sentenced to death in each trial.
Authorities say Franklin was another of the area's serial killers, preying on poor and vulnerable girls and women whose deaths spanned more than two decades beginning in 1985. He is charged with killing Ware and nine others, as well as trying to kill Washington, but investigators believe he is responsible for more slayings.
At one point during Friday's hearing, Amster said the defense expert also concluded that Turner was related to Ware.
Diana Ware, the victim's stepmother, shook her head emphatically.
When asked outside of the courtroom if the two were related, Ware said, "Heck no, and even if she was, what's that got to do with this case?"
In court documents detailing the evidence against Franklin, prosecutors say that police found a Polaroid picture of Washington "bleeding and apparently unconscious" in Franklin's home and that DNA from a sexual assault kit done on Ware matches Franklin's.
Toward the end of the hearing Friday, Superior Court Judge Kathleen Kennedy denied a motion by Amster seeking the DNA profiles of anybody who committed a violent felony over a span of more than 20 years in the police divisions where the Grim Sleeper's victims were found.
"It's a fishing expedition," she said.
For more news, follow @marisagerber.
---
Get breaking news, investigations, analysis and more signature journalism from the Los Angeles Times in your inbox.
You may occasionally receive promotional content from the Los Angeles Times.