2 arrested in Escondido on suspicion of trying to start fire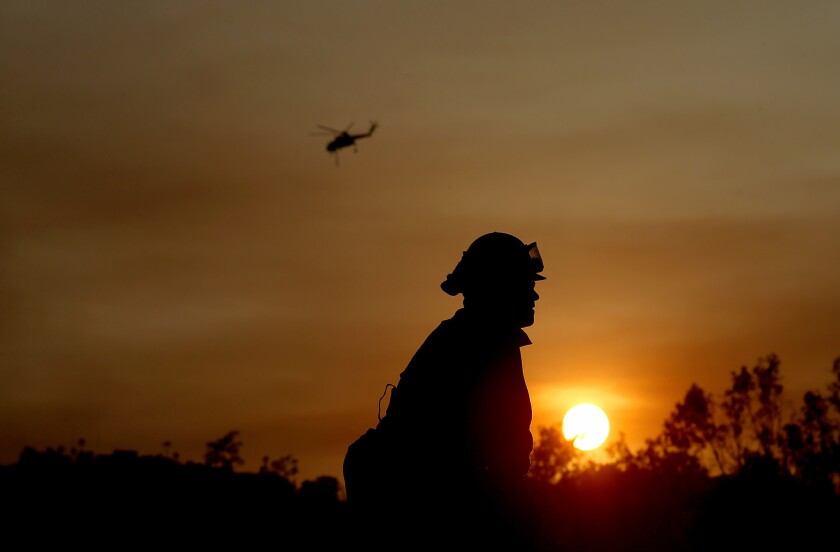 The Escondido Police Department said late Thursday that an adult and a juvenile were arrested on suspicion of trying to start a fire as wildfires continued to rage near the city and other areas of northern San Diego County.
Investigators were trying to determine whether the pair had any involvement with the brush fires that have scorched more than 10,000 acres in the county, according to a dispatcher with the Escondido Police Department.
The suspects were identified as Isaiah Silva, 19, and a 17-year-old juvenile, police said in a statement late Thursday. Both are Escondido residents.
The two are accused of trying to spark at least two brush fires in the south part of the city, according to police. Silva and the other person were arrested after witnesses reported seeing two people who set one fire on South Escondido Boulevard and were trying to spark another fire at Kit Carson Park.
On Thursday night, firefighters continued to battle the blazes raging in San Diego County as evacuation orders were lifted in some areas and crews on the ground were fighting to protect homes threatened by flames near Escondido.
Ten blazes had burned a total of more than 10,000 acres as flames raced across drought-stricken hillsides, destroying or damaging dozens of structures and forcing hundreds of people to evacuate neighborhoods in the northern part of the county, officials said.
The most active blaze, fire officials said, was in the San Marcos area, where the Cocos fire had charred about 1,200 acres and was threatening homes in unincorporated neighborhoods west of Escondido. The blaze was 10% contained.
Hundreds of people had fled the fire, which broke out Wednesday afternoon near the Cal State San Marcos campus. Thursday night, about 160 people, along with thier pets, were in a shelter at Escondido High School, city officials said.
With flames and smoke raging across steep canyons, officials said, it was difficult to accurately determine how many structures had been destroyed or damaged in the Cocos fire.
But officials said at least one home and two outbuildings were lost on Mount Whitney Drive in an unincorporated neighborhood west of Escondido. City officials said no homes were lost in Escondido.
Evacuation orders were lifted in Fallbrook, where the Tomahawk fire had burned about 6,000 acres at Camp Pendleton. Residents were also allowed to return to neighborhoods in Carlsbad, where the Poinsettia fire burned about 400 acres.
Firefighters in the city found a "badly burned body" in a transient camp where the thick brush had been scorched by the fire, authorities said Thursday evening. The identity of the victim and cause of death have not been determined.
Carlsbad city officials said Thursday night that 27 structures were destroyed or substantially damaged. They included homes, apartment units and commercial buildings. An additional 21 structures received considerable or minor damage, according to city officials.
Meanwhile, firefighters in the Deer Springs area contained a wildfire that had scorched nearly 400 acres near Old Highway 395 and 15 Freeway, official said.
Thursday afternoon, nearly 16,000 new evacuation orders were issued Thursday afternoon in San Marcos and Escondido, according to authorities.
San Diego County Sheriff's Cmdr. Mike Barnett told reporters that the department has received numerous calls for help from residents who received the notices but decided to stay behind.
"When we ask you to evacuate," he said, "it's important you do so."
In the San Marcos area along Country Club Drive, flames had engulfed several buildings in a woodsy area with narrow roads and unpaved driveways in front of ranch homes.
The air was smoky in patches and flakes of ash drifted toward the ground as firefighters battled the flames, which had reduced homes to charred skeletons.
At a news conference Thursday afternoon, officials said an 18-unit apartment complex in Carlsbad and at least seven houses had been destroyed in the brush fires.
In Carlsbad, some residents to returned to neighborhoods Thursday afternoon that had been ravaged by the Poinsettia fire.
Bob and Sophie Payne's dream home, which they bought in 2006 after retiring, was destroyed by the 400-acre blaze.
"We just couldn't believe the fire grew so quick, so fast," Bob Payne said.
The Paynes lost all of their belongings, including precious family photographs of their parents, but were able to save their 6-year-old dog.
The couple had been visiting Poway when they heard a massive fire had swept through the neighborhood. They rushed home, but were impeded by many road closures. By the time they arrived to their home on Black Rail Road, what remained was only a skeleton.
While the couple has home insurance, Bob Payne said, they were left with only the "clothes on our backs."
---
The perils of parenting through a pandemic
What's going on with school? What do kids need? Get 8 to 3, a newsletter dedicated to the questions that keep California families up at night.
You may occasionally receive promotional content from the Los Angeles Times.