UC Berkeley explosion: Students recall people fleeing, screaming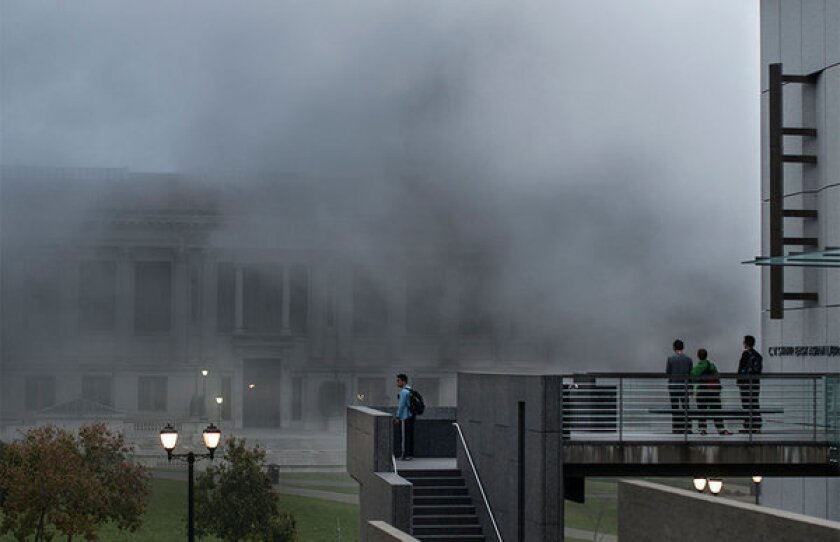 The powerful explosion that rocked UC Berkeley sent students scrambling for safety and left people screaming for help as they were trapped in elevators stuck between floors, witnesses told The Times.
The blast and fire, which left four people with minor burns, was north of California Hall and probably caused by the theft of copper wire from an off-campus electrical station, UC Berkeley spokesman Dan Mogulof said.
He initially said that the incident was at California Hall but revised that report during an update at a news conference Monday night.
One of the victims was taken to a hospital; the others declined to be transported. About 20 people were trapped in elevators before being rescued Monday night, officials said.
"It was dark. It was pretty scary. We just wanted to get out of there," said Jesse Kay, 20, a sophomore from San Diego on the Cal baseball team who had left the weight room.
Jay Reddy, 19, of San Diego was in an electrical engineering class in the basement of Cory Hall when "all the power went out."
He said emergency lights were working and some daylight was coming through a window as the instructor finished the session. "We had to figure out how to get out of the building," Reddy said.
The blast was reported about 6:30 p.m., roughly two hours after a power system failure, UC Berkeley spokesman Dan Mogulof said.
He said the stolen copper wire was discovered last week and repaired Sunday.
"We have a strong suspicion that what happened is related to vandalism discovered last week," Mogulof told reporters. "The damage they caused may have been far more extensive than we originally thought."
He said the blast area was two stories high and two roadway-lanes wide and sent at least one manhole cover shooting into the air. The crisis triggered an ammonia leak, which was contained. It also darkened residence halls.
Ripping the wire out of the system required a lot of force and probably special equipment, Mogulof said. The explosion took place as engineers were attempting to bring power back up.
"Something happened here that surprised the experts," he said. "Somebody attacked our system. Somebody stole key parts of our system."
The campus remained dark Monday night, except for the lights of police vehicles patrolling the area and emergency generators providing power for research projects.
Power was being brought back in stages as safety tests were being conducted to ensure that classes could resume Tuesday.
Mogulof said there are "miles and miles" of underground cable throughout the sprawling campus. Engineers attempting to bring the system back online after a 4:30 p.m. power outage were startled by the explosion and Mogulof said what they were seeing "just didn't make sense to them."
As engineers began bringing power back on line late Monday, one breaker blew, but it did not cause a fire, Mogulof said.
Some vending machines in one building could be seen flickering, back in action. But Mogulof said it would be a long slow process. "We'll just have to wait and see about opening tomorrow," he said, suggesting that students check the UC Berkeley website for updates.
"We are waiting, checking, testing. It's a huge campus so it's going to take a while.""Obviously our top priority is to continue providing academic activity on the campus, but that's not going to trump life safety," he said. As for students in dorms, Mogulof said that each residential dorm had a common area with a backup generator, allowing students to congregate, do their homework and watch television.
ALSO:
Massive Rim fire nearly fully contained, officials report
Santa Monica jet crash: Crews set to reach probable victims tonight
NAACP official wants Coliseum chief to quit over Col. Klink comment
Twitter: @LAJourno
---
For reporting and exclusive analysis from bureau chief John Myers, get our California Politics newsletter.
You may occasionally receive promotional content from the Los Angeles Times.