Classes resume at UC Merced campus after stabbing rampage
At UC Merced, the entire campus became a crime scene as police investigated the stabbings of four people.
(Michael Robinson Chavez / Los Angeles Times)
At a news conference Wednesday afternoon, Merced County Sheriff Vern Warnke, left, UC Merced Chancellor Dorothy Leland and campus Chief of Police Albert Vasquez answer questions about the attacks on campus that left four injured and a student dead.
(Michael Robinson Chavez / Los Angeles Times)
Law enforcement and university officials arrive for a news conference after the stabbings at UC Merced. Two of the victims were taken to a hospital for treatment, and the two others were treated on campus.
(Michael Robinson Chavez / Los Angeles Times)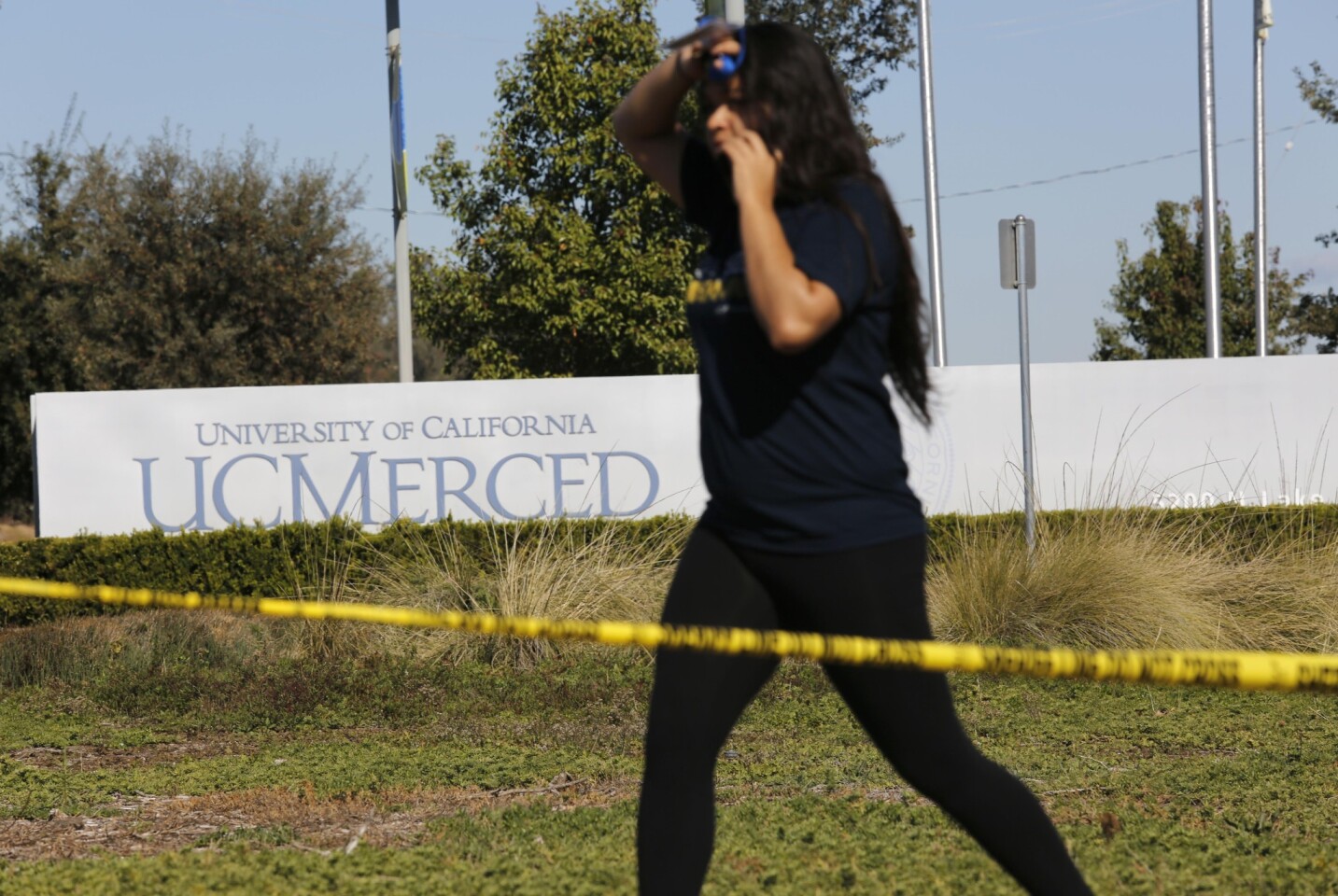 A UC Merced student walks past police tape to leave campus after the stabbings.
(Michael Robinson Chávez / Los Angeles Times)
Merced County sheriff's officers helped secure the campus after the stabbings.
(Michael Robinson Chávez / Los Angeles Times)
Two days after a freshman went on a rampage through the campus with a knife, attacking students and staff, classes at UC Merced were scheduled to reopen Friday.
The only building that will remain closed is the Classroom and Office Building, where the attacks started about 8 a.m. Wednesday.
Computer science and engineering student Faisal Mohammad pulled out a 10-inch blade while inside a second-story classroom and began attacking his fellow students, authorities said.
Mohammad was confronted by a construction worker, whom he stabbed, then ran outside and attacked at least one other person before being fatally shot by campus police. The attack rocked the tight-knit campus community.
Offering a distraction from the tragedy, Fresno State University's athletics program offered UC Merced students free admission to the school's football game against Nevada on Thursday night.
UC Merced's Twitter timeline showed students who took Fresno State up on the offer, with messages like "#BobcatStrong #GoDogs," a reference to both schools' mascots, and another with a photo of UC Merced students holding "Go Dogs!" signs in support of Fresno's players.
But while students and staff ease back into their routines, the investigation into the attack continues.
On Thursday, Merced County officials announced that they found a "two-page, handwritten manifesto" in Mohammad's pocket after he was shot.
The document detailed an elaborate "script" for the attacks Wednesday morning, said Sheriff Vern Warnke.
Mohammad had planned to tie his classmates' hands with zip-tie handcuffs and force another student to help him do so, Warnke said. Mohammad listed some students by name.
He then planned to put petroleum jelly into clear bags, cut holes in the bags and squirt the substance onto the floor, making "kind of a slip-and-slide" that would make it difficult for anyone who entered the room, Warnke said.
In the note, Mohammad said he anticipated a confrontation with police officers and planned to steal an officer's gun before leaving the classroom to "do other tragedies on campus," the sheriff said.
Authorities said they found a backpack with Mohammad that contained the zip ties, two clear bags containing petroleum jelly, a night-vision scope, a safety hammer (which the sheriff described as a "device used to break windows"), two rolls of duct tape and separate small pieces of duct tape.
The attacks began just before 8 a.m. in the classroom, which had about 15 students and which school officials described as a freshman general education course.
The attacker first slashed a male student's throat with a blade that authorities said was as long as 10 inches.
His plan appears to have been foiled by the sudden entrance of Byron Price, a construction worker who was finishing a job in the building.
Mohammad stabbed Price in the waist and fled, running down a flight of stairs. Outside, he knifed another male student before attacking a university staff member, stabbing her multiple times.
Two campus police officers gave chase, and, about 15 minutes after the attacks began, Mohammad was shot. Price said he heard a single gunshot.
The sheriff's department is investigating the shooting by the campus police officer, Warnke said. He added that Mohammad's attack is not believed to be an act of terrorism.
"There is still nothing to indicate anything, and I mean anything, that this is anything other than a teenage boy who got upset with fellow classmates and took it to the extreme," he said.
The stabbing victims' injuries do not appear to be life-threatening, officials said. Both of the students injured were men, and as of Thursday morning, one student remained hospitalized, UC Merced Chancellor Dorothy Leland said. The other was treated and released. The staff member suffered a collapsed lung and was recovering after a successful surgery, Leland said.
Warnke said 20 FBI agents assisted in the investigation. Authorities did a thorough background check on Mohammad and his family, checked his electronic devices and searched his campus dormitory. They found a handwritten "laundry list" of items found in the backpack, he said.
"There was zero radar on this fellow," and nothing to indicate that "he was doing anything other than being a student at UC Merced," Warnke said.
Staff writers Diana Marcum and Matt Hamilton contributed to this report.
For breaking California news, follow @JosephSerna @haileybranson.
---
The stories shaping California
Get up to speed with our Essential California newsletter, sent six days a week.
You may occasionally receive promotional content from the Los Angeles Times.