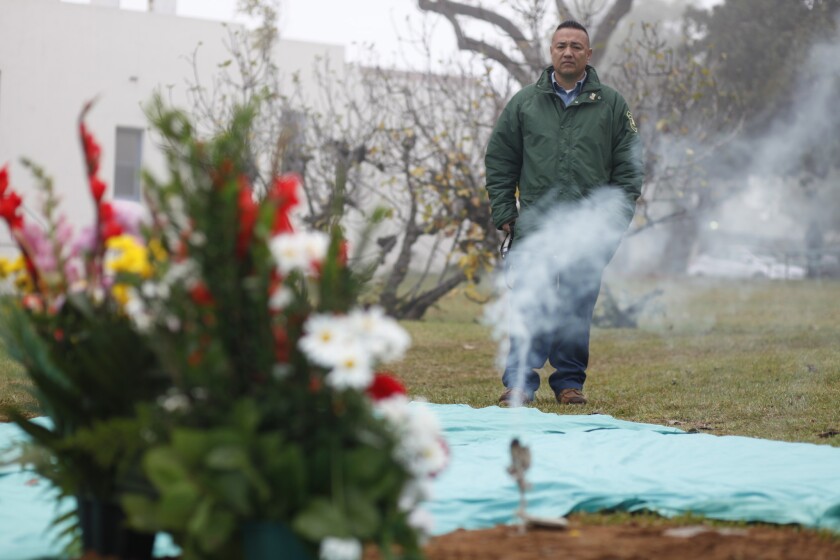 The cremated remains of more than 1,400 people whose bodies were left unclaimed in Los Angeles County were buried this week and a ceremony honoring their memory is planned for Wednesday.
The ashes are stored for two to three years before being buried in December, county officials said. An attempt is made to contact each deceased person's next of kin, but sometimes they can't be found or they don't have the money to reimburse the county for the cremation.
This year, Los Angeles County will bury 1,464 people who died in 2010, said Rosa Saca, a spokeswoman for County-USC Medical Center.
Chaplains of different faiths will be present to read the burial rites of multiple faiths, said the Rev. Chris Ponnet, the County-USC Medical Center chaplain who has led the service in recent years.
"It gives the city a moment to pause," he said.
The ceremony will take place at 10 a.m. Wednesday at the Los Angeles County Crematory and Cemetery at 3301 East 1st St. in Boyle Heights.
Los Angeles County has buried its indigent residents with no known next-of-kin on the southwest corner of Evergreen Cemetery since 1877.
ALSO:
UC San Diego student slashed in knife attack on campus
Cold snap expected to drop temperatures into 30s and 20s
Accused of fatally burning his mother, Reseda man to stand trial
Twitter: @gaufre | Facebook | Google+
---