Ex-USC gynecologist sold sex videos he recorded in foreign hotel rooms, prosecutor says
A former USC gynecologist charged with sexual abuse of patients also sold photographs and sex videos he took of young women he lured to his hotel rooms while traveling outside the U.S., a prosecutor said Tuesday.
The allegation was raised at a downtown Los Angeles court hearing, during which the prosecutor tried to persuade a judge to keep George Tyndall's bail at nearly $2.1 million, arguing that the doctor charged with sexual misconduct toward 16 former patients was a danger to the public and a flight risk.
Deputy Dist. Atty. Reinhold Mueller said some of the young women were reluctant to cooperate with Tyndall, but eventually complied because he was a person of authority.
If Tyndall was capable of luring women to hotels outside of the U.S. and filming them, "he can certainly do it in his bedroom," Mueller said.
The prosecutor provided no additional details about the allegation.
He noted that during a traffic stop before Tyndall's arrest, investigators found him with a .38-caliber handgun, concealed in his front pocket, that he purchased after his home was searched, as well as a box cutter and pepper spray.
"He's out there in the community, driving around with a loaded handgun," Mueller said.
In arguing that Tyndall is a flight risk, Mueller said the doctor is unemployed without an active medical license, is separated from his wife and has no children. He does, however, have a strong connection to the Philippines, where he makes frequent trips, Mueller said.
"He's got no connections here," Mueller said.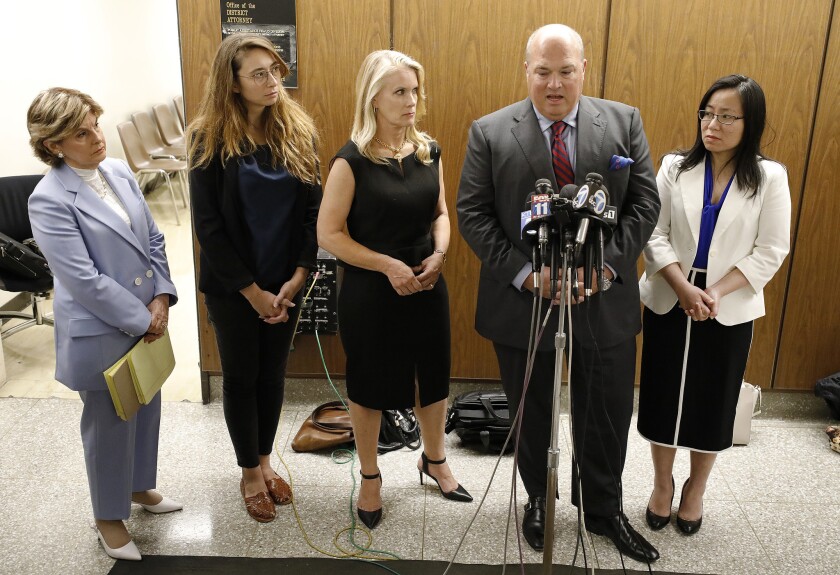 Two of the 16 women identified as victims in the criminal complaint against Tyndall also offered statements to the judge requesting that she not reduce his bail.
Knowing "that he is somewhere out there will haunt me," a woman identified in the complaint as Jane Doe 6 said in a statement read to the judge.
She said that every night before she goes to sleep, she sees Tyndall's "smug and deceptive" smile. "Please do not make my nightmare a reality," the statement said.
Lucy Chi, identified in the complaint as Jane Doe 2, told reporters outside court that she saw Tyndall once in 2012 while she was a student.
"It was enough for him to establish enough rapport to force himself on me," she said, adding that she didn't report it at the time. "I did not know what happened to me."
Tyndall's defense team argued that their client was not a flight risk. For more than a year, Tyndall knew he was under investigation and would likely be charged, but did not try to flee and never tried to contact any patients, said his attorney, Leonard Levine.
"At that time, he could've left the jurisdiction," Levine said. Defense attorneys said Tyndall would not object to home detention. "The last people he wants to come into contact with are any of the alleged victims."
Superior Court Judge Teresa Sullivan reduced Tyndall's bail to $1.6 million, citing his lack of criminal history and that he did not attempt to flee while he was under investigation. She said he would be required to wear a GPS monitor and would be allowed out only for pre-approved doctor visits.
It's unclear if and when he will be released.
Tyndall was charged with 29 felonies that carry a potential prison term of up to 53 years if he's convicted, authorities said. The incidents alleged in the complaint span from 2009 to 2016. He has pleaded not guilty.
At Tuesday's hearing, Tyndall stood in court in a yellow L.A. County jail shirt and blue pants with his back to the courtroom audience behind a glass divider used to hold inmates. He whispered with his two attorneys, who stood between him and news cameras.
His arrest was the capstone of a yearlong investigation that ballooned into the largest sex crimes inquiry involving a single suspect in Los Angeles Police Department history. The charges represent only a tiny fraction of the allegations made to police and prosecutors by nearly 400 women, and span just the final seven of Tyndall's 27 years at the university.
Detectives from the Robbery-Homicide Division presented the district attorney's office with evidence about alleged sexual abuse of 145 former patients for potential prosecution. Dist. Atty. Jackie Lacey has said that her office was still reviewing cases and that more charges were likely.
---
The stories shaping California
Get up to speed with our Essential California newsletter, sent six days a week.
You may occasionally receive promotional content from the Los Angeles Times.