Trash to treasure: USC architect students build tiny portable house to raise awareness about homelessness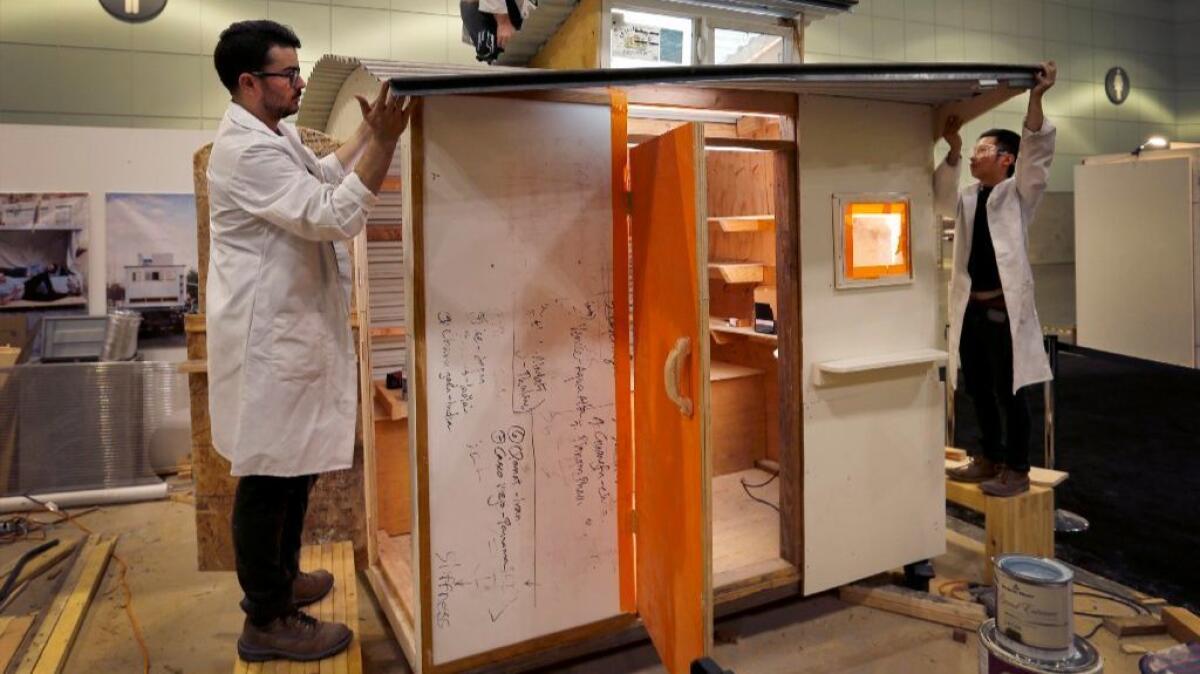 Jeremy Carman was driving around Boyle Heights recently when he spotted a rolled-up garage door on the side of the road. That's it, the 25-year-old thought.
The garage door would make the perfect roof for the 8-foot-tall house that he and four other USC architecture students were building over the weekend to draw attention to the lack of permanent supportive housing for the homeless in Los Angeles — and to raise money for a solution.
The students spent a few days last week scouring construction sites and street corners for discarded objects that might work well as a door, a window or a set of shelves. On Sunday, the bits and pieces from the streets came together to form a small, white house with a bright orange door, complete with a cupola, eaves and wheels for mobility.
Students built the house at the Dwell on Design conference, held at the Los Angeles Convention Center.
"With just a few screws you can put a whole house together," said Belinda Pak, 22, a USC architecture student. "The exciting thing is you don't really know what it's going to look like. It completely depends on the things that you find."
The students had built three other portable homes in the fall as part of the Homeless Studio, a USC architecture course based out of the Martin Architecture and Design Workshop that focused on transitional housing for homeless people as they awaited more stable accommodations. After constructing the homes, which can accommodate one or two individuals, the students donated them to homeless people residing in Los Angeles.
The mobile houses won't solve the homelessness crisis in Los Angeles County, where an estimated 58,000 live on the streets, USC architecture lecturer Sofia Borges said. In fact, the small structures violated building codes in Los Angeles, and city officials dismantled them several weeks after they hit the streets last fall, she said.
Instead, USC architecture professor Scott Mitchell said, the portable houses were "practice runs" for a larger project — dreamed up during the fall course — called Homes for Hope, communities of 92-square-foot modular houses meant to temporarily shelter Los Angeles' homeless before they receive permanent housing.
In recent elections, Los Angeles voters have supported measures that will rehouse thousands of people living on the city's streets. But it could take several years to build such accommodations, Borges said. So she and her students asked themselves if they could create a model for "emergency stabilization housing" while the homeless waited.
"What can architecture actually do to intervene in the meantime?" Borges said.
Mitchell said the architecture workshop — which has partnered with the homeless services provider Hope of the Valley Rescue Mission, based in the San Fernando Valley — is raising funds for the project with the support of city officials. Each small house will cost about $25,000, and the first community will contain 30 units. Mitchell anticipates they will build the community in Sylmar.
The house built by the USC students was raffled off to a conference attendee to support the Homes for Hope project.
Although the 30-unit community is still a distant reality, students on Friday focused on building one last portable house. Sparks flew as they drilled, and the loud pounding of hammers drew curious conference passersby to their exhibition space.
"It's up. We've got some walls," said artist Greg Kloehn as he watched students drill slabs of wood into place. Kloehn, who oversaw construction of the students' houses in the fall, has built 60 or 70 small homes made of scrap material in Oakland, where he donates them to homeless people.
The student architects said they enjoyed creating the portable houses because they rarely work with their hands in school. Jayson Champlain, 25, said many of his classes have been theoretical — he typically draws designs or constructs models at most. Never before had he built something this large.
The students also said they think more about the utility of everyday objects that, at first glance, appear to be junk.
Now, Pak considers all the ways discarded materials could fit into the framework of a house. A white board might become a wall; a fridge shelf could make for a good window.
"You look at trash differently," Pak said, noting that a trip through one neighborhood in Los Angeles could provide enough material to build several miniature houses. "We are so wasteful."
To read the article in Spanish, click here
Sign up for Essential California for news, features and recommendations from the L.A. Times and beyond in your inbox six days a week.
You may occasionally receive promotional content from the Los Angeles Times.