USC gave nearly $1 million to medical school dean linked to drugs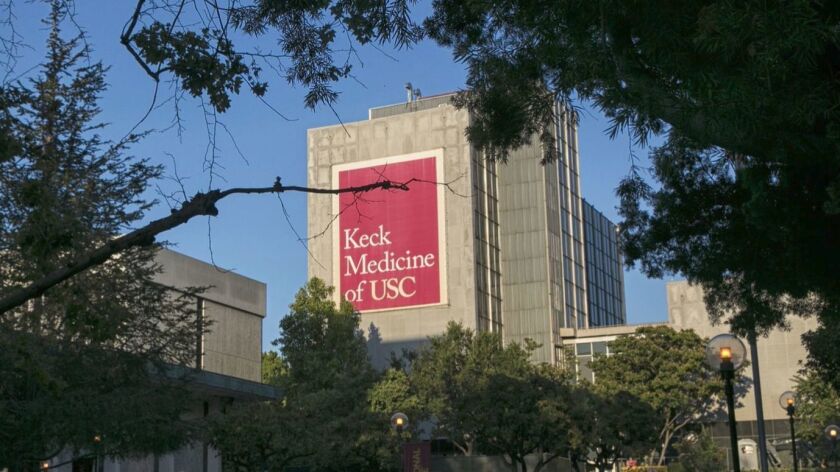 The University of Southern California paid Dr. Carmen Puliafito, its former medical school dean, nearly $1 million in severance along with a bonus, according to tax filings disclosed this week.
Puliafito was the subject of a Times investigation in 2017 that revealed he used drugs and partied with young addicts while running the Keck School of Medicine.
In a settlement after USC banned him from campus, Puliafito was allowed to resign in September 2017, with the university giving him a $875,000 payout. That year, USC also paid him a $124,000 bonus.
The figures were contained in annual tax forms that the university must publicly release as a nonprofit. The payouts were in addition to Puliafito's base salary of about $620,000, for a total compensation exceeding $1.8 million, according to the tax filings.
Puliafito declined to comment Friday evening in a phone call.
A USC spokesman noted that the university's "previous administration reached a settlement agreement" with the former dean. The spokesman said in a statement that the bonus was paid in accordance with Puliafito's employment contract. The Harvard-trained ophthalmologist received the same bonus amount the previous year, according to tax filings.
The payments were first reported by the Chronicle of Higher Education.
For Puliafito, the disclosure of his compensation comes as he is waging a court battle so he can return to treating patients. A hearing is scheduled next year.
The Medical Board of California stripped him of his physician's license last summer.
Puliafito and his defense attorney said in a public hearing last year that the physician had suffered from bipolar disorder and a "hypomanic" state that altered his judgment, warping his understanding of how his behavior was viewed by others. His attorney said at the time that Puliafito had been in recovery about a year.
In the wake of The Times report, USC hired former U.S. Atty. Debra Wong Yang of the firm Gibson Dunn & Crutcher to lead an investigation into what administrators knew about the dean.
Yang's findings remain secret nearly two years after she was tapped for the inquiry. USC has repeatedly declined to share any portion of Gibson Dunn's report, and it has not said whether the report will ever become public.
Reached by phone Friday, Yang deferred to the university.
A USC spokesman said "the results of the Gibson Dunn review have been presented to the board of trustees and select faculty leaders," adding that "significant reforms" had been implemented based on its conclusions.
---
The stories shaping California
Get up to speed with our Essential California newsletter, sent six days a week.
You may occasionally receive promotional content from the Los Angeles Times.