Authorities release video and 911 call as detectives probe death of man who struggled with Pasadena police officers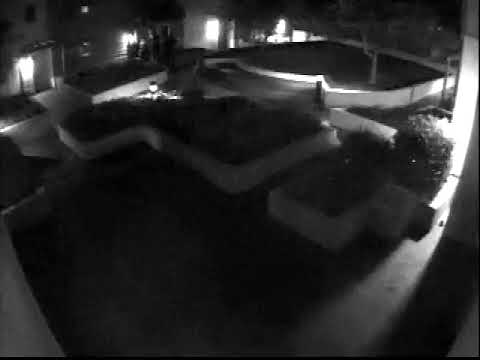 Grainy security footage shows parts of a confrontation between Reginald Thomas Jr. and Pasadena police officers on Sept. 30. Thomas died after officers shocked him with a stun gun.
Pasadena police and Los Angeles County sheriff's homicide investigators released late Friday night grainy security video and a 911 call from the family of a man who died after officers shocked him with a stun gun and restrained him at an apartment complex in northwest Pasadena.
Authorities have yet to identify the dead man, but relatives and neighbors said he was Reginald Thomas, a father of eight who was known to many as Junior.
Pasadena police received a call from a cellphone around 2 a.m. seeking help but could not locate the specific address, said Capt. Steve Katz. At 2:35 a.m., police received a second call from the cellphone with a report of a family disturbance.
During the call, a brief struggle could be heard over the phone.
A male caller identified Thomas as his brother and said he had a knife and was holding it under his armpit, but had not threatened those in the apartment with it.
When the operator asked if Thomas had any mental conditions, the caller didn't know, but said that Thomas was on drugs.
"He's high, though. I can tell that," he said.
Later, the male caller added that Thomas was known to be violent.
When officers arrived at Orange Grove Gardens in the 200 block of East Orange Grove Boulevard, they found the man, along with a woman and two teenagers, inside the apartment. The officers "saw him with a knife. He was at the door," Katz said.
When the man refused to cooperate with police, officers fired their Tasers at him twice, authorities said.
"The man resisted, and they used physical force and restrained him," Katz said. As officers placed handcuffs on the man, they noticed he was in distress and immediately began life-saving measures, Katz said.
Grainy security footage showed the officers walking to the door, but the actual confrontation could not be clearly seen.
The Pasadena Fire Department received a call at 3 a.m. from police about a man not breathing, spokeswoman Lisa Derderian said.
When firefighters arrived, they determined "it was a fatality," she said.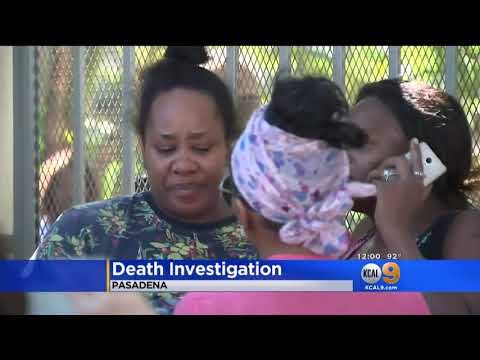 Reginald Thomas, 36, was a father of eight children with another on the way. 
The death of an African American man who relatives say suffered from mental illness quickly sparked discord in this predominantly minority, working-class community.
The man's body remained in the apartment complex until just after 3 p.m. Friday afternoon as detectives conducted their investigation, and as demonstrators gathered and shouted at police.
"Obviously there are a lot of tensions here," Katz said.
As Katz spoke with reporters outside the gate of the low-income apartment complex, scores of protesters shouted, "Killers!" and swore at officers.
"What is the name of the officer who killed Reginald?" shouted Black Lives Matter demonstrator Jasmine Richards.
Six Pasadena Police Department officers were involved in the incident, Katz said. Pasadena officials said two officers were injured during the struggle. No details were provided on their condition.
Friday afternoon, Pasadena Police Chief Phillip Sanchez issued a statement to the community:
"The loss of any life is always tragic and should be fully investigated. In that regard you have my commitment that all aspects of this incident will be reviewed," Sanchez said.
His department, he said, is cooperating fully with sheriff's investigators and the Los Angeles County district attorney's office, who will conduct independent investigations.
The Pasadena Police Department will also conduct an independent administrative Investigation "to examine policies, tactics, training, equipment, and the officers' state of mind," Sanchez added.
He cautioned that the investigations will take some time and asked for "calm in our community and as difficult as it can be wait until the facts are examined."
Some 100 protesters continued to stand outside the Pasadena apartment complex for much of the day. Several of them blocked the eastbound lane of Orange Grove Boulevard, and one held a sign that read, "Jr. Thomas life mattered."
Forrest Elder, Thomas' brother-in-law, said the dead man "had four children with my sister and has one on the way."
Elder said Thomas had four other children as well. "They called him Daddy Daycare," he said.
Elder said there was no reason his brother-in-law should not be alive.
"He called the police for help, and they treated him like a suspect," Elder said. "They hogtied him. … I feel for the kids. … We need dads in our home."
Elder said that his brother-in-law was "struggling with mental illness" and that he had been "in and out of homes with medication."
He said officers would have known of Thomas' history, and violence wasn't needed. In his view, race was a prime factor.
"A black man with a match gets shot," Elder said.
Shainie Lindsay, Thomas' wife, told KTLA-TV that he was bipolar and that he called police that morning because he needed help.
"They know he is on Social Security," she told the TV station. "They know he is 5150. This is not the first run-in with him."
Fifty-one-fifty is a reference to the code for a psychiatric commitment.
In 2012, Pasadena officers fatally shot unarmed black college student Kendrec McDade after a false report of an armed robbery, sparking community protests and calls for greater oversight of police.
African Americans make up about 11% of the city's 140,000 residents.
A city-commissioned study early this year found that minorities, particularly in northwest Pasadena, reported feeling under siege from the Pasadena police. In contrast, those in more upscale areas reported no issues with policing.
Protesters took to the streets of Old Town Pasadena late Friday to express their concerns about the shooting.
For breaking news in California, follow VeronicaRochaLA on Twitter.
ALSO
Violence erupts on third night of protests in El Cajon after fatal police shooting
Risk of big earthquake on San Andreas fault rises after quake swarm at Salton Sea
The blaze that won't die: How Monterey County wildfire became one of costliest to fight
---
UPDATES:
8:06 a.m.: This story was updated with protest in Pasadena.
Oct. 1, 12:35 a.m.: This article was updated with video and 911 audio released by authorities.
4:50 p.m.: This article was updated with comments from the Pasadena police chief, information about a city study and details of a 2012 police shooting.
2:45 p.m.: This article was updated with additional information from investigators and actions by demonstrators.
12:35 p.m.: This article was updated throughout with comments from the investigators, demonstrators and relatives of the dead man.
10:30 a.m.: This article was updated with comments from the Pasadena Fire Department.
This article was originally published at 10:10 a.m., Sept. 30.
Sign up for Essential California for news, features and recommendations from the L.A. Times and beyond in your inbox six days a week.
You may occasionally receive promotional content from the Los Angeles Times.