Gov. Jerry Brown denies parole for former Manson family member
Gov. Jerry Brown denied parole Friday to Leslie Van Houten, who was convicted along with other members of Charles Manson's cult in the 1969 killings of Leno and Rosemary LaBianca.
Brown said Van Houten, the youngest member of Manson's "family," posed "an unreasonable danger to society if released from prison."
A two-member California review board had granted parole to Van Houten in April. Before that, Van Houten had been denied parole 19 times by the state parole board since being convicted of first-degree murder and sentenced to life in prison.
The board's decision left her feeling "numb," Van Houten's attorney, Richard Pfeiffer, said at the time.
The board based its decision in part on Van Houten's age, 19, at the time of the crime, her length of incarceration, lack of violent crime as an adult and her spotless prison record: She has never been disciplined for serious misconduct while behind bars.
But Brown disagreed, saying in his five-page decision that all of these points were outweighed by other "negative factors that demonstrate she remains unsuitable for parole."
He said the "shocking nature of the crimes left an indelible mark on society" and that the motive — to trigger a race war "by slaughtering innocent people chosen at random — is equally disturbing."
"Even two years after the murders, when interviewed by a psychologist, Van Houten admitted that, although she had no present desire to kill anyone, she would have no difficulty doing it again," Brown said in his statement.
The youngest of Manson's followers, Van Houten has been considered the least blameworthy member of the group and has been portrayed by supporters as a misguided teen under the influence of LSD on the night of the slayings.
A former homecoming queen from Monrovia, she did not join in the Aug. 9, 1969, murders of Sharon Tate, the pregnant wife of film director Roman Polanski, and four others at the Benedict Canyon home that Tate was renting.
But the following day, Van Houten was part of a group that stormed into the LaBiancas' home in Los Feliz. As Charles "Tex" Watson stabbed Leno LaBianca, Van Houten and another woman held down Rosemary LaBianca.
After Watson stabbed Rosemary LaBianca with a bayonet, he handed a knife to Van Houten. She testified to stabbing Rosemary in the back at least 14 more times. The blood of the victims was used to scrawl messages on the walls, as had been done at the Benedict Canyon home.
Van Houten, Manson and three others were convicted and sentenced to death, but after the California Supreme Court struck down the death penalty, their sentences were commuted to life in prison.
An appellate court overturned Van Houten's conviction in 1976, and a second trial the following year ended in a hung jury. She was convicted in her third trial in 1978 and sentenced to seven years to life in prison. Starting in 1979, Van Houten has gone before the parole board almost regularly.
In recent years, Van Houten's attorneys characterized her as a model inmate, earning bachelor's and master's degrees while running self-help groups for incarcerated women. At a 2002 parole board hearing, Van Houten said she was "deeply ashamed" of what she had done, adding: "I take very seriously not just the murders, but what made me make myself available to someone like Manson."
In his statement, Brown said it remained unclear how Van Houten had transformed herself from a smart, driven young woman to "a member of one of the most notorious cults in history and an eager participant in the cold-blooded and gory murder of innocent victims."
The five victims slain the night of Aug. 9, 1969 at the Benedict Canyon Estate of Roman Polanski. From left, Voityck Frykowski, Sharon Tate, Stephen Parent, Jay Sebring, and Abigail Folger. The next night, it happened again. Rosemary and Leno LaBianca, a wealthy couple who lived across town, were stabbed to death in their home.
(Associated Press)
Charles Manson is led back to his cell after court appearance in 1970.
(Bill Murphy / Los Angeles Times)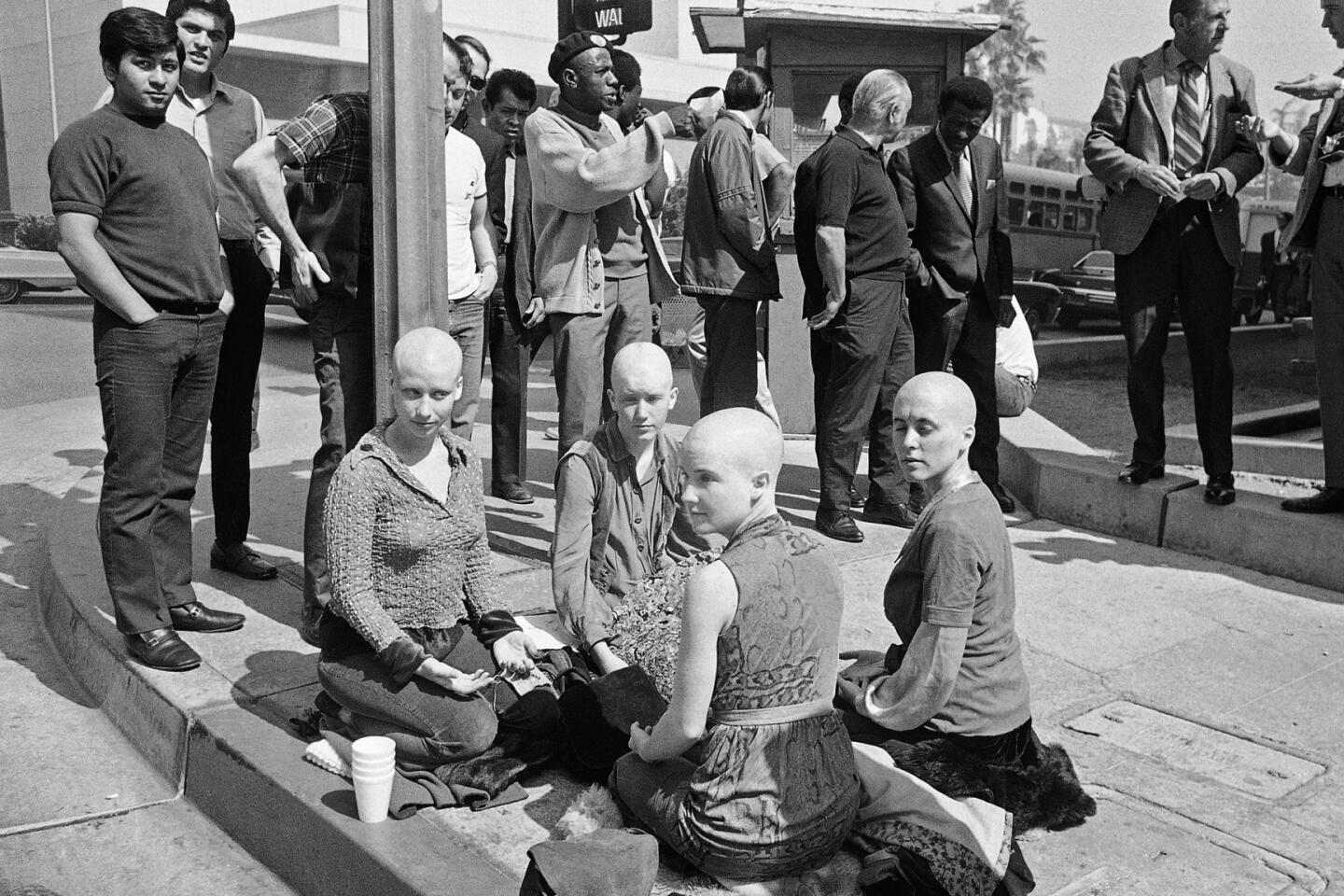 Four young female members of the Charles Manson "family" kneel outside the Los Angeles Hall of Justice on March 29, 1971, with their heads shaved. The women kept a vigil at the building throughout the long trial in which Manson and three others were convicted of murdering actress Sharon Tate and six others.
(Wally Fong / Associated Press)
Charles Manson is escorted to court for preliminary hearing in 1969.
(Bill Murphy / Los Angeles Times)
Charles Manson receives the news that he was denied parole in 1997, for the ninth time in March, 1997.
(Eric Risberg / Associated Press)
Charles Mansion in the high security area of the Corcoran State Prison in 1998.
(Kirk McKoy / Los Angeles Times)
"Her willing participation in such horrific violence cannot be overlooked," the governor wrote.
Pfeiffer, Van Houten's attorney, said late Friday that his client's "transformation" that so puzzled the governor had been established: Her parents' divorce cast her out of her group of friends and triggered her slide. She then became pregnant and her mother forced her to have an illegal abortion; the fetus was buried in the family's backyard, Pfeiffer said. With that, her drug abuse escalated.
"Tell me that wouldn't screw anybody up," Pfeiffer said.
The lawyer said Van Houten had prepared for Brown to reverse the parole board's decision, given the governor's track record of denying parole in high-profile cases, and that she is readying for a future parole hearing. Pfeiffer said he is also preparing to challenge the governor's decision with a writ in Los Angeles County Superior Court.
Pfeiffer said he learned of Brown's denial of parole from the press, and he obtained a copy of the governor's decision from a Times reporter. As for his client, he had not yet spoken with her.
He added: "I don't know if she has found out."
ALSO
From the Archives: See the 1971 Times cover announcing the Manson family verdict
Charles Manson marriage license to expire: He's still single
Where are they now? Charles Manson's family, four decades after horrific murder spree
For the third time, Brown rejects parole of Manson follower Bruce Davis, 73
---
UPDATES:
8:45 p.m.: This story has been updated with comments from Leslie Van Houten's attorney.
7:15 p.m.: This story has been updated with more comments from Gov. Jerry Brown and more history of the Manson family.
Sign up for Essential California for news, features and recommendations from the L.A. Times and beyond in your inbox six days a week.
You may occasionally receive promotional content from the Los Angeles Times.