Venice Beach Freak Show, a bizarre tourist attraction on the boardwalk, is closing
The Venice Beach Freak Show had been operating for the past 11 years. (May 1, 2017) (Sign up for our free video newsletter here http://bit.ly/2n6VKPR)
A thin man with long blond hair and eyeliner burst through faded crimson curtains, revved a power drill over his right nostril, and began to shove it in.
Screams rang out from a crowd of about 300 gathered on Venice Beach boardwalk as the drill sank into his nostril, followed by cheers as he carefully extricated the 4-inch drill bit.
Then the man, known only as Morgue, reached into a pocket and withdrew a shining metal meat hook.
The Venice Beach Freak Show celebrated its last day Sunday afternoon with a six-hour street performance that served as protest, farewell and fundraiser.
Bob the Bubble Boy, a man covered with fleshy bumps, tore off his shirt and led a chant of "freak show." Wee Matt, a small man known as the "littlest party animal in the world," yanked up his T-shirt — which displayed the time "beer: 30" — and flashed his six-pack to an adoring crowd. Kanya the Amazing Half Girl wheeled herself through the crowd on a skateboard using only her arms, collecting donations in a bucket.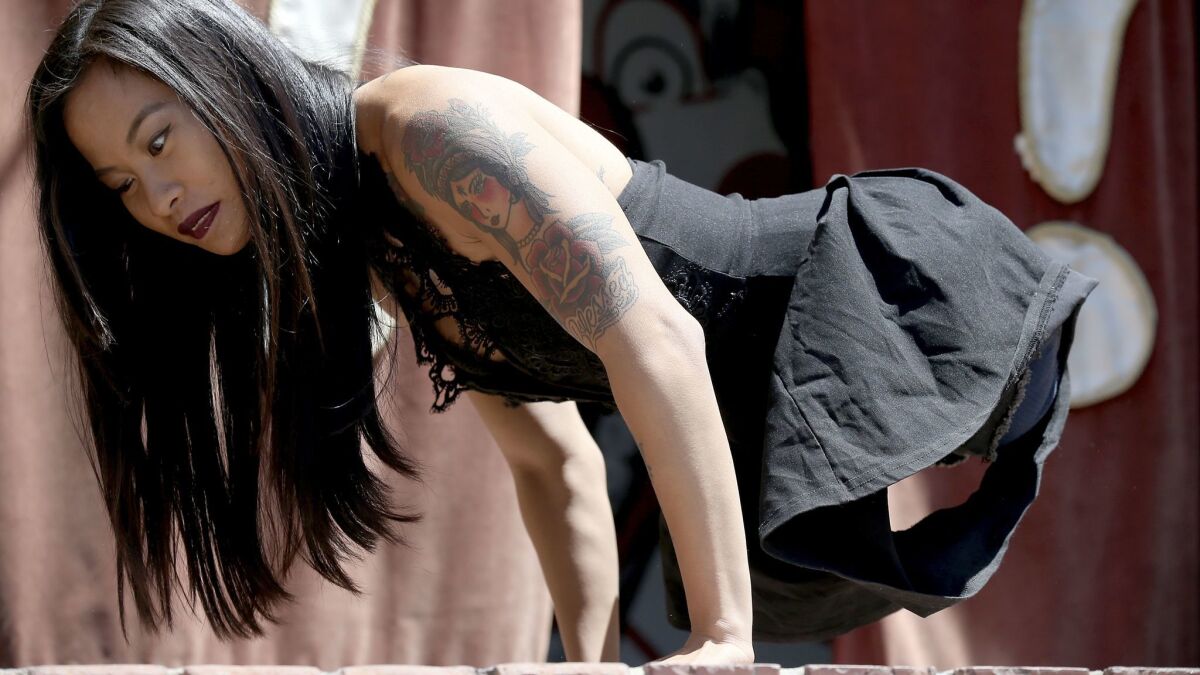 It was a finale full of moments that might have been worth sharing on the disappearing-message app Snapchat, if not for the fact that the event had been organized in part to protest the tech company headquartered in Venice Beach.
Snapchat app maker Snap Inc. subleases a third-floor office space in the building that houses the show, and locals allege that the tech giant helped evict the beloved attraction.
A representative of Snapchat told The Times on Sunday that the company had no affiliation with Snapshot Partners LLC, the building's landlord, and that the tech company had no plans to occupy the Freak Show's storefront space. The company expects much of its future office growth to be in neighboring Santa Monica because of the limited space in Venice.
Still, many Venice business owners say their landlords will give Snap Inc. a crack at any potential opening given the company's huge appetite for real estate and large cash reserves.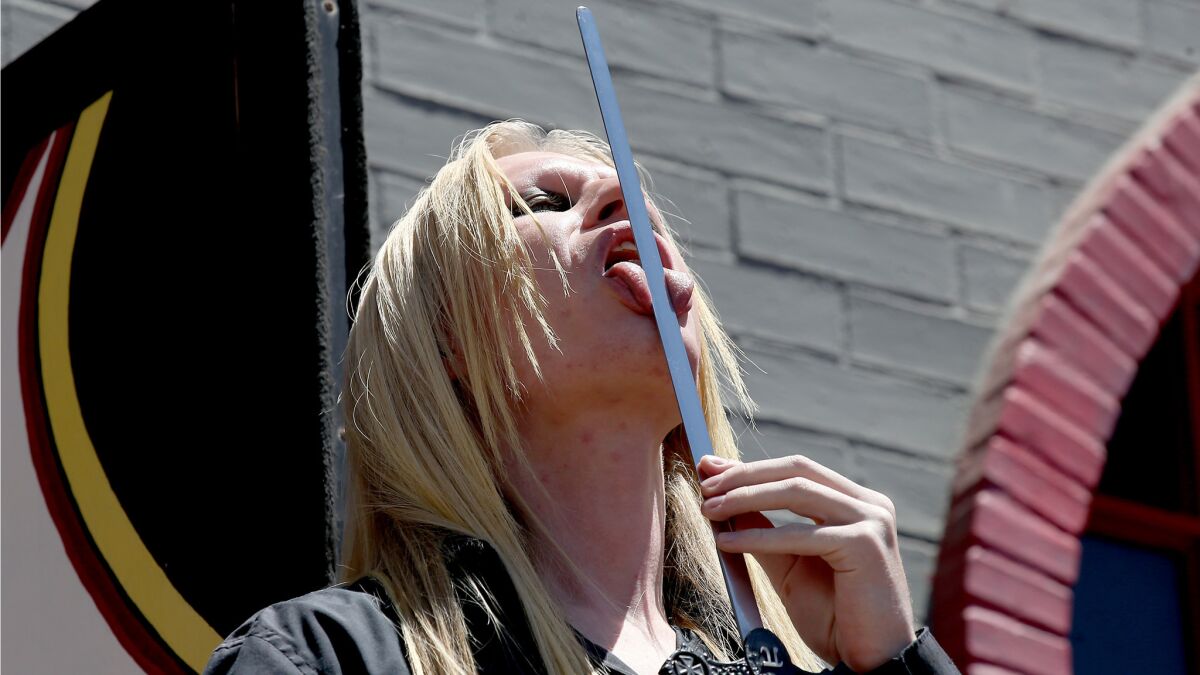 State business records show that Snapshot Partners is managed by Michael Schlesinger, the cofounder of Cambra Realty, a real estate and investment firm headquartered in Beverly Hills. Schlesinger did not return requests for comment Sunday.
Six months ago, Freak Show founder Todd Ray learned that its five-year lease would be allowed to expire. Ray said Snapshot Partners plans to turn the space into an office building.
"These people are greedy and they don't care about the culture of Venice," Ray said.
Sunday's celebration pulsed with anger over Snapchat's recent expansion in Venice. Protesters brandished signs with slogans such as "Delete Snapchat" and chanted "freaks not geeks!" One woman held a cardboard effigy of Snapchat's mascot, a ghost, with a noose around its neck.
The attraction has lured curious tourists from a prime position on the Venice Beach boardwalk for 11 years, Ray said. Admission cost $5, the price of a latte in nearby Abbot Kinney. And the show's performers say the attraction offered a message alongside its madness.
"It's OK to be different," said Kanya the Amazing Living Half Girl, also known as Kanya Sesser, a 24-year-old Thai immigrant born without legs.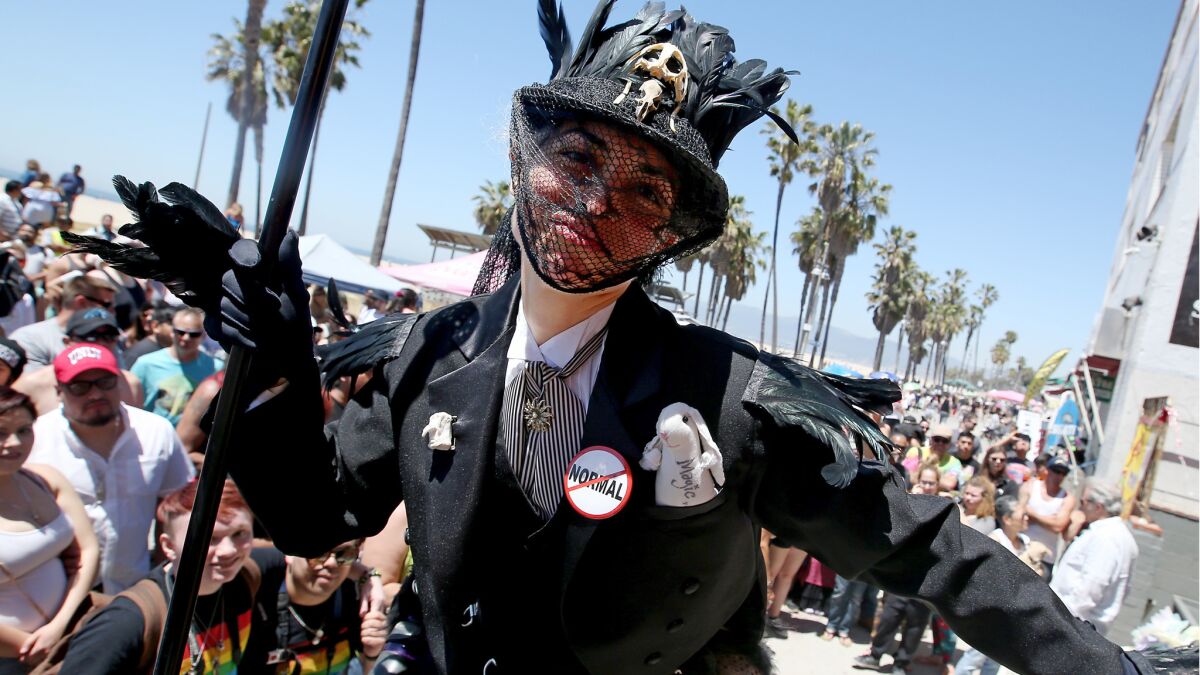 Bob the Bubble Boy, who was born Bob Hesslip, said the show has given him a family and a place to belong. Hesslip, 52, has a condition called neurofibromatosis, a genetic mutation that produces the bumps all over his body. He was recruited to the show two years ago when he was visiting Venice Beach with his family from Tuscon.
"They told me to take off my shirt," Hesslip said. "I tore off my shirt, the crowd went nuts, and Todd hired me."
Meanwhile, Ray, Bob the Bubble Boy, the sword swallower and the bearded lady are all looking for another home. Ray is determined to not to let the show die.
"We brought wonder into the world and showed that the world is weirder than you know," Ray said.
To read the article in Spanish, click here
---
The stories shaping California
Get up to speed with our Essential California newsletter, sent six days a week.
You may occasionally receive promotional content from the Los Angeles Times.