A pedestrian dies in a Venice crosswalk, where 'red tape' has delayed safety upgrade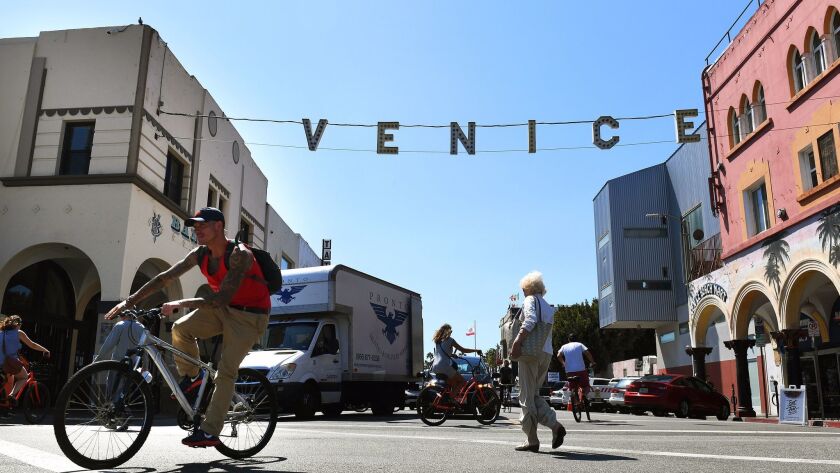 A crosswalk in Venice where a pedestrian died in recent days has long been scheduled for safety improvements, upgrades that officials said have been delayed by "red tape."
The intersection of Pacific and Sunset avenues — near the heart of Venice Beach's heavily trafficked boardwalk — is the only designated pedestrian crossing for several blocks. There are bright white lines in the roadway, and a reflective "pedestrian crossing" paddle placed on the sidewalk.
But according to a 2014 Department of Transportation report, those measures were deemed insufficient.
"Due to a speed limit of 30 miles per hour, traffic volumes on Pacific Avenue of almost 23,000 vehicles per day, and at least four lanes to cross without a median, a marked crosswalk alone at this uncontrolled intersection no longer provides the desired level of safety," the report said.
The department recommended installing Rectangular Rapid Flash Beacons — LED lights on either side of the road that warn drivers someone is crossing.
Damon Eric Shear, 40, was crossing Pacific Avenue within the designated area Wednesday morning when a car hit him.
"He was perfectly fine where he was," LAPD Sgt. Dennis Diviak said. "This driver should have yielded."
According to officials, one car stopped to let Shear cross. The driver who hit him was coming up from behind and decided to pass. The driver was not arrested, but could be charged pending the outcome of the police investigation.
Residents say the accident could have been avoided.
"My heart is … broken," said Aaron Davis, who has lived in an apartment at the corner of Pacific and Sunset since 2005. "I sent an email to [Councilman Mike] Bonin's office, telling them they should be ashamed of themselves."
In 2015, Davis launched a change.org petition to have the city add a traffic signal at the intersection. A study found that the crossing did not justify a signal, but engineers again recommended that rapid flash beacons be added.
That same year, a city traffic engineer responded to an email from Venice couple Justine Larsen and Alexander Poe inquiring about the beacon installation. He told them that the beacons had been approved through a federal Highway Safety Improvement Program grant and could be expected to be installed in 2016 or early 2017, according to a copy of the email obtained by The Times.
"We are fortunate that this project was accepted … otherwise it would have been years before it could have been implemented," Mohammad H. Blorfroshan wrote.
After Shear was killed, Bonin's office said that funding for the beacons had been tied up in a larger federal grant with time-consuming requirements.
"The red tape involved with federal and state grants is one of the many reasons Councilmember Bonin has fought so aggressively to fully fund the Los Angeles 'Vision Zero' program — which seeks to eliminate fatalities and serious injuries due to traffic collisions by providing local, easily accessible funds," the office said in a statement.
The councilman would like the flexibility to pay for safety upgrades like this one with city money up front if it's covered by federal dollars on the back end, said Bonin's spokesman, David Graham-Caso.
In a statement, the Los Angeles Department of Transportation said of Shear's death: "This was a senseless tragedy, and our hearts go out to the victim and his family.
"LADOT received a grant to fund [beacon installation] at this and many other locations throughout the city," the statement said. "We are reviewing the requirements and schedule for that grant with a goal of getting it installed as quickly as possible."
For breaking California news, follow @JosephSerna on Twitter.
---
The stories shaping California
Get up to speed with our Essential California newsletter, sent six days a week.
You may occasionally receive promotional content from the Los Angeles Times.