Advocates denounce VA delays in developing housing for homeless veterans at West L.A. site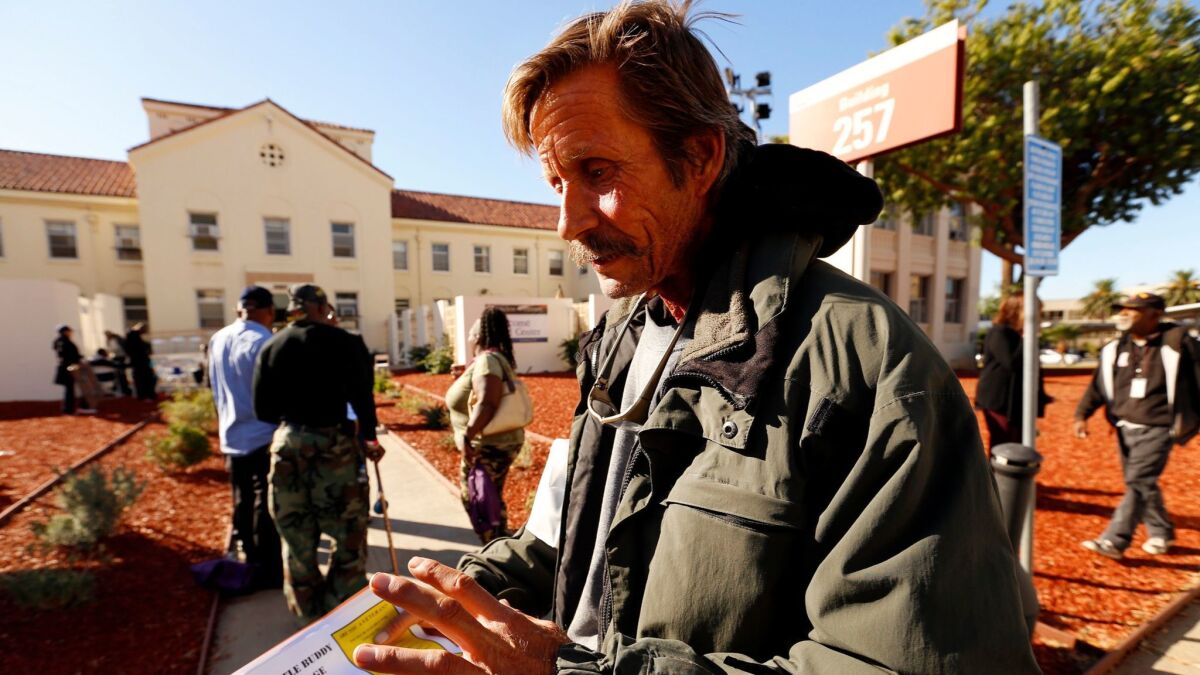 A week after officials disclosed a 57% rise in Los Angeles' veteran homelessness, advocates say the U.S. Department of Veterans Affairs is delaying housing development on its West Los Angeles campus.
A report to be released Tuesday from Vets Advocacy, a nonprofit group created to oversee the development, accuses the federal agency of stalling development of a model community for 1,200 homeless veterans on its long-neglected 388-acre campus.
The advocacy group says the VA also dragged out termination of commercial leases on the property and blocked the group's oversight of negotiations with renters, including UCLA, whose Jackie Robinson Stadium will remain on the VA land.
"Change at the West L.A. VA campus is moving too slowly, and the pace of change is slowing as well," the report says. It urges the Trump administration's new VA secretary, David Shulkin, to "make his commitment to [the development] clear and then do everything within his power to facilitate it."
"As we have seen with the spike in homelessness, even a year makes a big difference," Jesse Creed, the executive director of Vets Advocacy, said Monday.
Ann Brown, director of the VA Greater Los Angeles Healthcare System, said legislation authorizing the development had passed just eight months ago, and the plans must undergo environmental review.
Under former Secretary Robert McDonald, the VA and local officials had touted an unprecedented push to get homeless veterans off the streets in Los Angeles. Mayor Eric Garcetti joined the Obama administration's drive to end veteran homelessness in 2016, although he extended the pledge timeline and finally dropped the deadline last year.
The VA replaced leadership at the VA's West Los Angeles Medical Center and issued more than 1,500 rent vouchers for homeless veterans in two years. More than have 8,000 veterans found housing since January 2015.
But after falling 30% from 2015 to 2016, the number of homeless veterans in Los Angeles jumped to 4,828 from 3,071 in the official 2017 count announced last week, wiping out the previous year's improvement. L.A. homelessness overall rose 23% countywide and 20% in the city.
Stephen Peck, president of U.S. Vets, said more than 500 veterans with VA vouchers can't find a place to live because of Southern California's soaring rents. Peck also said the VA does not provide enough case management to help veterans with post-traumatic stress disorder, military sexual trauma and other severe issues stay in housing.
"They're not going to get in housing and just get better," said Peck, who added that he recently met with homeless officials in Washington, D.C., about what he described as a chronic VA problem. "They need support to keep on track, make sure they are taking their medication and keeping appointments so they remain stable."
Heidi Marston, director for community engagement and reintegration services at the West Los Angeles VA Medical Center, said the agency's national homeless program is in the midst of a 100-day campaign to help veterans beat the tough rental market.
Vets Advocacy was created as part of a 2015 legal settlement with homeless and disabled veterans who sued over the VA's alleged misuse of its West Los Angeles property, the largest undeveloped lot on the city's Westside.
The settlement included adoption of a master plan dedicating the rolling property to permanent housing and legal, mental health and job services for 1,200 veterans. It also mandated the creation of an "exit strategy" for commercial and other entities that had leased land from the VA while campus buildings dedicated as a soldiers' home deteriorated and largely emptied.
The group's report says the VA delayed the initial phase of the housing development by 18 months and reduced the number of units in that phase to 160 from 210. It also said the VA had yet to open a renovated building initially designated for permanent housing a decade ago.
A spokeswoman for Sen. Dianne Feinstein (D-Calif.) said the renovated building will open this week. The campus, however, may soon house fewer veterans than it does now.
Earlier this year, the VA ended its contract with the Salvation Army to provide shelter at the West L.A. campus. Some of the 270 beds will be relocated to the Salvation Army's shelter in Bell, but 130 spots for women, older veterans and those in an alcohol and drug treatment program will be lost, said Pilar Buelna, the Salvation Army's executive director of social services in the L.A. area.
Buelna said she believes veteran homelessness rose because the VA and local and federal homeless officials switched from transitional housing programs to permanent supportive housing before the permanent housing was built.
"Our veterans are not happy," she said. "They should have been more strategic with the transition."
Brown said the Salvation Army was asked to leave because of poor performance.
"We frankly do not believe that the Salvation Army is taking care of our veterans in the way we think they should be taken care of," said Brown, adding that the VA is working to relocate displaced veterans.
Twitter: @geholland
---
UPDATES:
June 7, 3:25 p.m.: This article was updated with additional details from VA officials.
This article was originally published June 6 at 4:00 a.m.
---
The stories shaping California
Get up to speed with our Essential California newsletter, sent six days a week.
You may occasionally receive promotional content from the Los Angeles Times.