A new house for $286,000? With sweat equity and creative financing, a nonprofit developer aids veterans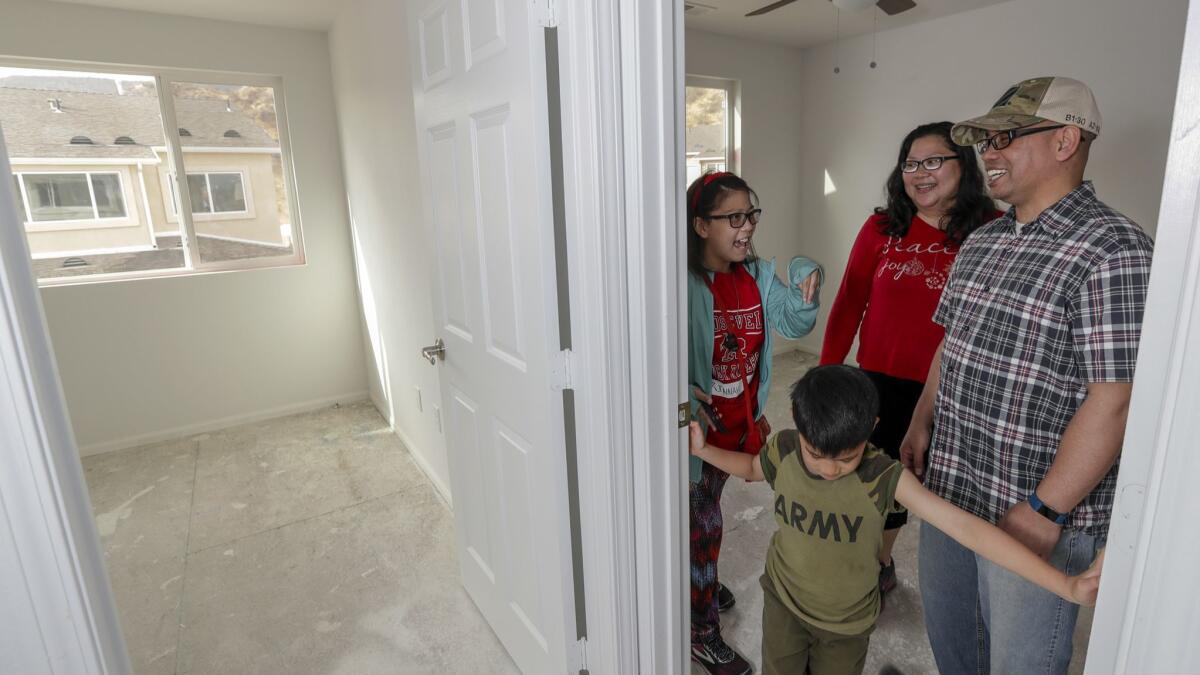 They met at Cal State Northridge, enlisted after 9/11, married in the Army, then deployed to Iraq. Josette Tolentino drove a truck during the invasion. Marlon Tolentino did three tours with infantry and artillery units.
After becoming pregnant with their first child, she decided not to reenlist and returned to California. His unit was in Ramadi, expecting soon to come home, when an IED struck his convoy. Two of his buddies were killed.
"We had to move their burned bodies," Marlon said.
He was so traumatized he didn't speak of it for years, Josette said.
What might have been a difficult transition to civilian life is about to take a welcome turn as the Tolentinos prepare to rejoin a community of comrades-in-arms, but this time in a typical suburban setting.
On a recent Saturday, the Tolentinos and their two children did a walk-through of their new four-bedroom home. They shared a pancake breakfast with some of their future neighbors in a still-unfinished 78-home development perched on a hillside at the edge of a Santa Clarita business park.
All the residents will be veterans or active service members living on modest incomes. They are taking the otherwise impossible step into home ownership with the help of Homes 4 Families, a nonprofit that combines low-interest loans from the state Department of Veterans Affairs with real estate, local government and fundraising savvy to build what it calls enriched veteran neighborhoods.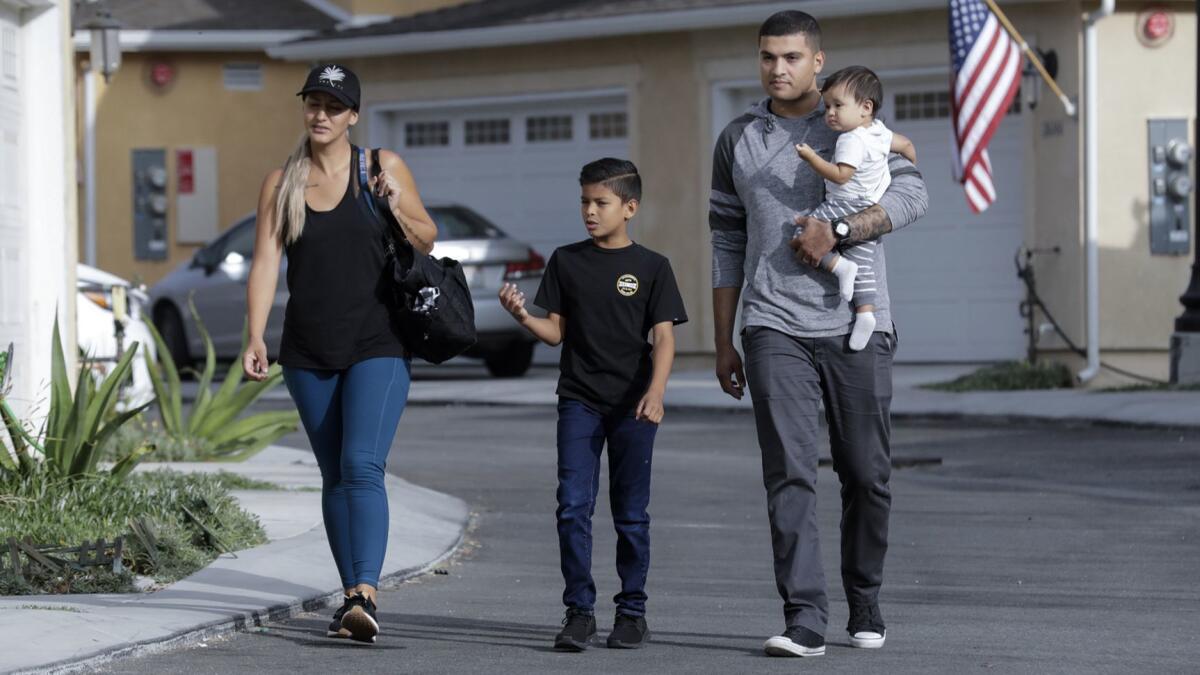 Besides having a home they can afford and fellow veterans for neighbors, the Tolentinos will have access to services and activities structured around the issues of veterans.
Many veterans come from disadvantaged backgrounds, and "because of our current conflicts being so long, they end up being in the armed services for six to eight years," said Donna Deutchman, the nonprofit's chief executive officer. "They have missed the entire decade of their 20s. They haven't received the skills and education they have been promised."
The Santa Clarita development is Homes 4 Families' second veterans community and fourth development. The group completed 12 homes for veterans in Sylmar in 2014 and earlier built 70 more in Pacoima and Burbank.
The Santa Clarita homes are valued at $364,000. The buyers pay just the cost of construction, about $286,000.
Eighty percent of that comes from a low-interest CalVet loan. Homes 4 Families raises money from other state sources and donations to make up the remainder with loans that can be deferred as needed to limit total payments to 30% of the buyers' incomes.
"We figure what they owe in all other areas and we get what we get, and we don't get upset," Deutchman said.
That flexibility is key to obtaining CalVet loans for clients who don't have down payments and lack incomes to qualify for homes of that price.
It's a relationship CalVet would like to clone, but one that calls for a skill set that not every developer has, said Mark Walbert, the agency's assistant deputy secretary.
"Donna is a unique person who has a lot of capability and a lot of resources," Walbert said. "Not only is she the contractor and oversees a group of people that build the homes, she also has connections with the services and has skills in vetting of the veterans."
She also gets cities to pitch in. Santa Clarita worked with the group to buy a distressed commercial property at a favorable price and then changed its zoning. The city also provided $425,000 to for support services.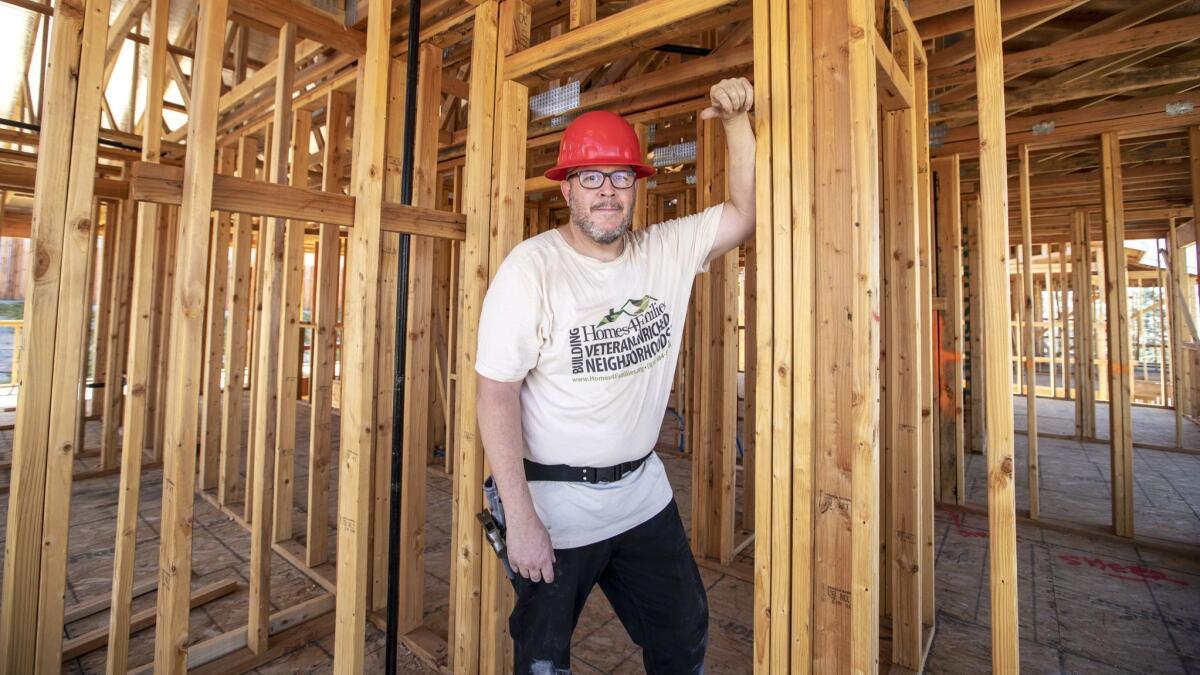 All but 18 of the Santa Clarita homes are now finished.
"This is mine right here," Mark Johnson said, stepping through the studs of one of the nine homes scheduled to be completed in December. "Welcome to my home."
Johnson, who entered the Army out of high school and served 20 years, couldn't support his three children after a divorce. He was sharing a one-bedroom apartment with two sons and a teenage daughter when he was matched to the home.
Part of the deal is putting in 500 hours of work before moving in. That can include digging trenches, staking fences or painting. On this summer day he was driving nails.
But the sweat equity also includes emotional work. Each community has a nearby service center where veterans can seek help with their finances or government paperwork and can join groups to deal with trauma.
Johnson joined a group expressing their fears and aspirations in images they placed in books.
"That helps me deal with the emotional side, the darkness you sometimes have to face, anger and loneliness," Johnson said.
"At first you're kind of standoffish because of what you had to do in the military," he said. "But once you sit down, it's more intimate. It's only four people. It's to cope with being away from your family. The possibility of not seeing your family again."
Homes 4 Families is an offshoot of Habitat for Humanity, the international nonprofit that mixes volunteers and donations to build and refurbish houses for needy families.
Deutchman said Homes 4 Families branched off from the larger organization about 12 years ago to focus on building community-sized developments in Southern California exclusively for veterans.
The loan packages are structured so that the owners obtain equity from the start without a down payment, and then pay no more than 30% of their income for the mortgage, insurance and taxes.
"It's important to our veterans, the ownership," said Bridgette Mills, the nonprofit's director of program design and urban planning. "We want our veterans to step up into the middle class. We hope they get a great career change and move up to a bigger house,"
They can sell the homes for profit, but must sell to another veteran and return a pro-rated portion of the equity to the homeowners association.
Though many of those accepted to purchase homes are homeless, the program is not linked to the county's coordinated entry system that prioritizes housing for chronically homeless people.
Applicants deal directly with Homes 4 Families, often finding the organization by word-of-mouth.
Bryan Espinoza, who attended the pancake breakfast with his wife Alicia and their two children, learned about Homes 4 Families from his sergeant at the National Guard Armory in Van Nuys, where the two active-duty soldiers work.
The sergeant, Enrique Luna, recalled being skeptical when he heard about the program from another soldier.
"I kept telling him it's not true," Luna said. "There's something they're going to catch you on."
Even with housing allowances, active-duty soldiers stationed in the Los Angeles area can't afford houses, Luna said. Most commute long distances.
Luna gave it a try and, once he was accepted, urged Espinoza to follow.
"I told him it was such a wonderful opportunity that he had to take it," Luna said. "He had no choice. It's something he was going to be grateful for the rest of his life."
Twitter: @LATDoug
Sign up for Essential California for news, features and recommendations from the L.A. Times and beyond in your inbox six days a week.
You may occasionally receive promotional content from the Los Angeles Times.