L.A. City Council OKs $800,000 settlement in lawsuit over fire marshal's dismissal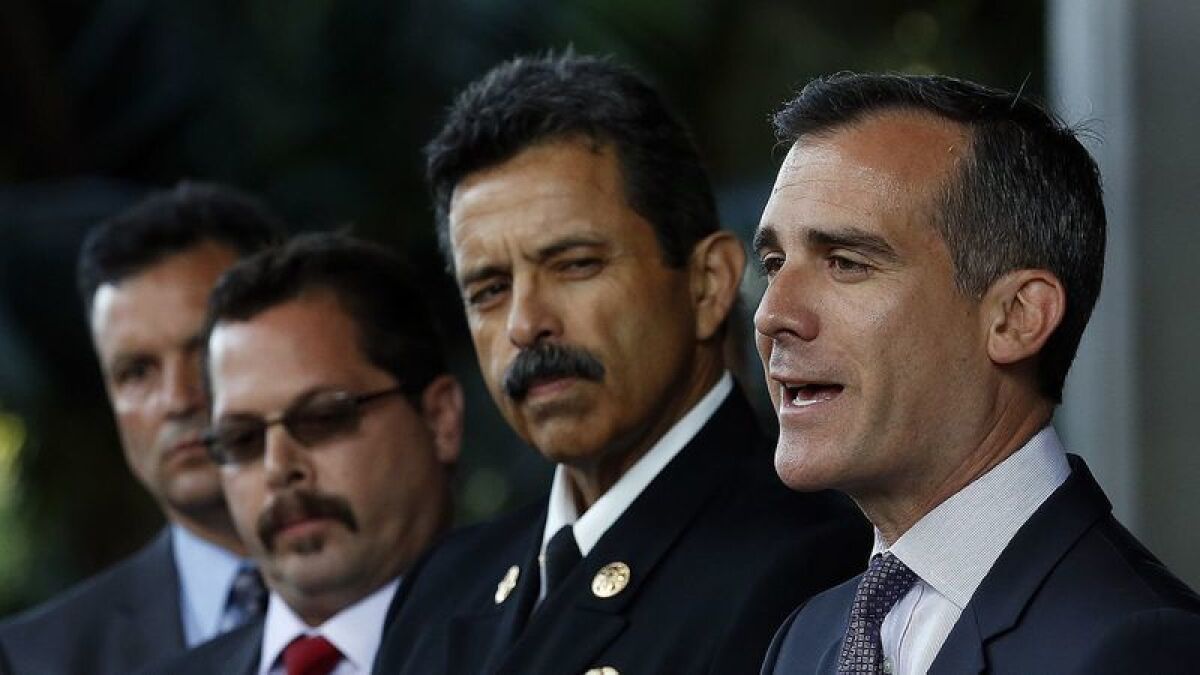 The city of Los Angeles will pay $800,000 to settle a lawsuit brought by a veteran fire marshal who was transferred out of his job after he clashed with inspectors in his department and the fire union sought his removal.
The City Council voted 10 to 0 without discussion Wednesday to approve the settlement payment.
In his 2017 lawsuit, former Fire Marshal John Vidovich alleged that Fire Chief Ralph Terrazas, Mayor Eric Garcetti and aides to the mayor pushed him out at the behest of United Firefighters of Los Angeles City Local 112 after Vidovich exposed "illegal and fraudulent acts" by inspectors in his bureau.
Attorneys for the city defended Vidovich's transfer, arguing in court filings seeking to dismiss the case that tensions between the fire marshal and those reporting to him were disrupting the department.
Vidovich was appointed fire marshal in 2014 after working for the fire department for about three decades.
He testified in his deposition that he found fire inspectors falsifying and destroying records, and demanding unnecessary overtime. An investigation later sustained one of his allegations but not another, a fire department spokeswoman said.
Meanwhile, a group of inspectors alleged in a 2016 Times article that the bureau, under Vidovich, had cut corners by using poorly trained firefighters who were coaxed by supervisors to relax safety rules and overlook violations.
After an investigation, the department later found "insufficient evidence to sustain any charges," the spokeswoman said.
Emails and texts included in the court record show that Frank Lima, then the union's president, and other union representatives sought Vidovich's removal.
At one point, Lima told top Garcetti aide Jeff Gorell that the union was willing to spend $250,000 on a negative campaign against Vidovich that would include putting up billboards critical of the fire marshal in Vidovich's hometown of San Pedro.
Lima warned Gorell that Garcetti would take a "hit" if the union's "gangster campaign" went forward.
Gorell and Garcetti's chief of staff Ana Guerrero sought to create a job for Vidovich in the mayor's office, but that never panned out. Guerrero testified in her deposition that she heard Vidovich was blaming the mayor for his removal, so she told her colleagues "we cannot have him in the mayor's office."
Ultimately, Vidovich went to work in the department's South L.A. bureau before he retired in 2017.
Twitter: @dakotacdsmith
---
The stories shaping California
Get up to speed with our Essential California newsletter, sent six days a week.
You may occasionally receive promotional content from the Los Angeles Times.