Little Saigon radio host and entertainer Viet Dzung dies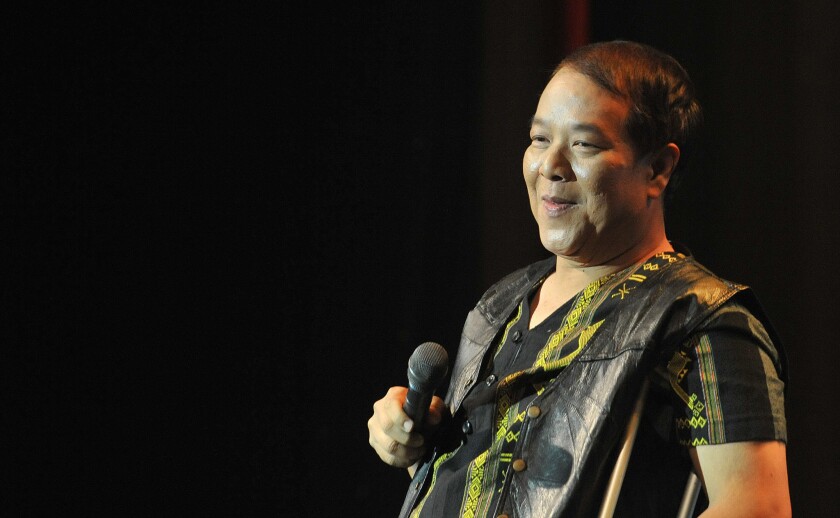 Radio commentator and human rights activist Viet Dzung, who dominated the airwaves for decades in Little Saigon and was one of the early voices in the emerging immigrant community, died Friday. He was 55.
Born Nguyen Ngoc Hung Dung, Viet Dzung became well known in the Vietnamese American community for both his singing and his political commentary on Radio Bolsa, an Orange County-based broadcast that reaches Vietnamese listeners across the country.
Though he was born in Vietnam, Viet Dzung refused to return to his homeland after communist forces took control in the wake of the Vietnam war.
He also told listeners that he preferred not to play music by artists from Vietnam because of the country's refusal to import music recorded by Vietnamese Americans.
"There should be fair trade," he told listeners, joining a movement of Vietnamese American entertainers who took a stand against what they considered one-way commerce
Viet Dzung, along with his drive-time co-host Minh Phuong, kept immigrant listeners informed about such issues as state-controlled elections in their homeland and news about hunger strikes, beauty pageants, cultural holidays and celebrations for veterans.
He told listeners that he covered everything from Hanoi to Hollywood.
Viet Dzung helped organize concerts in his adopted community of Little Saigon to help register immigrant voters and did public service ads on such things as the dangers of cigarettes, targeting individuals from a country with one of the highest smoking rates globally.
In recent years, members of the younger Vietnamese American generation learned of Viet Dzung's social activism through Internet chats and his appearances on videos produced by Asia, a multimedia entertainment company based in Garden Grove.
Born in Saigon on Sept. 8, 1958, Viet Dzung was afflicted with polio as a child and relied on crutches. In later years, he suffered from diabetes. He died Friday at Fountain Valley Regional Hospital.
"I don't believe it. He is still with us and always will be!" fellow entertainer Orchid Lam Quynh said in a Facebook post.
"For more than 10 years, I started my morning with him," wrote Thu Pham, a Santa Ana resident. "He is a treasure. His voice is as familiar to us as his heart."
ALSO:Family of brain-dead girl seeks injunction to maintain life support
Missing POW's remains returned to his widow 63 years after his death
Bitcoin donations welcome, Newport Beach City Council candidate says
E-mail: anh.do@latimes.com
Twitter: @newsterrier
---
Get breaking news, investigations, analysis and more signature journalism from the Los Angeles Times in your inbox.
You may occasionally receive promotional content from the Los Angeles Times.