It's official: Dodgers' Vin Scully gets his own avenue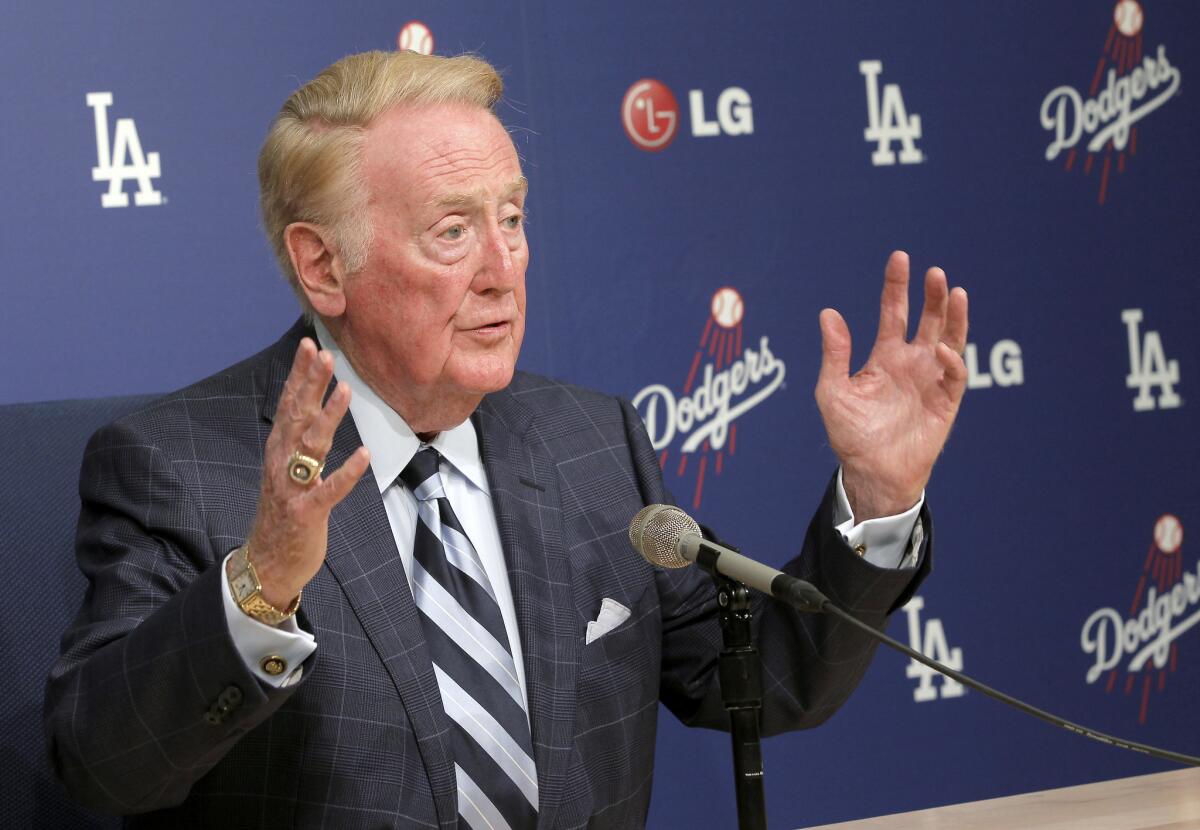 The Los Angeles City Council voted unanimously Friday to change the name of Elysian Park Avenue to Vin Scully Avenue as a tribute to the iconic Dodgers broadcaster who plans to retire this year after 67 seasons with the baseball team.
The council voted in January to begin the name change process. Councilman Gil Cedillo made the motion, "in light of Vin Scully's remarkable and unprecedented career with the Los Angeles Dodgers."
The proposed ordinance was formalized with the Friday vote and the official Dodgers account quickly tweeted out: "It's official, Vin Scully Avenue to be dedicated on Monday."
The renamed route runs from Sunset Boulevard to Dodger Stadium Way.
In the motion, Cedillo detailed Scully's history with the Dodgers, dating back to the team's days in Brooklyn. His seasons with the Dodgers, the motion notes, are the longest time a broadcaster has been with a single team in professional sports history.
The Dodgers announced last August that Scully would be back for the 2016 season, his 67th with the team. At a news conference that month, Scully said 2016 would probably be his final year.
Interested in the stories shaping California? Sign up for the free Essential California newsletter >>
Not everyone is excited by the prospect of the name change, however. Since the council vote, groups such as the Citizens Committee to Save Elysian Park and the Echo Park Improvement Assn. have protested the move, according to City News Service.
Echo Park residents who spoke during public comment Friday complained about a lack of community outreach. Some proposed an alternative in the form of a Vin Scully Plaza at the corner of Elysian Park Avenue and Stadium Way.
Still, the council voted 13 to 0 to move forward with the name change.
The official dedication for Vin Scully Avenue will happen Monday at 11:15 a.m. in a ceremony at the corner of Stadium Way and the street formerly known as Elysian Park Avenue, according to the Dodgers.
Twitter: @brittny_mejia
ALSO:
Cal State, faculty's union reach accord over salary dispute
Deaths of married couple in Whittier investigated as murder-suicide
Don't think of the lone survivor of her father's murder-suicide as 'that poor girl'
Sign up for Essential California for news, features and recommendations from the L.A. Times and beyond in your inbox six days a week.
You may occasionally receive promotional content from the Los Angeles Times.