Why these Angelenos bothered to vote when more than 90% didn't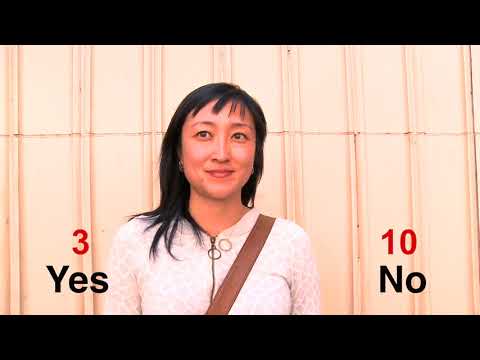 We asked 20 people whether they voted and here's what they had to say. Voter turnout for the March 3 Los Angeles city election was around 8.6% with tabulations still coming in.
Voter turnout in the city of Los Angeles is dismal, and Tuesday's election was no exception.
Four years ago, the last time these City Council and school board offices were up for a vote, turnout was 14.1%. In the 2013 primary, which included citywide campaigns for mayor, city attorney and controller, 21% of registered voters participated.
Tuesday's turnout: Around 8.6%, with some tabulations still coming in.
The Times went out on election day and asked the people who bothered to vote what compelled them to be part of this tiny L.A. minority. Here's what motivated them.
This man's voting habit spans continents
To Guillermo Ceballos, who lives on the border between Eagle Rock and Highland Park, choosing not to vote didn't feel like an option.
"I'm originally from Venezuela, and they forced us to vote," so the habit became ingrained, he said, adding that he moved to Los Angeles in 1979, became a U.S. citizen in 1996 and works for a vending machine company.
Although in the United States "you have that freedom not to vote," he said, "I think it's your civic duty to vote and be aware what's going on with your government and how they treat you."
The race between Gloria Molina and incumbent Councilman Jose Huizar for his district's City Council seat was exciting, Ceballos volunteered, but he also seemed to appreciate the secret ballot: He wouldn't say which candidate's side he'd taken.
He wants to hold on to a good thing
Jesse Aranda, who lives in Councilman Jose Huizar's district, wanted to keep someone in office, although he studiously avoided naming names.
"The positive changes I see in our community the last couple years under the current administration, I kind of want to see it continue," said the 59-year-old cook, a longtime resident of Highland Park.
What changes has he enjoyed? "Especially the new park that just opened in my neighborhood" on a lot that had been an eyesore for decades, he said. "It's nice to see somebody — or, you know, the community get together and finally see something come out of it."
'It's also on our way as we walk the dog'
Seagan Ngai, a television editor from Eagle Rock, said she and her husband had several reasons to visit the polls.
"We want to make sure Huizar ... gets voted back in because of all the things he's done for our community in terms of biking and pedestrian safety and stuff like that," she said, adding that they especially value local elections.
"And it's also on our way as we walk the dog," she said. "We were just like, well, we'll walk the dog, and we'll stop by and vote."
'If it's not broke, don't fix it'
"I wanted Huizar to win because I think he's been doing good things for my neighborhood," said Kimberly White of Highland Park, also mentioning a new park in the area. "If it's not broke, don't fix it."
The designer, 50, brought up that she wasn't a fan of the councilman's extramarital affair with a staffer, which came to light in 2013, but she said his infidelity didn't factor into her voting decision.
Ready for change in Eagle Rock
Not everyone in the district felt so satisfied. Saul and Glenna Traiger of Eagle Rock didn't mention any new amenities in their neighborhood.
"I want to come out and support Gloria Molina," said Saul Traiger, 60, a philosophy professor at Occidental College.
"While I think Huizar has done some good things," he said, "I wasn't happy with the way he handled the [marijuana] dispensary issue." He also said Huizar could have been more responsive on topics such as parks and infrastructure. So far, the vote count says Huizar won with 11,081 votes.
She values a focus on local issues
Johanna Sanchez of Highland Park called the Huizar-Molina race a big deal, but her main point of discussion didn't involve either candidate.
The attorney and stay-at-home mom, 38, focused on Charter Amendments 1 and 2, which would move Los Angeles elections to even-numbered years so they'd coincide with presidential and gubernatorial voting cycles.
"I voted no," she said while corralling her young son. "I like the idea of having more of a turnout, but at the same time, I still like local issues and I don't want them to get shunted to the bottom."
Meanwhile, in Los Feliz
A 14-way race was underway to succeed outgoing Councilman Tom LaBonge, and voter Amelia Coveny had thought hard about where she hopes the successor will focus.
"There are density issues, obviously a lack of municipal funds to go around," Coveny said. "You see development like the [half-built] Target building that's sitting empty … schools that are not serving our communities – so involvement on all these fronts is really important." By Wednesday, the race appeared headed to a May runoff between Carolyn Ramsay, a former LaBonge aide, and community health director David Ryu.
A first-time L.A. city voter wants more public transit
Duong Hua, who recently moved to Los Feliz from West Hollywood, was relishing his first opportunity to vote in a Los Angeles City Council race.
His No. 1 topic: public transit. "It needs to happen quicker, happen more," the 42-year-old said.
'I want the America I grew up in'
Peggy Aronis said she just wants to elect conservative leaders who can make things go back to the way she thinks they used to be.
"Our never-ending expansion of government controlling our lives is growing by the day, and I think that if we don't vote," the Los Feliz resident said, "we will lose our freedoms."
"Our life in the United States is changing," she said, adding that she immigrated to the country as a child. "I'm way up there, age wise, and I have seen the changes.… I want the America that I grew up in."
Did you vote in L.A. or not? Tell us why.
Read more about the turnout and the two ballot measures designed to boost turnout in Los Angeles city and school board votes. They passed.
For more news, follow @raablauren on Twitter.
---
UPDATES
12:45 p.m.: This story has been updated to add comments from Seagan Ngai.
The first version of this story was published at 9:02 a.m.
Sign up for Essential California for news, features and recommendations from the L.A. Times and beyond in your inbox six days a week.
You may occasionally receive promotional content from the Los Angeles Times.