After rainstorm, risk of high winds and fire alert in Southland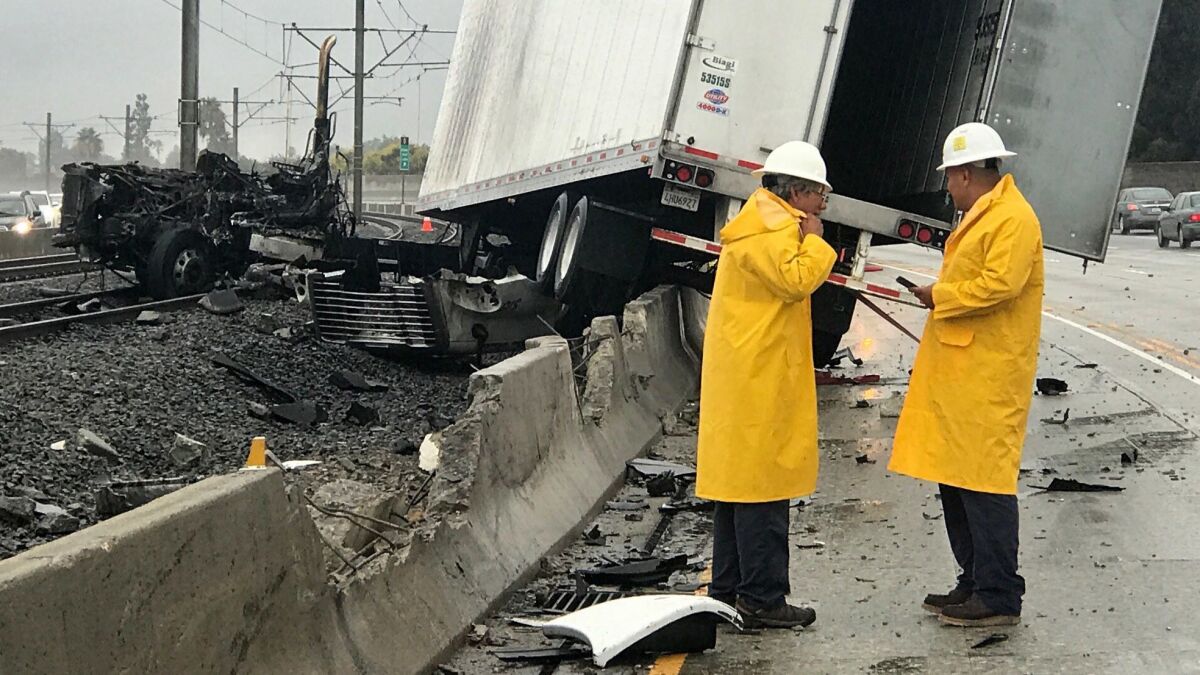 Showers are expected to continue through Saturday afternoon after a wild lightning storm caused fires, power outrages and game delays Friday night.
But as skies clear Sunday, powerful Santa Ana winds are expected to pick up that evening, bringing a fire risk across Los Angeles and Ventura counties, said National Weather Service meteorologist Tom Fisher.
Fisher said there is so much bone-dry brush in the region that it could still act as fire fuel despite getting a half-inch of rain in most areas this weekend.
"That's not enough time for water to get into the ground and change anything," he said.
Lightning struck palm trees at the Joint Forces Training Base in Los Alamitos Friday night, setting six to 10 trees on fire, said Capt. Steve Concialdi of the Orange County Fire Authority. Fortunately, there were no buildings close by, he added.
About a dozen firefighters were sent to the scene along the 4300 block of Farquhar Avenue.
Concialdi said the crews were "making sure the fires were fully extinguished so that embers don't get picked up in the wind" and start spot fires near homes, businesses or vegetation.
The storm was also responsible for knocking out power to about 10,000 L.A. area customers Friday night in neighborhoods including Arlington Heights, Mid-Wilshire, Harvard Heights, Beverly Grove and Brentwood.
By 7:45 a.m. Saturday, 2,800 customers in L.A. were still without power, said Jason Stinnett, a spokesman for the Los Angeles Department of Water and Power.
An additional 8,200 households were experiencing outages in other parts of L.A. County as of Saturday morning, said Mary Ann Milbourn of Southern California Edison.
Heal the Bay, an environmental group, said residents should avoid going in the water at L.A. County beaches for at least 72 hours following the storm, due to a heightened risk of runoff containing bacteria and trash.
The county's storm drain system, designed to channel water into the ocean to prevent flooding in urban areas, has the unintended function of allowing animal waste, pesticides, automotive fluids and man-made debris to flow directly into local bays after heavy rains, the group said in a news release.
Lightning strikes at Santa Ana Stadium on Friday night sent spectators at the much-anticipated football game pitting the nation's No. 1 high-school team, St. John Bosco, against No. 2 Mater Dei scrambling for cover and causing several delays before the game was finally postponed to Saturday.
Social media feeds filled up with sports fans lamenting the interruptions, with one observer posting on Facebook: "Of all days! It would rain tonight on the biggest game of the season, rival teams, Bosco vs. Mater Dei! Raining cats and dogs."
Low pressure moving across the region ignited Friday night's unexpected weather, according to meteorologist Keily Delerme of the National Weather Service. Forecasts show more chance of rain and thunderstorms through Saturday afternoon.
Officials at fire agencies and the National Weather Service issued warnings for people to stay indoors, noting that lightning can strike as far away as 10 miles from a thunderstorm.
"Numerous dangerous lightning strikes are approaching the Long Beach Area and Palos Verdes Peninsula. WHEN THUNDER ROARS, STAY INDOORS," tweeted the Los Angeles County Fire Department.
Santa Ana police reported that 5,000 people had gathered for the game. Shortly before the game started, lightning struck a tree outside the stadium.
"Crazy weather!!" one fan said online. "This is the game of the week."
Fans of the Mater Dei Monarchs and the Bosco Braves were out in force to see their teams, and not happy about the weather.
"It's insane. When lightning strikes, they would announce a delay of half an hour, but who can wait? It's getting dark and it's cold. No one is prepared for the rain and we didn't bring anything," said Beverly Masaniai Palelei, a Santa Ana resident who showed up to watch her nephew play for the Monarchs.
"Everybody's like, 'Let them play. Let them play. We want to see action,'" Palelei, 50, added. "Everyone's anxious because everyone wants their side to win."
The fans will have to wait until Saturday to find out who does win.
Twitter: @newsterrier
---
UPDATES:
10:00 a.m. Saturday, Oct. 13: This story was updated with new information from the National Weather Service and local utilities.
8:30 p.m. Update with Saturday forecast.
7:15 a.m. Oct. 13: This post has been updated with information about power outages.
9:40 p.m.: This post was updated with information about a lightning-caused fire in Los Alamitos.
This post was originally published at 7:15 p.m. Friday, Oct. 12
---
The stories shaping California
Get up to speed with our Essential California newsletter, sent six days a week.
You may occasionally receive promotional content from the Los Angeles Times.