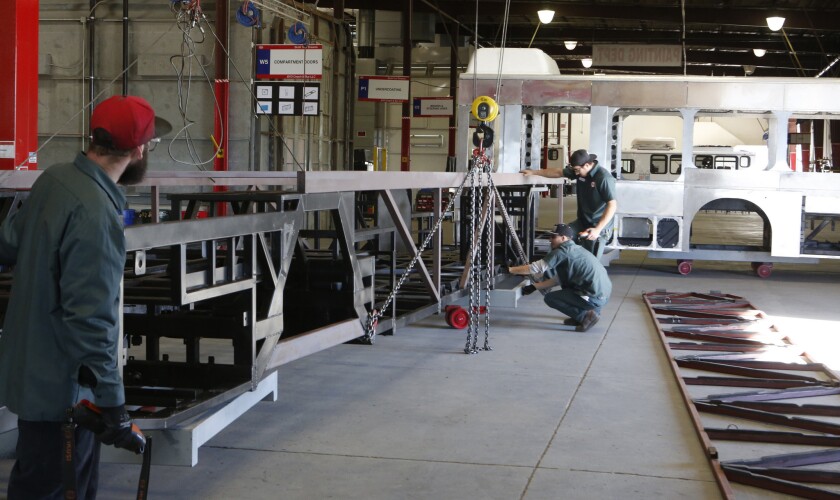 An electric vehicle company that snagged government money to help open its Los Angeles headquarters broke city rules by underpaying three of its workers, a city investigation found.
Build Your Dreams, known as BYD, has since repaid more than $1,300 in back wages and health benefits to the three workers to come into compliance with the city rules, according to city officials.
Labor activists said last year that they believed that BYD had failed to pay a "living wage" to employees downtown. L.A. currently requires city contractors to pay their workers at least $12.42 an hour without health benefits.
Jobs to Move America, a coalition of labor and community groups, said the company fell under those rules because Los Angeles had agreed to provide $1.6 million in federal funding to help the Chinese-owned firm open its Figueroa Street offices.
When the allegations first arose, BYD defended its pay levels and argued that labor activists were targeting the company because it was locked in a dispute over the possible unionizing of workers at its Lancaster and L.A. facilities.
The company also said it was exempt from the living wage rules, pointing out that a Community Development Department staffer had designated the agreement as a construction contract that wouldn't be subject to the requirements.
But a different city department that oversees such agreements — the Bureau of Contract Administration — disagreed and launched an investigation.
It focused on the period between August and late December of last year, when the company was "fully informed" that it fell under the wage rules, bureau spokeswoman Elena Stern said.
See more of our top stories on Facebook >>
Micheal Austin, BYD America vice president, said the company promptly paid the employees once the city determined what was owed. Two of the workers were summer interns who had left the company and a third was a recent hire whose pay had since increased, Austin said.
The company was also required to update its rules to provide paid and unpaid days off to its part-time employees, according to Stern. Austin said that now "there are no outstanding questions or concerns."
The city review "showed that there were only three instances where BYD employees had been paid below the living wage," Austin said.
Jobs to Move America Executive Director Madeline Janis said the coalition was "glad to see that BYD has accepted its responsibility to provide their workers in downtown with a living wage and paid sick leave."
"When taxpayers give a huge corporation like BYD nearly $2 million to create jobs, we have a right to expect — at a minimum — that the company follow the law," Janis said in a written statement.
Mayor Eric Garcetti also said he was pleased that the matter was resolved. "Our Living Wage Ordinance is only as good as employers' compliance with the law," he said.
The company has battled accusations that it underpaid workers in the past: Three years ago, the California labor commissioner alleged that BYD had failed to pay the minimum wage to several Chinese nationals working in California.
But those wage citations were dropped after the state commissioner said additional documents showed that money distributed in China appeared to meet the pay requirements.
Twitter: @LATimesemily
ALSO
May Day, Trump, Sanders: LAPD braces for weekend of political protest
Drink up! Mesa Water District relaxes outdoor watering rules starting Sunday
Too good to be true? More food companies settling over questionable advertising claims
---